Turkish president Recep Tayyip Erdogan to visit UK next week
Visit comes as premier seeks re-election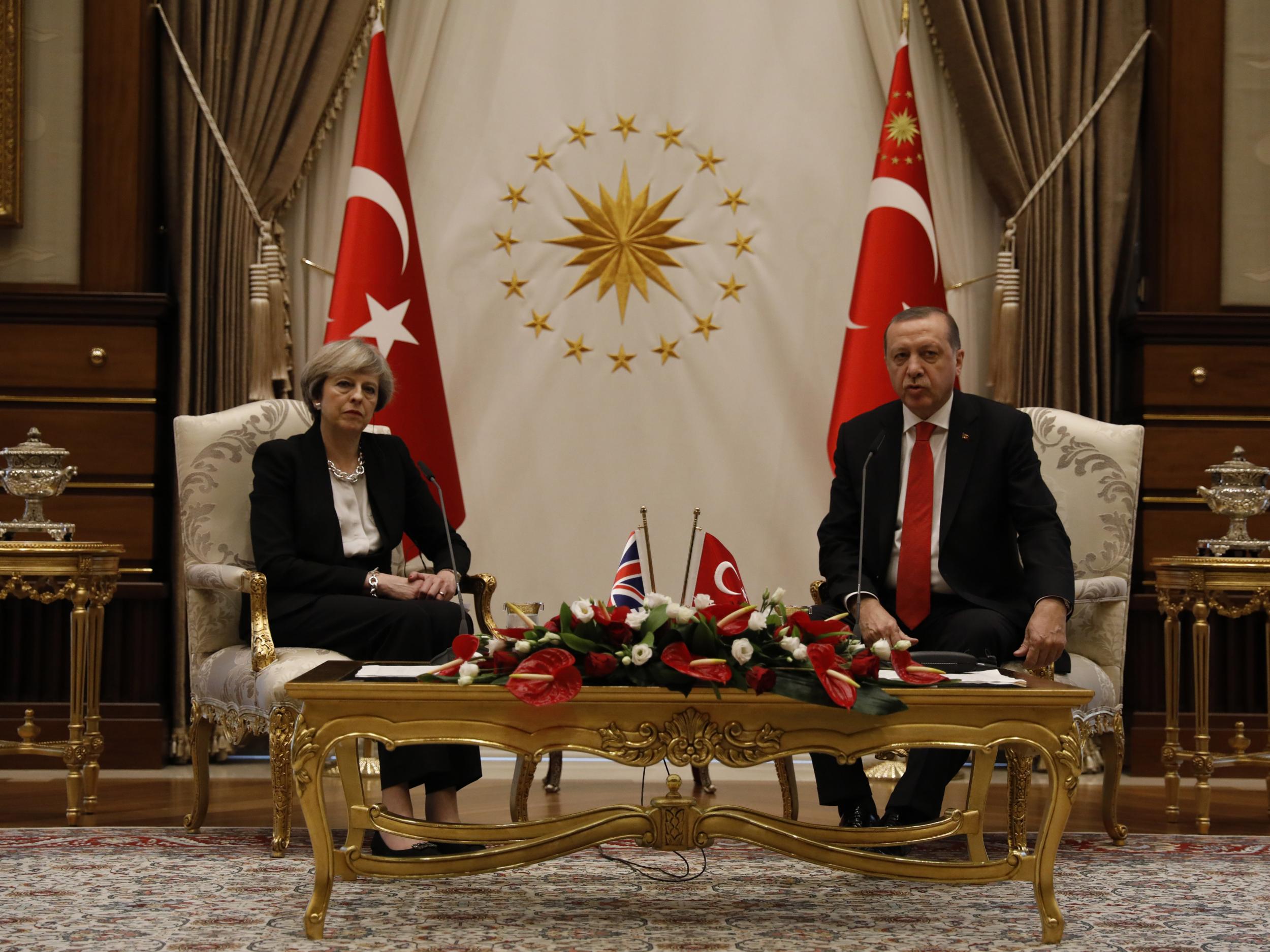 Turkish President Recep Tayyip Erdogan is to visit the UK next week and will meet Theresa May on Tuesday, Downing Street has said.
Number 10 said his trip would be an opportunity for Britain and Turkey to demonstrate their "close relationship".
Mr Erdogan will also meet the Queen on the three-day trip.
Ms May met the Turkish premier in Ankara on a one-day visit in January last year, when they agreed a £100m defence deal that helped develop fighter jets for the Turkish air force.
Mr Erdogan is accused of waging a brutal campaign of repression against perceived opponents in the press, academia and judiciary following an unsuccessful coup in 2016.
The visit to the UK by the Turkish leader, who has dominated the country's politics for more than 15 years, comes at a time when he is seeking to extend his rule for another five years.
Mr Erdogan narrowly won a referendum last year that allowed him to transform Turkey' governance structure from a parliamentary system to a presidential one.
The changes grant Mr Erdogan sweeping new powers that will come into effect if he wins another term in office on June 24. The election will take place under a state of emergency, which limits freedom of expression and stops large groups assembling in public places.
Ms May's official spokesman said: "The visit is an opportunity for the UK and Turkey to demonstrate our close bilateral relationship and to have important discussions about issues of shared interest."
World news in pictures
Show all 50
Green Party co-leader Caroline Lucas MP, a supporter of the Best for Britain campaign against a hard Brexit, said: "As we hurtle towards Brexit it's clear that the Government is increasingly willing to cosy up to repressive leaders from across the world.
"President Erdogan is an autocrat, who inflicts serious harm on his own population – yet we've flogged him millions of pounds worth of weapons and now we're inviting him over for tea.
"It would be utterly appalling if Theresa May doesn't take this opportunity to stand up to Erdogan's human rights abuses, and if the only outcome from these meetings was smiling photos with a leader who we're desperately trying to court before the Brexit crunch begins."
Press Association contributed to this report
Join our commenting forum
Join thought-provoking conversations, follow other Independent readers and see their replies