Scottish Parliament election results: Two maps that show Labour's decline in Scotland
The SNP won 63 seats – two short of the majority it enjoyed in last parliament, while the Conservatives became Scotland's second largest party taking 31 seats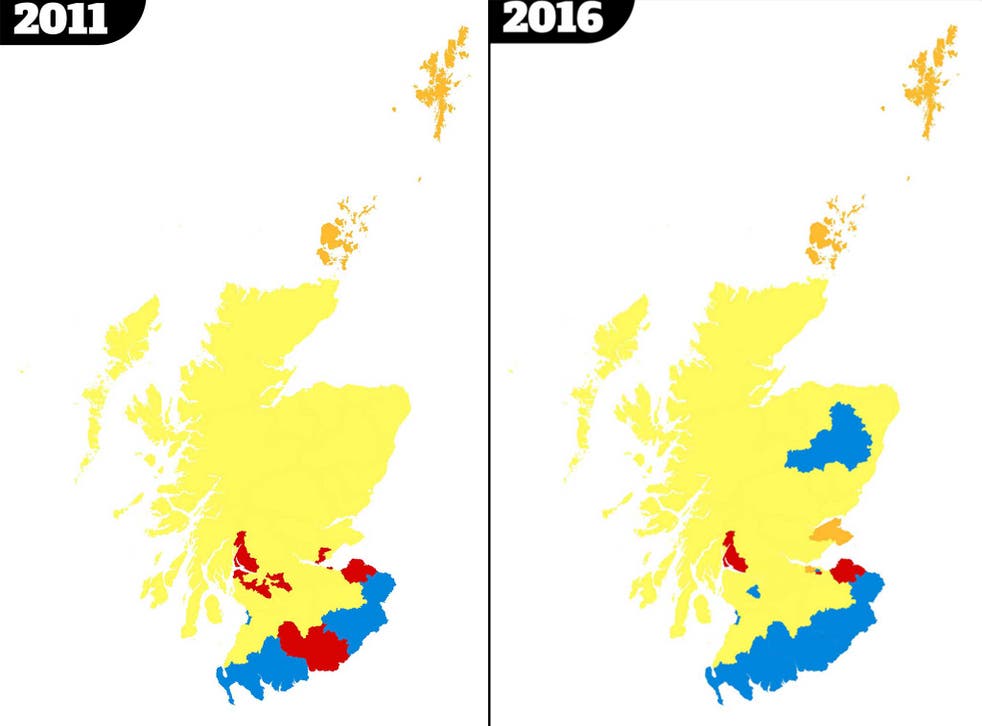 The SNP has claimed a "historic" third victory in the Holyrood elections, but failed to secure its overall majority in the Scottish Parliament as the Tories made surprise gains and Labour devastating losses.
The SNP won 63 seats – two short of the majority it enjoyed in last parliament, while the Conservatives became Scotland's second largest party taking 31 seats.
Labour had a dismal night however, losing 13 seats and making them Scotland's third largest party.
The two maps below show how Scotland's political outlook has changed in the five years between this year's Holyrood elections and those in 2011.
In 2011, the SNP broke the system winning a majority with 69 seats, which was widely regarded as impossible in a semi-proportional parliament.
Polls suggested the party, headed by First Minister Nicola Sturgeon, would be on course for as many as 71 seats this year, however they failed to gain 65, the number needed for a majority.
Despite public polls putting Tory leader Ruth Davidson neck-and-neck with Labour, the Conservatives crushed their rivals with 32 MSPs - 25 up on 2011. Conversely, Labour lost 13 seats reducing them to 24.
Ms Davidson also pulled off a shock victory in Edinburgh Central, ousting the area's SNP representative and dramatically raising her party from fourth to first place.
In 2011, the Lib Dems retreated to their strongholds in the Northern Isles with just two constituencies in Orkney and Shetland. In that year, list MSPs made up the numbers giving them a total of five.
This year, the party have remained consistent with five seats, but this time they have won four constituency seats and just one list seat.
Elections 2016: Agony and ecstasy for candidates as results pour in

Show all 10
The SNP captured all nine seats in Scotland's largest city, Glasgow, abolishing the remaining four Labour constituencies there. Across the country Labour gained just one seat from the SNP – in Edinburgh Southern.
In a further blow to the Scottish Labour, leader, Kezia Dugdale, failed in her bid to win a constituency seat in Edinburgh and was forced to enter parliament through the regional list.
Speaking of the result in Sheffield, Mr Corbyn struck a defiant tone: "All across England we were getting predictions that Labour would lose councils - we didn't - and we hung on and we grew support in a lot of places, and there's a lot more results to come today.
"I want to send this message to our party in Scotland - well done on the campaign you fought, well done on the determination you've shown. There is a lot of building to do in Scotland.
"We will be with you, we will be walking hand-in-hand with the party in Scotland to build that support once again."
In another surprise, the Conservatives doubled their vote share in Glasgow from 6 per cent in 2011 to 12 per cent in 2016.
Additional reporting by Press Association
Register for free to continue reading
Registration is a free and easy way to support our truly independent journalism
By registering, you will also enjoy limited access to Premium articles, exclusive newsletters, commenting, and virtual events with our leading journalists
Already have an account? sign in
Register for free to continue reading
Registration is a free and easy way to support our truly independent journalism
By registering, you will also enjoy limited access to Premium articles, exclusive newsletters, commenting, and virtual events with our leading journalists
Already have an account? sign in
Join our new commenting forum
Join thought-provoking conversations, follow other Independent readers and see their replies