Brexit: UK still not engaging constructively in trade talks with just two months to go, says Michel Barnier
EU chief negotiator says Boris Johnson's negotiator has been disappointing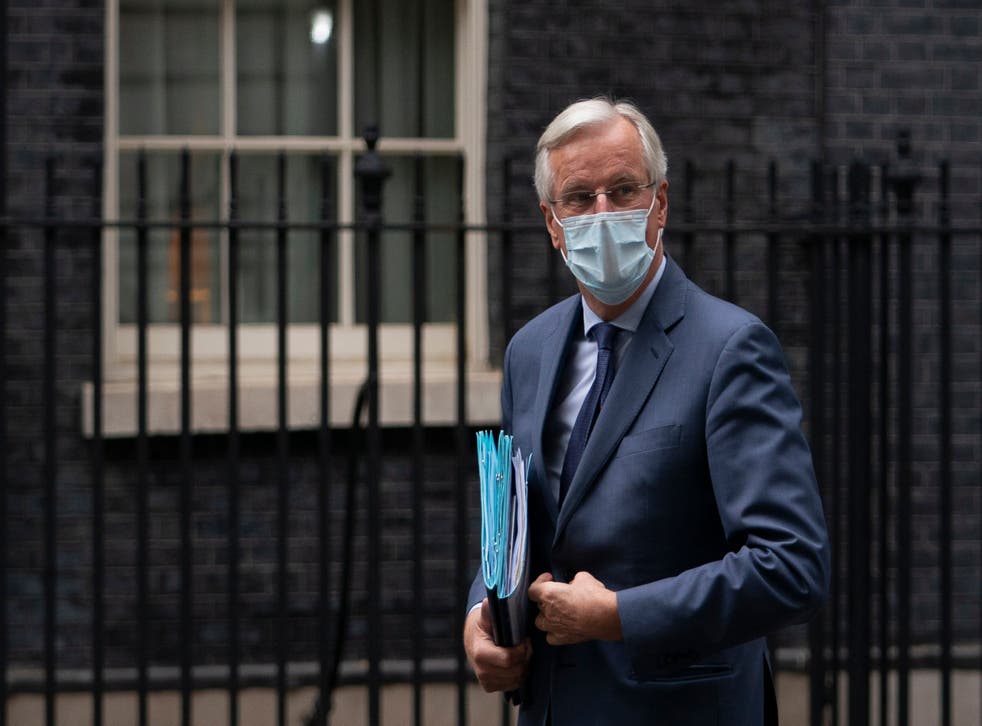 Britain is still not engaging constructively in Brexit talks with less than two months to go before both sides want to strike an agreement, the EU's chief negotiator has said.
Speaking at a think tank in Dublin via video-link Michel Barnier said a meeting this week with his British counterpart had not resulted in any progress.
"I came back from London this morning. We did not see any change in the position of the UK. I am worried and I am disappointed," Mr Barnier said following his meeting with David Frost.
Britain left the EU at the end of January 2020 but remains tied to the single market and customs union until the end of this year. Both sides are trying to negotiate an agreement to replace the current economic arrangements, and say it needs to be complete by October – but progress has been slow to non-existent so far.
Also speaking on Wednesday, Boris Johnson's spokesperson said the meeting between the two sides had been a "useful review" but that "major difficulties remain".
Painting a mirror image of Mr Barnier's concerns, the spokesperson said: "The EU's insistence on progress on state aid and fisheries is an obstacle to making progress overall but we remain in close contact with the EU side."
Mr Barnier said guarantees by the UK on fair competition, fisheries and solving disputes were needed if progress was to be made.
"So far the UK, frankly speaking, has not engaged constructively ... On all these issues the UK side continues to disappoint," Mr Barnier told the seminar at the Institute of International and European Affairs.
"These are no technocratic issues. At stake are tens of thousands of European jobs and livelihoods ... our safety and wellbeing, our environment and climate, our fundamental rights."
He added: "How can we conclude our long-term economic partnership agreement ... without knowing which system of state aid or subsidies the UK will put in place, without any assurance that the UK will not use its new regulatory autonomy to distort competition with us in the future?"
On the issue of fishing, Mr Barnier claimed that the British position would lock Irish fishermen out of waters that they had been fishing in long before either country had joined the EU, or its predecessor the European Economic Community.
UK news in pictures

Show all 50
But one UK source said: "Barnier's speech is a deliberate and misleading caricature of our proposals aimed at deflecting scrutiny from the EU's own positions which are wholly unrealistic and unprecedented.
"For our part, we have been consistently clear that we are seeking a relationship that respects our sovereignty and which has a free trade agreement at its core, similar to those the EU has already agreed with like-minded countries."
Both sides are meeting for full talks again in London next week, with a further round scheduled in Brussels for the last week of September.
Register for free to continue reading
Registration is a free and easy way to support our truly independent journalism
By registering, you will also enjoy limited access to Premium articles, exclusive newsletters, commenting, and virtual events with our leading journalists
Already have an account? sign in
Register for free to continue reading
Registration is a free and easy way to support our truly independent journalism
By registering, you will also enjoy limited access to Premium articles, exclusive newsletters, commenting, and virtual events with our leading journalists
Already have an account? sign in
Join our new commenting forum
Join thought-provoking conversations, follow other Independent readers and see their replies