UK is 'jeopardising' EU citizens' rights by 'remaining silent' on key Brexit issues, says Guy Verhofstadt
European Parliament's Brexit coordinator accuses Britain of using citizens' rights as a 'bargaining chip'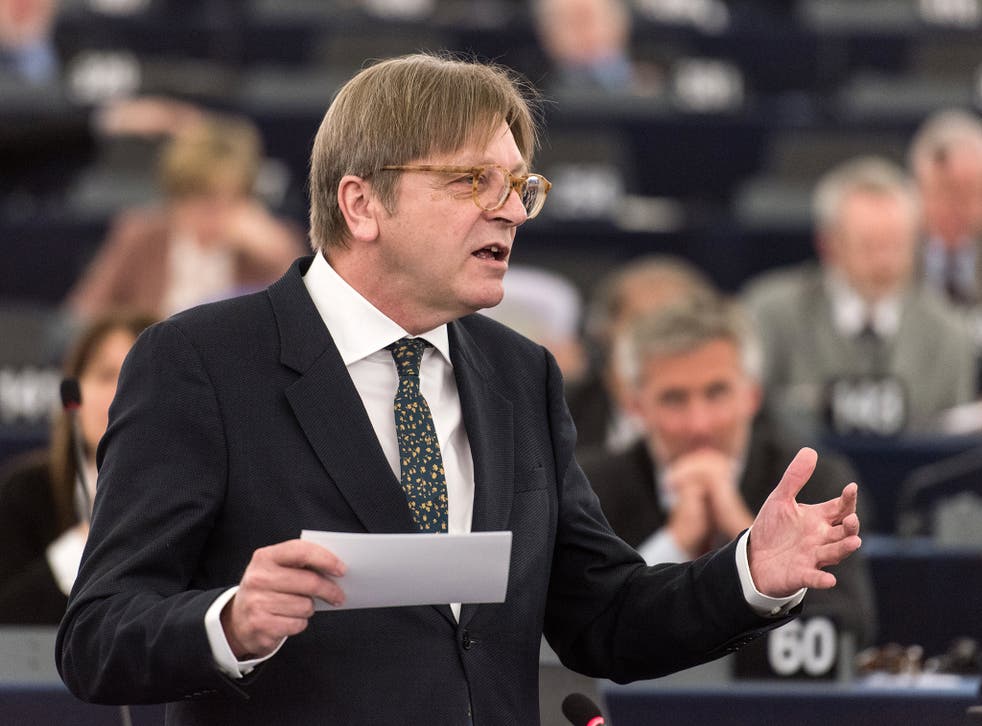 Britain is "jeopardising" the rights of EU citizens in the UK and British citizens in other EU countries because of its lack of clarity over key negotiating issues, the European Parliament's Brexit coordinator has said.
Guy Verhofstadt, a Belgian MEP, accused the UK of "remaining silent" on key issues that must be settled in order for Britain to agree an exit deal with the EU.
It comes after the second round of Brexit negotiations ended with the two parties some way apart on matters such as the settlement bill the UK will pay when it leaves the EU.
Mr Verhofstadt said talks about a possible future trade deal between Britain and the EU could not begin until more progress has been made on that issue, as well as the matter of reciprocal citizens' rights and what will happen to the Northern Ireland border.
In a joint statement issued with other members of the European Parliament's Brexit steering group, Mr Verhofstadt said: "If we want negotiations to succeed within the limited time we have, progress on more detailed content will have to be made sooner rather than later.
"We can only start talking about a new EU-UK relationship if sufficient progress has been achieved in the three main withdrawal areas: citizens' rights, the financial settlement and the border issue on the island of Ireland.
In pictures: European parliament Brexit discussions

Show all 12
"The European Parliament cannot be clear enough that sufficient progress means progress across the board, and not just in one or two areas. The European Parliament will formally and in due time indicate when the point of 'sufficient progress' has been reached.
"To be precise, the European Parliament will remain vigilant regarding citizens' rights and will continue to push for full rights for EU citizens in the UK as well as UK citizens in the EU. It is a core mission of the European project to protect, not to diminish, the fundamental rights of all citizens."
Tweeting a link to the statement, Mr Verhofstadt accused the UK of using citizens' rights as a bargaining chip.
"UK jeopardizes citizens' rights by remaining silent on other key issues. Citizens should never be bargaining chips," he wrote.
Although the European Parliament is not directly involved in Brexit negotiations, it has the power to veto the final deal and could therefore force Britain to leave the union without an exit settlement.
The Parliament's Brexit group met this week with Michael Barnier, the EU's chief Brexit negotiator, who briefed them on the latest round of talks.
Join our new commenting forum
Join thought-provoking conversations, follow other Independent readers and see their replies