Government suspends foreign aid scheme after allegations UK taxes bankrolling extremists in Syria
Officers from civilian organisation Free Syrian Police accused of working at behest of courts ordering torture and summary executions and handing money to Nour al-Din al-Zinki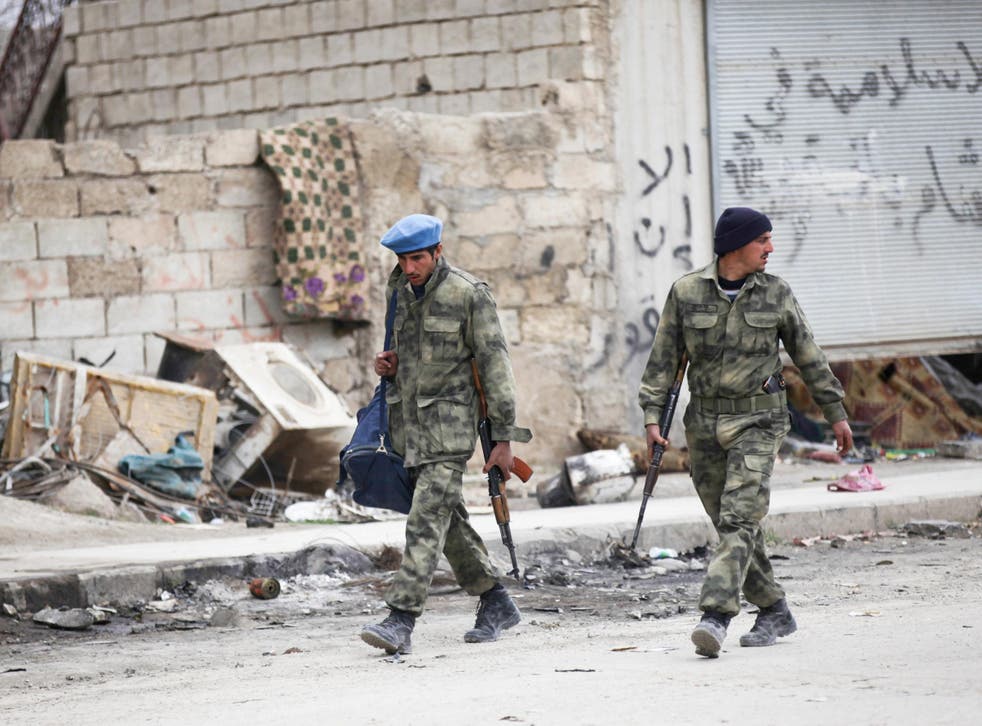 The Government has suspended a foreign aid scheme after an investigation claimed that taxpayers' money was being used by extremists in Syria.
Officers from the Free Syrian Police (FSP), the civilian police force backed by Britain, have also been working with courts accused of torture and summary executions, BBC One's Panorama alleged.
According to documents seen by the programme, police officers in Aleppo province were forced to hand over funds to the extremist group in control of the area, Nour al-Din al-Zinki.
Evidence also showed that the Syrian branch of al-Qaeda, Jabhat al-Nusra, had handpicked police officers for two stations in Idlib province, it said.
Britain is one of six countries funding the FSP, which was set up after the Syrian uprising.
Adam Smith International (ASI), the British company that runs the project, said it had managed taxpayers' money "effectively to confront terrorism".
The programme 'Jihadis You Pay For', which will air on Monday evening, claims the documents also showed that dead and fictitious people were on the FSP's payroll.
When the company visited one police station, supposedly the base for 57 police officers, they could not find a single officer, the investigation found.
​ASI said it accounted for the officers on subsequent visits and that it had found very few instances of dead officers remaining on the salary list in Syria.
It said it used cash because there was "no practical alternative" and that officers imposed by Jabhat al-Nusra were detected within two months.
Payments to the stations funding the extremist group Nour al-Din al-Zinki were stopped in August 2016, it added.
ASI said: "ASI has managed the project successfully alongside our partner in an extremely challenging, high-risk environment under the close supervision of the Foreign and Commonwealth Office (FCO) and five other governments."
Kate Osamor, Labour's shadow secretary of state for international development, said that if the allegations were true, British taxpayers would be "rightly outraged".
She said: "We need to understand how the Foreign and Commonwealth Office allowed this to happen, and why their mechanisms for properly managing aid projects failed.
"The opaque Conflict, Stability and Security Fund that financed this project also operates in 70 other countries - many with questionable human rights records.
"This investigation is likely to be only the tip of the iceberg: the Government must now open up its books so the public can understand the true extent of the problem."
Syrian Democratic Forces take Raqqa from Isis – in pictures

Show all 8
An FCO spokesman said: "We take any allegations of co-operation with terrorist groups and of human rights abuses extremely seriously and the Foreign Office has suspended this programme while we investigate these allegations.
"We believe that such work in Syria is important to protect our national security interest but of course we reach this judgement carefully given that in such a challenging environment no activity is without risk. That is why all our programmes are designed carefully and subject to robust monitoring."
PA
Register for free to continue reading
Registration is a free and easy way to support our truly independent journalism
By registering, you will also enjoy limited access to Premium articles, exclusive newsletters, commenting, and virtual events with our leading journalists
Already have an account? sign in
Register for free to continue reading
Registration is a free and easy way to support our truly independent journalism
By registering, you will also enjoy limited access to Premium articles, exclusive newsletters, commenting, and virtual events with our leading journalists
Already have an account? sign in
Join our new commenting forum
Join thought-provoking conversations, follow other Independent readers and see their replies