UK general election: 100 seats that will decide the result
Click image above to zoom in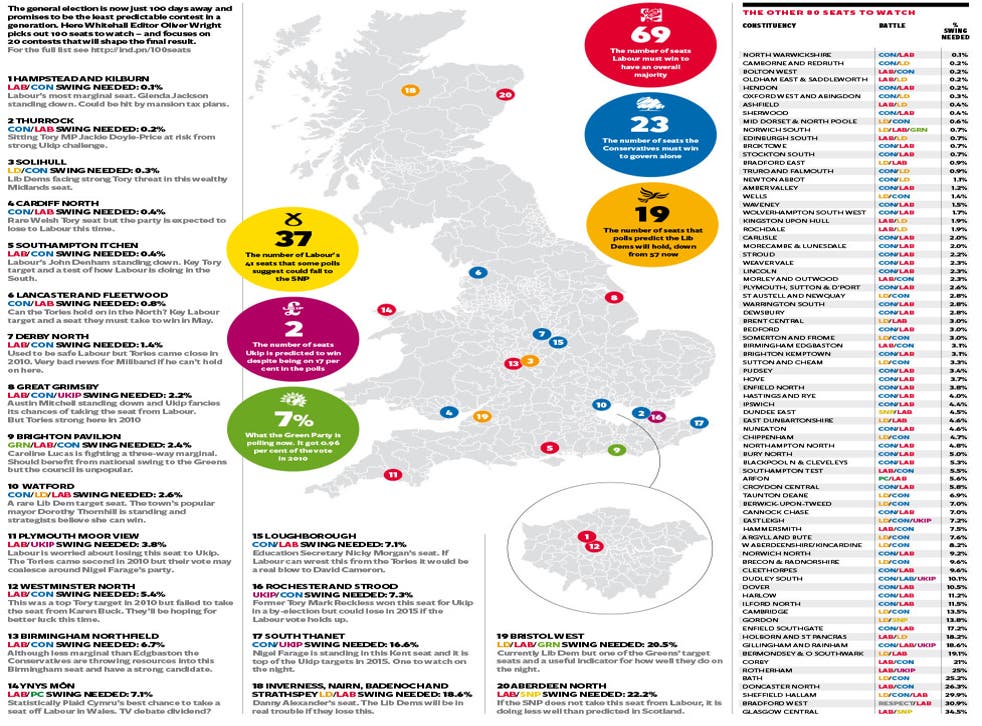 The general election is just 100 days away and promises to be the least predictable contest in a generation. These are the the main 100 seats that will most shape the final result.
1 Hampstead and Kilburn (LAB/CON 0.1%)
Labour's most marginal seat. Glenda Jackson standing down. Could be hit by mansion tax plans.
2 North Warwickshire (CON/LAB 0.1%)
The Tories' most marginal seat. Current MP standing down and a key Labour target.
3 Camborne and Redruth (CON/LD 0.2%)
Held by Tories but with a majority of 66 over Lib Dems. Rare Lib Dem target.
4 Bolton West (LAB/CON 0.2%)
Held by Labour over Tories but both parties vote share vulnerable to Ukip.
5 Thurrock (CON/LAB/Ukip 0.2%)
Sitting Tory MP Jackie Doyle-Price at risk from strong Ukip challenge.
6 Oldham East and Saddleworth (LAB/LD 0.2%)
Held by Labour in 2011 by-election. Lib Dems in second place.
7 Hendon (CON/LAB 0.2%)
Matthew Offord at risk from strong Labour challenge in London but could be helped by the mansion tax.
8 Solihull (LD/CON 0.3%)
Lib Dems facing strong Tory challenge in this wealthy Midlands seat.
9 Oxford West and Abingdon (CON/LD 0.3%)
Nicola Blackwood has a 176 majority over Lib Dems. Very bad for the Tories if they don't hold on.
10 Ashfield (LAB/LD 0.4%)
Gloria De Piero only has a 192 majority for Labour but should hold on. Key factor will be the Ukip vote.
11 Southampton (LAB/CON 0.4%)
Labour's John Denham standing down. Key Tory target and a test of how Labour is doing in the South.
12 Cardiff North (CON/LAB 0.4%)
Rare Welsh Tory seat but the party is expected to lose to Labour this time.
13 Sherwood (CON/LAB 0.4%)
Currently Tory but Labour must win if it is to be the largest party in 2015.
14 Mid Dorset and North Poole (LD/CON 0.6%)
Lib Dem seat but sitting MP standing down. Tories must win – but Ukip could denude their vote.
15 Norwich South (LD/LAB/Green 0.7%)
Lib Dems unseated Charles Clarke here in 2010 – but likely to lose votes to the Greens this time. Expect a Labour gain.
16 Edinburgh South (LAB/LD 0.7%)
Marginal Lab/Lib Dem seat in 2010 but likely to be safer for Labour this time round.
17 Broxtowe (CON/LAB 0.7%)
Labour target but Tory MP Anna Soubry well known and well liked so could hold on.
18 Stockton South (CON/LAB 0.7%)
Tory James Wharton has a majority of 332 over Labour. But the Ukip vote makes the result too hard to call.
19 Lancaster and Fleetwood (CON/LAB 0.8%)
Can the Tories hold on in the North? Key Labour target and a seat they must take to win in May.
20 Bradford East (LD/LAB 0.9%)
Lib Dems took this seat from Labour in 2010 – likely to revert back this time round.
21 Truro and Falmouth (CON/LD 0.9%)
Tories must hold seat in the South West. Lib Dem challenger – but Ukip vote could be unpredictable.
22 Amber Valley (CON/LAB 1.2%)
Tories took from Labour in 2010 with a majority of 536. Labour needs to re-take.
23 Derby North (LAB/CON 613 1.4%)
Used to be safe Labour but Tories came close in 2010. Very bad news for Miliband if his party can't hold on here.
24 Wells (LD/CON 1.4%)
Lib Dem MP Tessa Munt has a strong personal vote and increased her majority in 2010. Could hold off a Tory challenge.
25 Waveney (CON/LAB 1.5%)
Waveney has always been a bellwether seat swinging in line with the mood of the nation. One to watch.
26 Wolverhampton South West (CON/LAB 1.7%)
Key Midlands battle ground seat. Tories took in 2010 but big Labour target this time round
27 Kingston upon Hull (LAB/LD 1.9%)
Labour should be safe here. But the strength of the working class Ukip vote is an unknown factor.
28 Rochdale (LAB/LD 1.9%)
Used to be a Lib Dem stronghold but after Cyril Smith revelations Simon Danczuk should hold on easily.
29 Carlisle (CON/LAB 2.0%)
Was Labour from 1964 to 2010 and the party is confident of winning it back this time. Disastrous if they fail.
30 Morecambe and Lunesdale (CON/LAB 2.0%)
Typical swing Northern seat. Will be a test of whether George Osborne's Northern Powerhouse rhetoric has cut through.
31 Great Grimsby (LAB/CON/Ukip 2.2%)
Austin Mitchell standing down and Ukip fancies its chances of taking the seat from Labour. But Tories also strong here in 2010.
32 Stroud (CON/LAB 2.2%)
Another long time Tory/Labour marginal. A test of both parties in middle England.
33 Weaver Vale (CON/LAB 2.3%)
North West seat that used to be Labour but was won by the Tories in 2010.
34 Lincoln (CON/LAB 2.3%)
Has swung with the country since 1979. Both Tories and Labour will pour resources here in to win.
35 Brighton Pavilion (Green/LAB/CON 2.4%)
Caroline Lucas is fighting a three way marginal. Should benefit from national swing to the Greens but the council is unpopular.
36 Watford (CON/LD 2.6%)
A rare Lib Dem target seat. The town's popular mayor Dorothy Thornhill is standing and strategists believe she can win. A rare three-way marginal
37 St Austell and Newquay LD CON 1,312 2.8%
Another key seat the Lib Dems need to hold if they are to have any hope of being in Government after May.
38 Warrington South (CON/LAB 2.8%)
The Tories David Mowat is vulnerable in this seat especially if Ukip gets more than the 1,600 votes it got in 2010.
39 Dewsbury (CON LAB 2.8%)
Sayeeda Warsi failed to take Dewsbury for the Tories in 2005 but Simon Reevell won in 2010. Labour hope to win it back.
40 Brent Central (LD/LAB 3.0%)
Sarah Teather has held this seat since a by-election in 2003 but is standing down. Lib Dems expect to lose to Labour.
41 Bedford (CON/LAB 3.0%)
A swing South Eastern seat which Labour needs to take if Ed Miliband is going be in Downing Street in May.
42 Somerton and Frome (LD/CON 3.0%)
Lib Dem MP David Heath is standing down at this election and the party could be vulnerable to a Tory challenge.
43 Birmingham Edgbaston (LAB/CON 3.1%)
Should be Tories top target in the Midlands but Gisela Stuart is popular locally and there is no real campaign against her.
44 Brighton Kemptown (CON/LAB 3.1%)
Another test of whether Ed Miliband cuts through to voters in the more prosperous parts of the South.
45 Sutton and Cheam (LD/CON 3.3%)
Former Lib Dem minister Paul Burstow could lose this seat to the Tories. Hospital provision is a big issue locally.
46 Pudsey CON LAB 1,659 3.4%
The Labour vote collapsed here in 2010 and Stuart Andrew could be vulnerable in this Yorkshire seat.
47 Plymouth Moor View LAB/Ukip 3.8%)
Labour is worried about losing this seat to Ukip. The Tories came second in 2010 but its vote may coalesce around Ukip.
48 Enfield North (CON/LAB 3.8%)
This is a re-run of 2010 between Nick de Bois and Labour's Joan Ryan in this North London seat. Will be close.
49 Hastings and Rye (CON LAB 4.0%)
Without Ukip in the mix Amber Rudd should be safe here. But Farage's party could allow Labour through the middle.
50 Ipswich (CON/LAB 4.4%)
If the Tories start losing seats like Ipswich then the party is in trouble. But Ben Gummer is not that safe here.
51 Dundee East (SNP/LAB 4.5%)
Once Labour would have hoped to take this seat off the SNP. But that now looks forlorn hope.
52 East Dunbartonshire (LD/LAB 4.6%)
Jo Swinson is a potential next leader of the Lib Dems. But she faces a real threat to her seat from both Labour.
53 Chippenham (LD/CON 4.7%)
A key test for the Lib Dems. If seats like this start falling to the Tories Nick Clegg's party is in trouble.
54 Bury North (CON/LAB 5.0%)
Eurosceptic David Nuttall should be safe here. And if he's not the Tories will have had a disastrous night in the North.
55 Blackpool North and Cleveleys (CON/LAB 5.3%)
Blackpool doesn't seem like a natural Tory seat but the party won here in 2010. Labour desperate to reverse that.
56 Westminster North (LAB/CON 5.4%)
This was a top Tory target in 2010 but failed to take the seat from Karen Buck. They'll be hoping for better luck this time.
57 Southampton Test (LAB/CON 5.5%)
This is less marginal than John Denham's old seat but Labour are still concerned by the Ukip factor here.
58 Arfon (PC/LAB 5.6%)
Labour is targeting this seat from Plaid Cymru. Will be a test of whether the new inclusive TV debates help the nationalists.
59 Croydon Central (CON/LAB 5.8%)
A test of how strong Labour's activist base is in the London suburbs. A seat they really ought to win.
60 Birmingham Northfield (LAB/ 6.7%)
Although less marginal than Edgbaston the Conservatives are throwing resources into this Birmingham seat and have a strong candidate.
61 Taunton Deane (LD/CON 6.9%)
Lib Dem Jeremy Browne was a popular local MP but has now decided to stand down. Good chance the Tories will take.
62 Richmond Park (CON/LD 6.9%)
Zac Goldsmith's narrowish majority in part explains his vehement opposition to a third runway at Heathrow.
63 Berwick-upon-Tweed (LD/CON 7.0%)
Sir Alan Beith is stepping down and the Tories hope to capitalise on this to take the border seat.
64 Cannock Chase (CON/LAB 7.0%)
The Tory MP Aidan Burley has been forced to step aside at the election after a string of controversies. Labour should capitalise.
65 Loughborough (CON/LAB 7.1%)
Education Secretary Nicky Morgan's seat. If Labour can wrest this from the Tories it would be a real blow to David Cameron.
66 Ynys Môn (LAB/PC 7.1%)
This is Plaid Cymru's best chance to take a seat of Labour in Wales. Might be a TV debate dividend.
67 Eastleigh (LD/CON/Ukip 7.2%)
The Lib Dems famously held onto this seat following the jailing of Chris Huhne. Should hold on again in 2015 but will be close.
68 Birmingham Yardley (LD/LAB 7.3%)
A great test of the incumbency factor. On a uniform swing the Lib Dems should lose to Labour. But John Hemming is popular and may hang on.
69 Rochester and Strood (Ukip/Con 7.3%)
Former Tory Mark Reckless won this seat for Ukip in a by-election but could lose in 2015 if the Labour vote holds up.
70 Hammersmith (LAB/CON 7.5%)
Andy Slaughter kept this seat against a strong Tory challenge in 2010. If he loses in 2015 it will be a bad night for Milband.
71 Argyll and Bute (LD/CON/SNP/LAB 7.6%)
This will be a four way marginal in 2015 and will be a fascinating test of the strength of the SNP.
72 West Aberdeenshire and Kincardine (LD/CON/SNP 8.2%)
Although now a Lib Dem seat with the Tories in second both Coalition parties could be punished by the SNP in May.
73 Norwich North (CON/LAB 9.2%)
Labour will be targeting Chloe Smith's seat which she won in a 2009 by-election. Will be a close fight.
74 Brecon and Radnorshire (LD/CON 9.6%)
The Tories top target seat in Wales. Currently held by the Lib Dems it will be a close call on the night.
75 Cleethorpes (CON/LAB 9.6%)
This seaside town has been Labour in the past and could be Labour again. Ukip could be a factor here.
76 Dudley South (CON/LAB/Ukip 10.1 per cent)
The Tory MP Chris Kelly is standing down. Ukip could come through the middle to win.
77 Dover (CON/LAB 10.5%)
Charlie Elphicke could be vulnerable to a Ukip surge in Dover which could let Labour into seat that would otherwise be safe.
78 Harlow (CON/LAB 11.2%)
Robert Halfon is a very popular MP and should help keep this corner of Essex blue. Bad news for Cameron if not.
79 Ilford North (CON/LAB 11.5%)
Another bellwether seat that the Tories need to hold to win an overall majority.
80 Cambridge (LD/CON 13.5%)
The Greens could do well here if they can take much of Lib Dem Julian Huppert's vote.
81 Gordon (LD/SNP 13.8%)
Lib Dem Malcolm Bruce is standing down and is an easy SNP target seat. Alex Salmond standing here.
82 South Thanet (CON/Ukip 16.6%)
Nigel Farage is standing in this Kent seat and it is top of the Ukip targets in 2015. One to watch.
83 Enfield Southgate (CON/LAB 17.2%)
The seat which Michael Portillo lost in 1997. Expect the Tories to hold on barring disaster.
84 Holborn and St Pancras (LAB/LD 18.2%)
Frank Dobson's old seat. Green party leader Natalie Bennett is standing here and could be closer than many think.
85 Gillingham and Rainham (CON/LAB/Ukip 18.6%)
A Tory/Labour marginal where Ukip could also do well. Will be an interesting seat to watch.
86 Inverness, Nairn, Badenoch and Strathspey (LD/LAB 18.6%)
Danny Alexander's seat. The Lib Dems will be in real trouble if they lose this.
87 Bermondsey and Old Southwark (LD/LAB 19.1%)
Simon Hughes has a very strong personal vote and had held the seat through thick and thin since 1983. But will be a fight.
88 Bristol West (LD/LAB/Green 20.5%)
Currently Lib Dem but one of the Green's target seat and a useful indicator for how well they do.
89 Corby (LAB/CON 21%)
The Tories lost this seat in a by-election when Louise Mensche stood down. The Tories will try and win it back.
90 Aberdeen North (LAB/SNP 22.2%)
If the SNP do not take this seat from Labour then it is doing less well than predicted in Scotland.
91 Rotherham (LAB/Ukip 25%)
Labour held this seat in 2012 but Ukip came second. Since then there has been the sex abuse scandal which will help Ukip.
92 Bath (LD/CON 25.2%)
Don Foster is standing down so would be a useful seat for the Tories to take but would need a big collapse in Lib Dem vote.
93 Basingstoke (CON/LD) 26.0%
Maria Miller's seat. Likely to be a Tory hold but she could be punished for the expenses scandal.
94 Doncaster North (LAB/CON 26.3%)
Ed Miliband's seat. Totally safe Labour but will none-the-less be interesting to see how well Ukip – who held their last conference in the town - does here.
95 Sheffield Hallam (LD/CON/Lab) 29.9%
Labour has made a big deal about campaigning in Nick Clegg's seat. Astounding if they win – but not totally impossible.
96 Bradford West (Respect/Lab 30.9)
George Galloway won this seat in a 2012 by-election. Labour still not picked its candidate for 2015. Notoriously hard to predict.
97 Glasgow Central LAB/SNP 34.5%
If the SNP take seats like this in Labour's Glaswegian heartland it spells real problem for the party in Scotland and nationally.
98 Glasgow East (LAB/SNP 36.8%)
Another SNP target despite the huge Labour majority. Will force the party to put more money into Scotland.
99 Beaconsfield (CON/LD 41.5%)
The Tories safest seat held by Dominic Grieve. Might even increase his majority against the Lib Dems.
100 Bootle (LAB/LD 51.3%)
Labour's safest seat. Always worth looking for to see how the core vote holds up.
Register for free to continue reading
Registration is a free and easy way to support our truly independent journalism
By registering, you will also enjoy limited access to Premium articles, exclusive newsletters, commenting, and virtual events with our leading journalists
Already have an account? sign in
Register for free to continue reading
Registration is a free and easy way to support our truly independent journalism
By registering, you will also enjoy limited access to Premium articles, exclusive newsletters, commenting, and virtual events with our leading journalists
Already have an account? sign in
Join our new commenting forum
Join thought-provoking conversations, follow other Independent readers and see their replies