UK general election - 100 days to go: Miliband and Cameron neck and neck in fight for voters' trust on NHS
The NHS has risen to the top of voters' concerns amid the winter crisis in accident and emergency departments
Andrew Grice
Monday 26 January 2015 23:12 Comments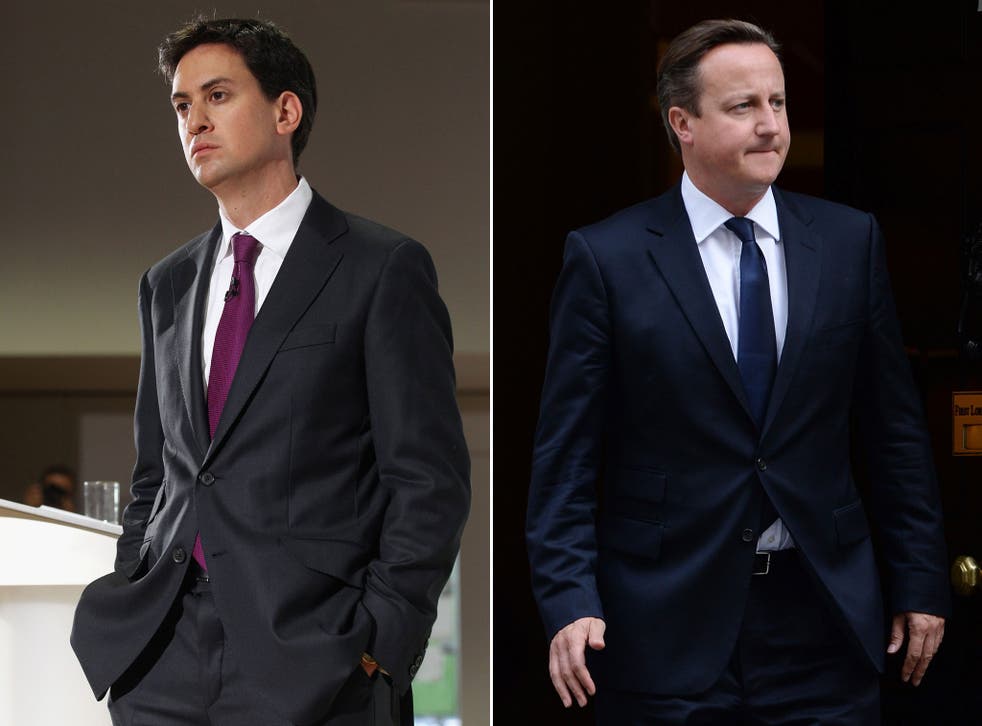 The NHS will matter more to people than the economy when they decide how to vote in the general election 100 days from today, according to a poll for The Independent.
The surprise finding will raise Labour's hopes of "putting the NHS on the ballot paper" in a "wealth vs health" election battle in which the Conservatives focus on the economy and Labour on health.
The NHS has risen to the top of voters' concerns amid the winter crisis in accident and emergency departments. But the ComRes survey also has some bad news for Labour.
David Cameron is trusted as much as Ed Miliband to ensure the NHS has enough money. And the Conservatives have moved ahead of Labour in this newspaper's monthly telephone poll for the first time since September 2011.
Today Ed Miliband will warn that the NHS faces its "most perilous moment in a generation" and would be destroyed by a Tory government that would cut public spending to 1930s levels.
The increasing strain on NHS resources

Show all 4
"The future of our NHS is at stake at this general election," he will declare.
The Labour leader will unveil his party's 10-year plan to rescue the NHS, promising a revolution in social care so the elderly are looked after at home rather than in hospital.
Labour will pledge to end the "scandal" of 15-minute home-care visits which force carers to choose between making a meal or taking an old person to the toilet. Companies providing such services would face cash penalties if the client ended up in hospital.
A Labour government would also integrate health and social care through guaranteed "year of care" budgets based on a person's entire needs. All vulnerable old people would have a "safety check" to reduce the £2bn-a-year bill for falls and fractures and the £278m annual cost of keeping patients in hospital because they cannot be discharged.
According to ComRes, three in five people (59 per cent) say that when deciding how they will vote, the parties' policies on healthcare and the NHS will matter more to them than those on the economy. Only 34 per cent say that policies on the economy will be more important than those on health.
Two-thirds of women (67 per cent) say that health will matter more than the economy, while only half (50 per cent) of men say the same. Men (43 per cent) are more likely than women (26 per cent) to say the economy will matter more to them than health.
Some 29 per cent of people say they trust Mr Cameron to ensure the NHS has enough money, while 65 per cent disagree. Some 28 per cent trust Mr Miliband, while 65 per cent disagree. This finding is a significant boost for the Tories, who believe they will win the election on the economy if they can get a draw on health.
ComRes puts the Tories on 31 per cent (up two points since last month); Labour on 30 per cent (down two points); Ukip on 17 per cent (up one point); the Liberal Democrats on 8 per cent (down four points); the Greens on 7 per cent (up two points) and others on 7 per cent (up one point).
Speaking in Trafford, where the first NHS hospital was opened in 1948, Mr Miliband will announce the third of Labour's five election pledges: to "build an NHS with the time to care: 20,000 more nurses and 8,000 more GPs. Join up services from home to hospital, guaranteeing GP appointments within 48 hours and cancer tests within one week."
Mr Miliband will say: "When you look at his record for the past five years and his plan for the next five years, you know David Cameron can't be trusted with our NHS.
"He puts the wrong values at the heart of our NHS and he just won't put the right resources into our NHS. That means you will wait longer and longer for care, forced to go private if you want timely treatment, with more and more services hived off to the private sector."
ComRes interviewed 1,001 adults by telephone between 23-25 January 2015. Data were weighted to be demographically representative of all GB adults.
Register for free to continue reading
Registration is a free and easy way to support our truly independent journalism
By registering, you will also enjoy limited access to Premium articles, exclusive newsletters, commenting, and virtual events with our leading journalists
Already have an account? sign in
Join our new commenting forum
Join thought-provoking conversations, follow other Independent readers and see their replies