UK does deal with Norway and Iceland to soften new Brexit trade barriers
UK will still face new tariffs under free trade agreement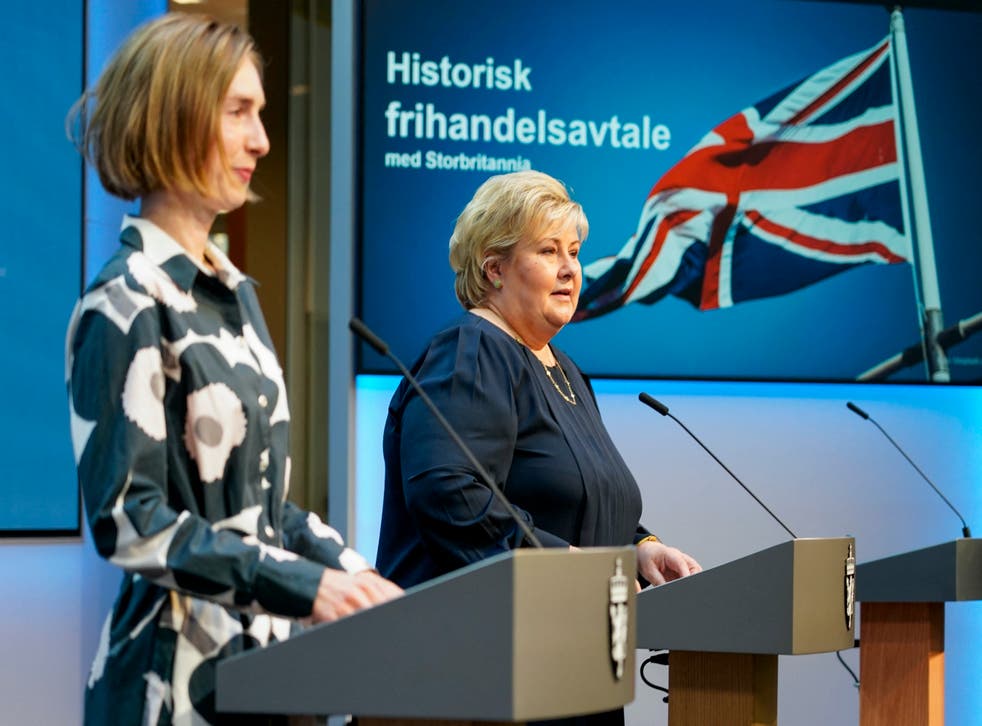 Britain has agreed a new trade deal with Norway, Iceland and Lichtenstein that will soften some of the new trade barriers created by Brexit.
Under the agreement announced by trade secretary Liz Truss, new tariffs on some cheeses and fish would be reduced to lower levels or eliminated.
As a member of the single market Britain previously enjoyed tariff free access to the markets of the EFTA states, which are not inside the EU but are closely aligned on trade policy.
But with Brexit UK businesses are facing new barriers, which the new agreement helps to reduce – though not to the level previously enjoyed.
In a statement Ms Truss failed to contextualise the new agreement, simply telling reporters:
"Today's deal will be a major boost for our trade with Norway, Iceland and Liechtenstein, growing an economic relationship already worth £21.6 billion, while supporting jobs and prosperity in all four nations at home."
At a press conference in Oslo Norwegian prime minister Erna Solberg said: "We have given on cheese, but we got a little more on fish."
She the Conservative prime minister, who supports EU membership for Norway and previously warned the UK it would not get a good deal outside the bloc, described the deal as "ambitious and comprehensive".
Trade between the UK and Norway was worth £20.4 billion pounds in 2020, making the country Britain's 13th largest trading partner. The UK in turn is Norway's top trading partner, largely because of natural gas exports.
Britain is also the Scandinavian country's third biggest buyer of fish and seafood. Trade since the UK left the single market at the start of the year has been conducted under a provisional agreement.
David Henig, a trade expert and director at the European Centre For International Political Economy, described the agreement as "a pretty bog-standard free trade agreement, with some level of tariff reduction and other preferential access against WTO terms".
But he added that the agreement was "obviously nothing like the previous seamless trade under a single market" which the UK had previously enjoyed.
World news in pictures

Show all 50
Norway and Iceland are not in the EU customs union and so have a relatively independent trade policy and sign their own trade agreements.
But they are members of the single market and enjoy preferential access to EU markets far beyond what the UK has negotiated.
With the exception of fish and farm produce Norwegian and Icelandic goods are imported tariff-free into the EU, but the lack of a customs unions mean checks are required on imports to determine their origin.
Register for free to continue reading
Registration is a free and easy way to support our truly independent journalism
By registering, you will also enjoy limited access to Premium articles, exclusive newsletters, commenting, and virtual events with our leading journalists
Already have an account? sign in
Register for free to continue reading
Registration is a free and easy way to support our truly independent journalism
By registering, you will also enjoy limited access to Premium articles, exclusive newsletters, commenting, and virtual events with our leading journalists
Already have an account? sign in
Join our new commenting forum
Join thought-provoking conversations, follow other Independent readers and see their replies