Trump says Syria is 'sand and death'
UK could face a new commons vote on Syria after Isis caliphate defeat
Labour's shadow foreign secretary says government needs fresh parliamentary mandate for continued military role in Syria  
Britain may face a new parliamentary vote on its continued military role in Syria after the Isis caliphate is defeated, as Labour calls for a fresh mandate to authorise a changing mission.
The UK has carried out hundreds of airstrikes in Syria as part of its role in an international coalition to defeat Isis, and deployed special forces on the ground alongside some 2,000 US troops.
But as the caliphate nears defeat, and after President Donald Trump ordered the withdrawal of all but a few hundred US troops, the coalition's aims are shifting.
The Trump administration is now pushing for a mostly European combat force to administer a safe zone in northern Syria, according to diplomats, which is partly designed to prevent fighting between Turkey and its bitter enemy, the Kurdish-led Syrian Democratic Forces. The US would also keep some troops in the country to ensure Isis does not regroup.
Labour's shadow foreign secretary, Emily Thornberry, told The Independent that a continued UK military role in Syria after the defeat of the caliphate "goes far beyond the policy MPs were asked to support in 2015."
"The government will clearly need a fresh parliamentary mandate if British engagement in Syria is going to continue even after those Daesh remnants have been destroyed, and even after the majority of US troops have been withdrawn," she added.
A parliamentary vote in 2015 authorised the UK to carry out airstrikes against Isis to "eradicate the safe haven they have established over significant parts of Iraq and Syria". David Cameron won the vote by a majority of 174. But the wider mission being proposed by the US may require another vote.
"The US plan now is not anti-Isis, its anti-Turkey, which poses legal issues for Britain," said one Western diplomat.
Timeline of the Isis caliphate

Show all 19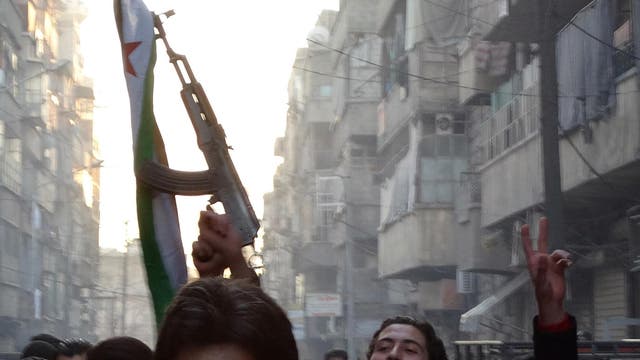 The outcome of the debate over the deployment of US and coalition troops in northeast Syria will have a profound effect on the region's future, and comes at a pivotal moment in the country's multi-sided civil war.
The Isis caliphate, which once stretched across two countries and ruled over 10 million people, has now been reduced to a small patch of land in a village in Syria's eastern Deir ez-Zor province.
It was the impending defeat of the caliphate that prompted Mr Trump to announce a "full" and "rapid" withdrawal of US troops from Syria in December. That announcement shocked US allies, and officials within his own administration, who warned that a quick exit would allow Isis space to regroup, and leave America's Kurdish allies open to an attack from Turkey.
The presence of coalition troops in Syria has acted as a deterrence in a wider conflict between Turkey and the Syrian Democratic Forces, which is the main coalition partner in the fight against Isis, but which Ankara views as a terror group.
Turkey's president, Recep Tayyip Erdogan, has threatened to cross the border and enforce a "safe zone" inside Syria, which would inevitably lead to a conflict with the SDF.
The White House had hoped that the UK and France could fill the gap left by US forces, and reportedly pushed for a multinational force of 1,500 European troops to administer the safe zone. But both countries pushed back on the proposal, saying they could not remain without a similar US commitment. Foreign Secretary Jeremy Hunt said "there is no prospect of British forces replacing the Americans" in Syria. France, too, has made clear they would not remain without the US.
In an effort to entice France and Britain to stay engaged in Syria, Mr Trump revised his plan for a full withdrawal and opted to leave 400 troops in the country. Marine General Joseph Dunford, chairman of the US Joint Chiefs of Staff, has been in talks with European counterparts about the proposal. But the role these forces would play remains unclear, and European diplomats are seeking clarity before committing to staying in the country.
"They realised we weren't going to stay there on our own," said another Western diplomat engaged in the anti-Isis campaign.
"We're committed to the fight against Daesh so we're seeking more clarity on US plans and the purpose of the mission. There are also important issues like force protection and rules of engagement that need to be worked through," they added.
Speaking to The Independent earlier this week, Abdulkarim Omar, co-chair of foreign relations of the political wing of the SDF, said he hoped the US decision to keep troops in Syria would encourage Britain and France to do the same.
"This decision may encourage other European states, particularly our partners in the international coalition against terrorism, to keep forces in the region, which is very important to to maintain stability and protect our region from the Turkish threats," he said.
A decision on whether a vote needs to be held may come down to how the new mission is characterised by the coalition, and what is required of the UK. The US may, for example, try to sell a safe zone operation as a continuation of the anti-Isis mission.
Aidan Hehir, reader in International Relations at the University of Westminster and author of several books on humanitarian intervention, said the 2015 vote "certainly didn't include permission to deploy troops on the ground in Syria."
"Such a move is so significantly different to launching airstrikes from Iraq that the 2015 vote could not reasonably be held to cover this," he told The Independent.
"Additionally, any troop deployment in Syria constitutes a violation of Syria's sovereignty – as the Syrian government has not given consent – and would thus also require Security Council authorization under Chapter VII of the UN Charter; of course Russia and China would oppose any such proposal."
Only one British soldier has been killed in action in Syria. Sergeant Matt Tonroe, from the 3rd Battalion of the Parachute Regiment, died in an improvised explosive device blast while embedded with US forces. Two British special forces soldiers were injured in an Isis missile attack in January in Deir ez-Zor.
A spokesperson for the Foreign Office said: "We are in close contact with the US and other allies regarding the future of the campaign against Daesh."
Join our new commenting forum
Join thought-provoking conversations, follow other Independent readers and see their replies