A month after David Cameron pledged to help Syrian refugees, Britain is still taking the same number as before
Germany took in tens of thousands of people over the same period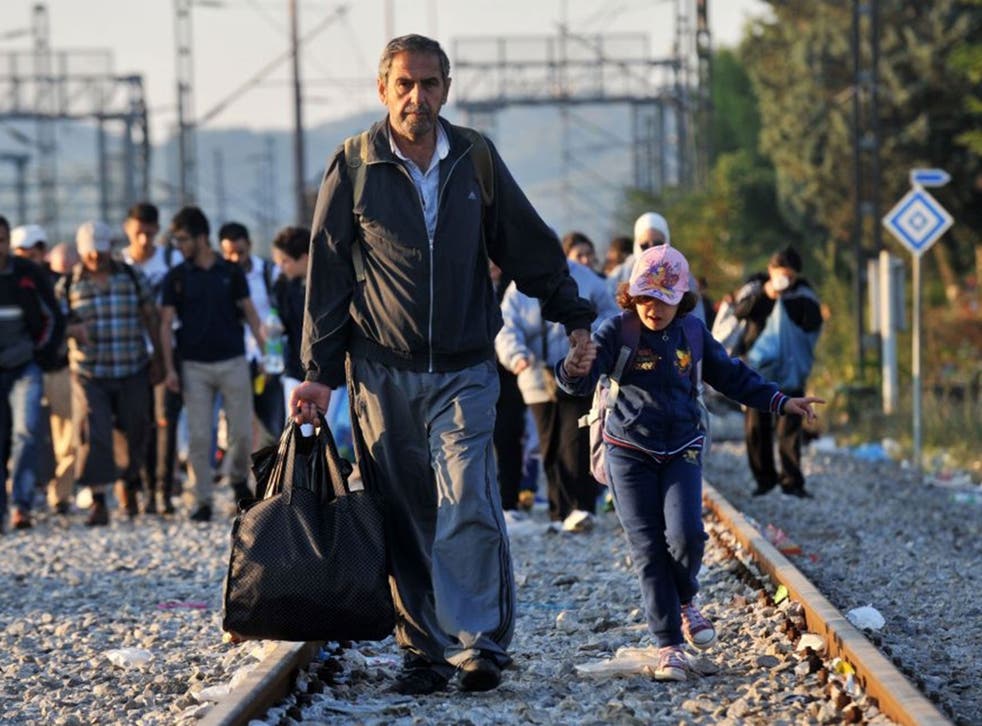 Britain is still taking the same number of Syrian refugees as it was before David Cameron pledged to increase numbers to 20,000, the Government has admitted.
Refugees minister Richard Harrington said numbers of people being allowed in had not increased well over a month after Mr Cameron's pledge, which was made at the beginning of September.
"I would say that the pace of people arriving is much the same as it's been over the last few months, it's gathering traction, and it's my job to organise that properly," he told MPs on the Home Affairs Select Committee.
"The people that have come in over the last few weeks were under the original scheme. We know the type of numbers because it's the same scheme it was originally."
Other countries have given refuge to significantly more people during the same time period. Germany says it expects to take around 67,000 refugees a month, a total of 800,000 this year.
During one weekend alone in September Germany registered 25,000 people.
Mr Harrington said he knew how many Syrians had arrived under Britain's scheme but that he would not tell the parliamentary committee how many had done so.
"Yes, it's my job to know [how many refugees have arrived], and it's my job to make sure the flow of refugees under this humanitarian situation greatly increases," he said.
"I'm not prepared to give a running commentary, this is not a football game."
Refugees settle in Germany

Show all 12
Committee chair Keith Vaz, a Labour MP, said he would write to the Prime Minister to obtain the figure, which he said was necessary for the committee to conduct its inquiry.
"We don't want a running commentary. The purpose of a select committee – and you've served on one – is to try and get information from ministers," he said.
"We will have to write to the Prime Minister now and tell him that we need this figure because frankly I think it's unsatisfactory for you to come before this committee and not have the numbers."
David Cameron pledged to take 20,000 Syrian refugees over five years on 7 September 2015 – around 4,000 a year or 330 a month.
The UK has said it will take the most vulnerable refugees from camps on the Syrian border rather than accepting people who travel to Europe.
On Monday the Home Office refused to tell the Independent how many Syrians had been allowed into Britain.
A spokesperson for the Department said the UK had granted asylum to over 5,000 Syrians since the conflict began.
"We are working hard to bring in greater numbers of people who desperately need our assistance under the expanded scheme," the spokesperson said.
"Preparations are being made for a steady stream of arrivals in manageable numbers following local authority places being secured."
Mr Harrington declined to name any such local authorities when questioned by the Committee, however. He said refugee figures would be issued quarterly.
Register for free to continue reading
Registration is a free and easy way to support our truly independent journalism
By registering, you will also enjoy limited access to Premium articles, exclusive newsletters, commenting, and virtual events with our leading journalists
Already have an account? sign in
Register for free to continue reading
Registration is a free and easy way to support our truly independent journalism
By registering, you will also enjoy limited access to Premium articles, exclusive newsletters, commenting, and virtual events with our leading journalists
Already have an account? sign in
Join our new commenting forum
Join thought-provoking conversations, follow other Independent readers and see their replies