Ukip achieves highest-ever poll rating at the expense of the Conservatives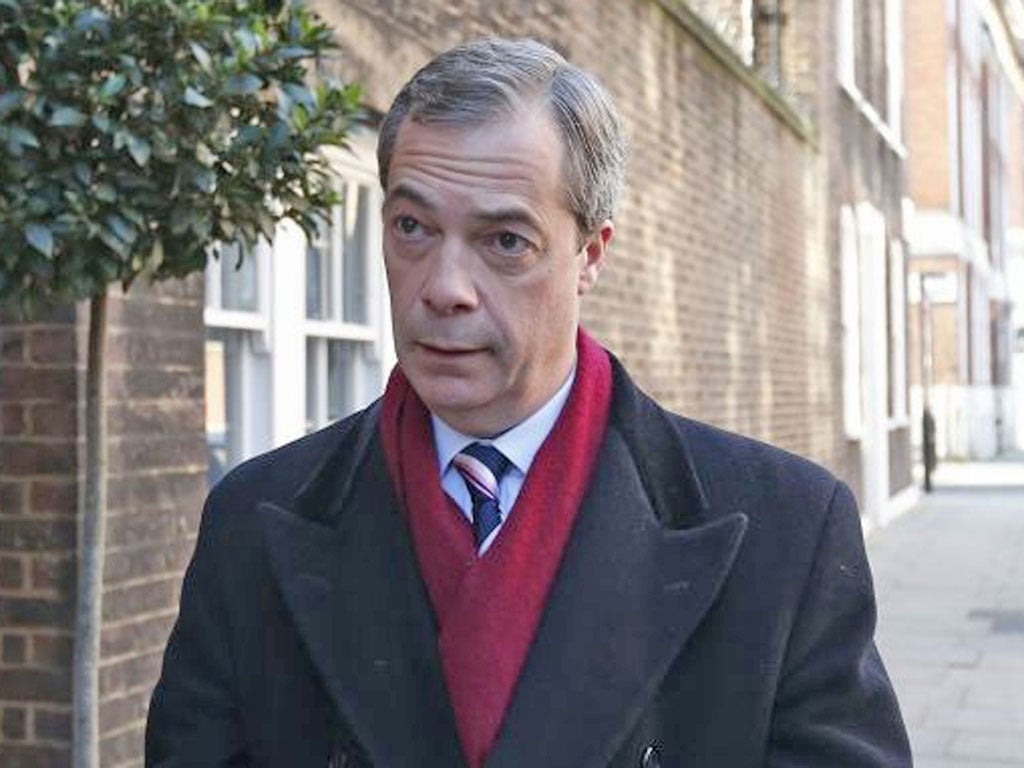 The UK Independence Party (Ukip) has boosted its support at the expense of the Conservatives to achieve its highest-ever rating in a ComRes survey for The Independent.
The anti-EU party has increased its share of the vote from 6 per cent to 9 per cent in the past month, while the Tories have slipped back by four points. The findings will heighten Tory fears that Ukip could deprive it of victory at the 2015 general election by splitting the anti-Labour vote and allowing Ed Miliband's party to regain power —even though Ukip might not win any seats itself.
Ukip, whose leader Nigel Farage claims it is on course to become Britain's third party, is breathing down the necks of the Liberal Democrats, who are on 10 per cent.
The rise of Ukip has helped Labour to extend its lead from seven to 10 points since the most recent ComRes telephone survey for this newspaper at the end of November. Labour is now on 41 per cent (down one point), the Tories on 31 per cent (down four points), the Lib Dems 10 per cent (unchanged) and other parties, including Ukip, on 18 per cent (up five points).
If repeated at a general election, these figures would give Labour an overall majority of 110, with the Tories losing 99 seats and the Lib Dems seeing 36 of their 57 MPs defeated.
Although Mr Farage's party is trying to woo disaffected Tories who oppose gay marriage as well as David Cameron's stance in Europe, it appears to be broadening its appeal beyond natural Conservatives. According to ComRes, 22 per cent of those people who now support Ukip voted Tory at the 2010 election, while 15 per cent backed Labour and seven per cent the Lib Dems. Ukip appears to be more popular among men than women and among 18-24 year-olds and those over 55 rather than people between the ages of 25 and 54. It seems to attract more support among the C2 skilled manual workers and bottom DE social group than people in higher social grades.
Amid growing disenchantment with the two biggest parties, Ukip is now clearly benefiting from the "protest votes" that used to be garnered by the Lib Dems, but which Nick Clegg's party has struggled to pick up since entering the Coalition with the Tories in 2010.
The advance of Ukip is worrying the Lib Dems as well as the Tories. Its strong performance in recent polls cast a shadow over a speech by Mr Clegg yesterday to mark his fifth anniversary as Lib Dem leader in which he promised to be more open about the Coalition's inner workings and his party's differences with the Tories.
The Deputy Prime Minister argued that both the Tories and Labour were unable to remain in the political centre ground."There are some on the right who believe that no-one could possibly be out of work unless they're a scrounger," he told the Centre Forum liberal think tank. "If you can't find a job you must be lazy. If you say you're too sick to work you're probably pretending. The siren voices of the Tory right who peddle this myth could have pulled a majority Conservative government in the direction of draconian welfare cuts."
Answering questions, Mr Clegg explained why he wanted to see better off pensioners lose benefits such as winter fuel payments and free bus passes and television licences. He said: "We have a Coalition Agreement commitment to maintain those universal benefits for all pensioners, so I'm not asking the prime minister to re-open that during this parliament. What I'm saying is in the future, as we make further savings, I just don't think it's justifiable or sustainable when so many other people are tightening their belts, that multi-millionaire pensioners still receive universal benefits across the board."
ComRes interviewed 1,000 GB adults by telephone between December 14-16. Data were weighted to be demographically representative of all adults in Britain. Data were also weighted by past vote recall. ComRes is a member of the British Polling Council and abides by its rules.
Join our commenting forum
Join thought-provoking conversations, follow other Independent readers and see their replies