Ukip ahead in European polls despite most people thinking the party contains racists
Nigel Farage's party has 29% of the vote ahead of labour on 26% the Conservatives on 23% and Liberal Democrats on 10%
Rob Williams Comments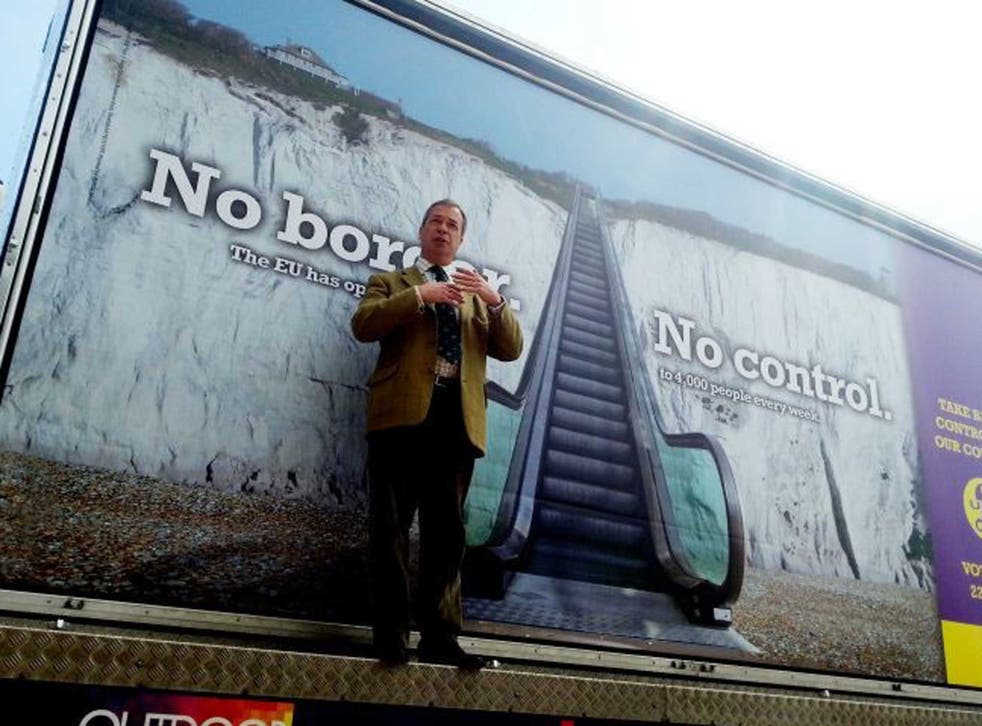 The UK Independence Party has a three-point lead in the upcoming European elections, despite most people thinking the party contains racists, a poll conducted for a Sunday newspaper has claimed.
Nigel Farage's party has 29% of the vote ahead of labour on 26% the Conservatives on 23% and Liberal Democrats on 10%.
The YouGov poll for the Sun on Sunday also found that 27% of those surveyed thought Ukip was a party with "racist views" and "many racist members.
A larger number - 35% - thought that though the party was not racist it did "seem to attract some candidates or supporters with racist, extreme or odd views".
Some 26% said Ukip is not racist and their "more controversial candidates are just saying the things ordinary people actually think".
The results of the poll came as Ukip suspended another potential councillor for expressing extreme views on the social network Twitter.
Harry Perry posted comments on Twitter describing Prime Minister David Cameron as a "gay-loving nutcase", calling Muslims "devil's kids" and homosexuality "an abomination before God".
Mr Farage accepted that there were "some idiots" in the party as he condemned Mr Perry's comments as "entirely inconsistent" with remaining in Ukip.
The YouGov poll for the Sun on Sunday suggested that while Tory and Labour supporters may back Mr Farage later this month, they will switch back at the general election next year.
For the 2015 contest Labour has a three-point lead on 36% over the Conservatives on 33%, with Ukip on 15% ahead of the Lib Dems on 10%.
Ukip's tough stance on immigration is helping to pull in support ahead of the May 22 poll, with 29% backing them as the best party on the issue, 10 points ahead of the Tories.
Mr Farage is also running neck-and-neck with Labour leader Ed Miliband on 21% as the leader most in touch with ordinary people.
But 34% believe Mr Cameron is best suited to be Prime Minister, 19 points ahead of Mr Miliband, with Mr Farage on 5% and Nick Clegg on 3%.
The Tories are also the party most trusted on the economy, with 39% backing the Prime Minister's party, 18 points ahead of Labour.
In response to the threat from Ukip, Mr Cameron has made his commitment to a referendum on Europe a red line issue for any government he might lead after 2015.
The Prime Minister told the Sunday Express the British people deserve "one last go" to get a Europe that that suits them.
He dismissed Ukip's "throw in the towel" approach, instead insisting that he would be able to renegotiate a better deal with Brussels before putting it to a public vote before the end of 2017.
He said: "Other members do not want to see us leave because we bring an enormous amount to the EU, to the economy and policy.
"I'm saying to them that, if you want Britain to stay, there are changes we are going to have to make because, frankly, consent for membership to this organisation is wafer-thin."
:: YouGov polled 1,844 British adults between April 30 and May 1.
Additional reporting by the Press Association.
Register for free to continue reading
Registration is a free and easy way to support our truly independent journalism
By registering, you will also enjoy limited access to Premium articles, exclusive newsletters, commenting, and virtual events with our leading journalists
Already have an account? sign in
Join our new commenting forum
Join thought-provoking conversations, follow other Independent readers and see their replies