Nigel Farage defends Ukip donor Arron Banks over incendiary Hillsborough comment
Former leader attends party conference and says, 'I'm not his spokesman... [He] is a private citizen entitled to his own views'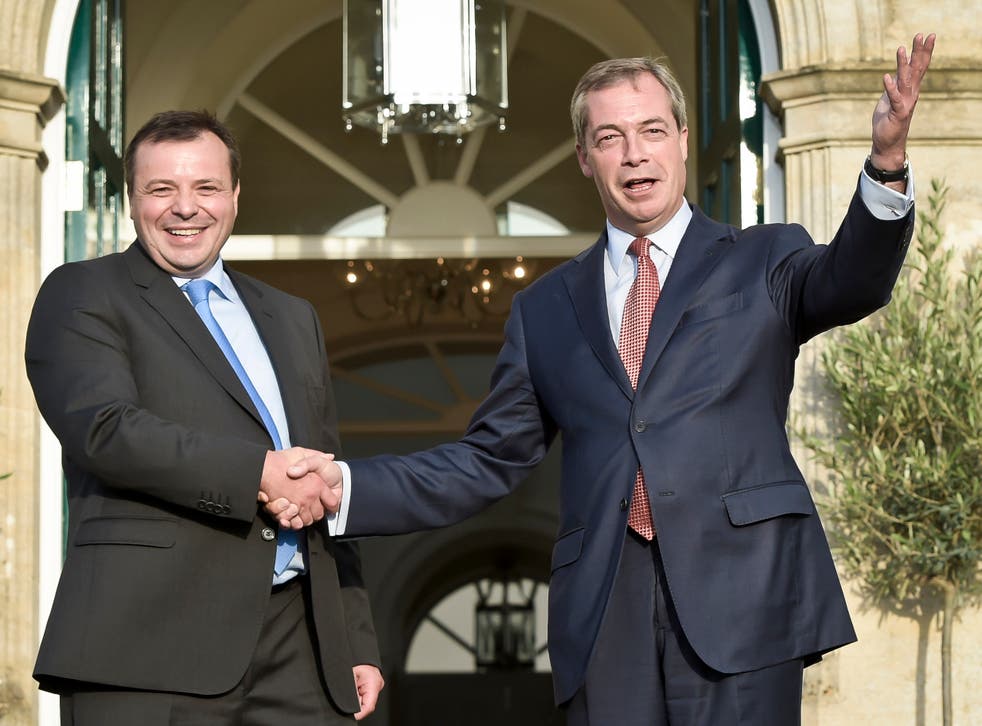 Nigel Farage has defended his "good friend" Arron Banks's right to free speech after his incendiary comments claiming he was "sick to death" of hearing about Hillsborough stadium disaster in which 96 people were killed in 1989.
Appearing at the Ukip conference in Bolton, the former party leader said Mr Banks, who earlier this week said his critics were "milking" the tragedy in Liverpool, was "entitled to his own views".
Asked if Mr Banks' comments were representative of Ukip's mission he said: "He's a good friend of mine and he says all sorts of things on Twitter."
He added: "I'm not his spokesman... I've got lots of friends out there…I'm not defending Arron... I'm not his spokesman. Get his spokesman… Arron Banks is a private citizen entitled to his own views."
Mr Farage also heaped pressure on Paul Nuttall, the current leader, saying that the Stoke-on-Trent Central by-election next Thursday is "fundamental" for the future of the party.
Dismissing suggestions the party should be less "radical" and "head for the centre", he added: "We must not change our policy. We must be seen to those that fight against political correctness. We must be seen as the party that is moving on the national debate the whole time.
"I guess all of that comes to a head next Thursday in Stoke," he added. "I don't think anyone can underplay just how important, just how fundamental that by-election is for the futures of both the Labour party and indeed Ukip too. It matters and it matters hugely"
In reference to Mr Nuttall's torrid week – after it emerged claims on his website that he lost "close personal friends" at the 1989 Hillsborough disaster were fictitious – Mr Farage added: "I know that Paul has had a very, very difficult week… fighting by-elections is not much fun. It's a rough old game.
"But from what I can see on the ground," he added. "I do believe we can win this by-election. I do believe we're going to win this by-election. But we won't win it by sitting at home and waiting for the results to come through at 2 or 3 o'clock in the morning."
The former party leader, who hailed Brexit as "Britain's independence day" on the morning of June 24 last year, also claimed children would read about the "political revolutions" of 2016 for one or two hundred years' time.
He added: "I have to tell you, I am now absolutely certain that the political revolution of 2016 was actually just the beginning of something very much bigger that is going to happen across the entire Western world.
"The change in public attitudes towards politics, towards the political class, towards large sections of our establishment liberal media - those changes in attitudes are absolutely fundamental. Far from receding, they are brewing with every month that goes by."
UK news in pictures

Show all 50
Met with a rapturous applause from an audience of devoted party members Mr Farage also criticised a speech by Tony Blair, the former Labour Prime Minister, who had appeared in central Morning at an Open Britain event earlier on Friday.
In a speech Mr Blair insisted that Brexit is not "inevitable" and urged "millions" of Britains worried about leaving the EU to fight to stop it. But Mr Farage responded: "Tony Blair is standing up today saying the British need to rethink Brexit. He seems to think we're going to change our minds.
"He clearly hasn't grasped that if that referendum was held tomorrow the margin would be at least three times bigger than it was in the June of last year. Blair is yesterday's man. He's like the heavyweight world champion who has been retired for a few years but needs to make some money and he comes back and gets knocked out in the first round. By the end of today, Blair will be on the canvas".
Join our new commenting forum
Join thought-provoking conversations, follow other Independent readers and see their replies