Roger Bird: Ukip general secretary suspended over sex harassment claim by high-profile candidate Natasha Bolter
Mr Bird had been the eurosceptic party's general secretary since July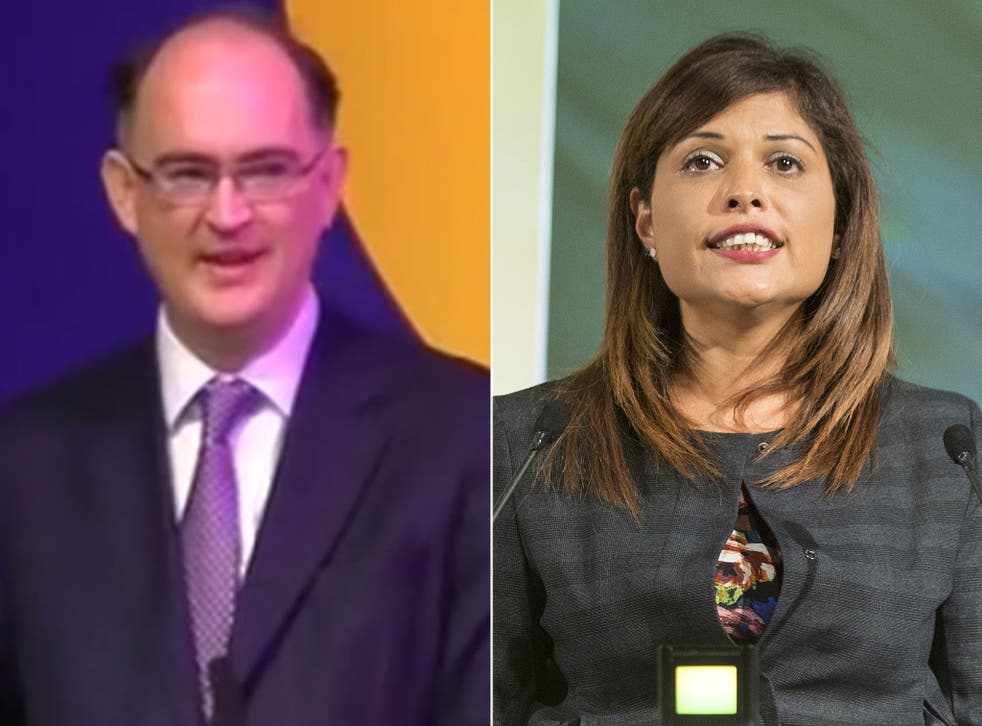 Ukip has been plunged into a fresh crisis after one of its most high-profile female candidates quit the party over sex harassment claims against its general secretary.
Natasha Bolter, an Oxford-educated former Labour party activist, claims that she was propositioned by the party's general secretary Roger Bird on the day she was interviewed as a prospective candidate.
She said that Mr Bird invited her to continue the interview at a London member's club that evening. "I thought it was because I was nervous. [But] when I went I could see that he wasn't really interested in what I had to offer as a politician," she told The Times.
Ukip gaffes and controversies

Show all 18
"He took me down to the snooker room and said 'I find you very attractive'. He said, 'Would you like to come home with me?'"
News of her departure emerged as she pulled out hustings in South Basildon scheduled today.
On Monday evening Ukip confirmed it had suspended Mr Bird "following allegations of impropriety . . . with regard to candidate selection". Mr Bird, 41, has denied the allegations, claiming that he had a consensual relationship with Ms Bolter.
He told the BBC: "We were in a relationship briefly, but that relationship developed well after she had been admitted to the approved candidates list, so her selection was not connected to that."
Ms Bolter, 35, denies that any romantic or sexual contact took place. She claims that upon accepting the invitation to dinner, Mr Bird said she was not dressed smartly enough. She says Mr Bird bought her a £169 dress from Ted Baker, before approvingly telling her she "now looked like a girl who could get in a taxi".
After sharing a meal together, Mr Bird "leant over and tried to kiss me". "It was obvious that he wanted to sleep with me," she said. "I was quite adamant that I'm not going to sleep with him or anyone [in Ukip]. It's hard enough for women. We shouldn't have to sleep with people to get to the right place."
The allegation will come as a blow the Eurosceptic party which has worked hard to reshape a more inclusive image ahead of next year's election. Ms Bird, who was a Labour activist in Tower Hamlets, was unveiled in September to great fanfare as part of Nigel Farage's claim that the party was "parking our tanks on the Labour Party's lawn".
There she delivered an impassioned a speech accusing Labour of female "tokenism" claiming she had worked alongside "misogynists" during her time in Labour. "The women in Ukip have flourished equally alongside our male counterparts," she said to rapturous applause. "We in Ukip rise above gender politics in a bid to move Britain forward."
A Ukip spokesman said last night: "Unfortunately, Ukip has had to suspend Mr Bird pending a full investigation into allegations made against him. The party has acted swiftly and decisively and will not tolerate impropriety of any kind amongst its staff."
Register for free to continue reading
Registration is a free and easy way to support our truly independent journalism
By registering, you will also enjoy limited access to Premium articles, exclusive newsletters, commenting, and virtual events with our leading journalists
Already have an account? sign in