Ukip grassroots leave in protest at selection of ex-Tories and celebrities
Party spokesman claims any allegations of "fixing" the process are "untrue"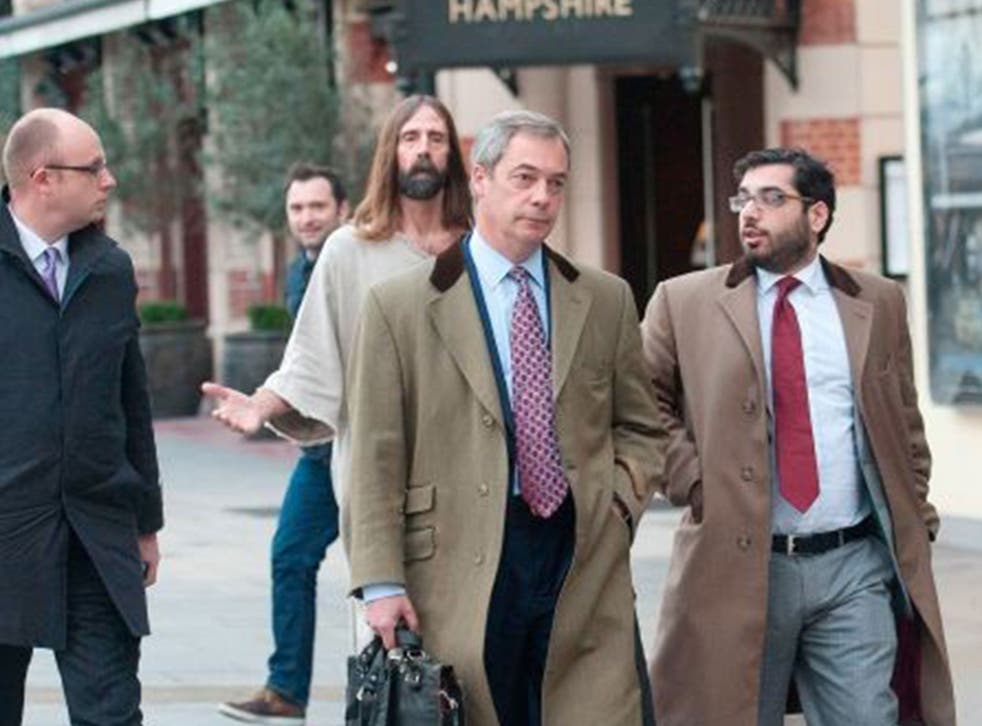 Ukip members and activists are quitting the party in disgust after being passed over in the race for Westminster seats in preference for Tory defectors.
Growing anger among the grassroots comes as the former Conservative councillor bidding to become the country's youngest MP at next May's general election faces accusations of colluding with Ukip's National Executive Committee (NEC) to sew up the Boston and Skegness selection process.
Robin Hunter-Clarke, 22, the local branch chairman, was originally responsible for selecting a shortlist of five Ukip candidates seeking the party nomination for the top target seat. He was not on the first shortlist he compiled in August – which included Neil Hamilton, the disgraced former MP whose attempts to secure a seat are being blocked by party leader Nigel Farage.
But a day before the candidate selection meeting last month, local members were told that Mr Hunter-Clarke had been added to the candidate list. Meanwhile Mr Hamilton had withdrawn – with Ukip sources telling The Independent that Mr Farage had effectively vetoed his selection.
Graham Westmore, Boston and Skegness branch secretary, blamed the NEC for forcing the shortlist change. In an email, Mr Westmore told the other candidates the NEC had "unusually" made adjustments adding Mr Hunter-Clarke's name to the shortlist. He added: "I greatly regret this situation has arisen and I hope you will appreciate that it has done so solely as a result of the intervention of the NEC."
Ukip's confusing policies

Show all 7
Mr Hunter-Clarke won the nomination with around 85 per cent of the vote. Paul Wooding, a Royal Mail driver and one of the original candidates, said he was only told of the new shortlist on the morning of the vote. Mr Wooding, who will now stand as an independent in Boston and Skegness, left the process and quit Ukip in disgust.
He told The Independent: "I decided at that point that I was not prepared to lend credibility to a preordained, corrupt pantomime orchestrated by the all-powerful NEC.."
Ukip's NEC continues to deselect Westminster candidates already chosen by the local branch while blocking others from running and, in Mr Hunter-Clarke's case, forcing through changes so Tory defectors are preferred.
Gogglebox star Andrew Michael, 55, the son of Cypriot immigrants, was last week confirmed as Ukip candidate for Hastings and Rye after the NEC deselected long-term Ukip activist Ralph Atkinson from the post. Mr Atkinson vented his anger in a leaked email to local party members in which he condemns Ukip's policy of recruiting defecting Tory MPs and celebrities.
Suzanne Evans, deputy chairman and former girlfriend of the suspended general secretary Roger Bird, defected from the Tories last May and will stand for Ukip in Shrewsbury and Atcham.
Mr Hunter-Clarke declined to answer questions about the selection process. A Ukip spokesman said the Boston and Skegness selection was "free and fair" and described any allegations of "fixing" the process as "untrue".
The spokesman continued: "What we see are a series of claims by disappointed candidates. As Ukip grows there are those who feel that by dint of long service they are entitled to jobs and roles. The opposite is true as today there is far greater competition."
Nigel Farage defended a former Ukip parliamentary candidate who stood down after being recorded using derogatory terms. The Ukip leader said Kerry Smith was "not suitable" for the election, but insisted his comments were not made with malice.
Register for free to continue reading
Registration is a free and easy way to support our truly independent journalism
By registering, you will also enjoy limited access to Premium articles, exclusive newsletters, commenting, and virtual events with our leading journalists
Already have an account? sign in
Register for free to continue reading
Registration is a free and easy way to support our truly independent journalism
By registering, you will also enjoy limited access to Premium articles, exclusive newsletters, commenting, and virtual events with our leading journalists
Already have an account? sign in
Join our new commenting forum
Join thought-provoking conversations, follow other Independent readers and see their replies