Ukip leader Nigel Farage provokes anger after agreeing with 'basic principle' of Enoch Powell's 'rivers of blood' speech
Farage refused to back down when he was told the remarks were made in 1968 speech which has haunted the politics of race ever since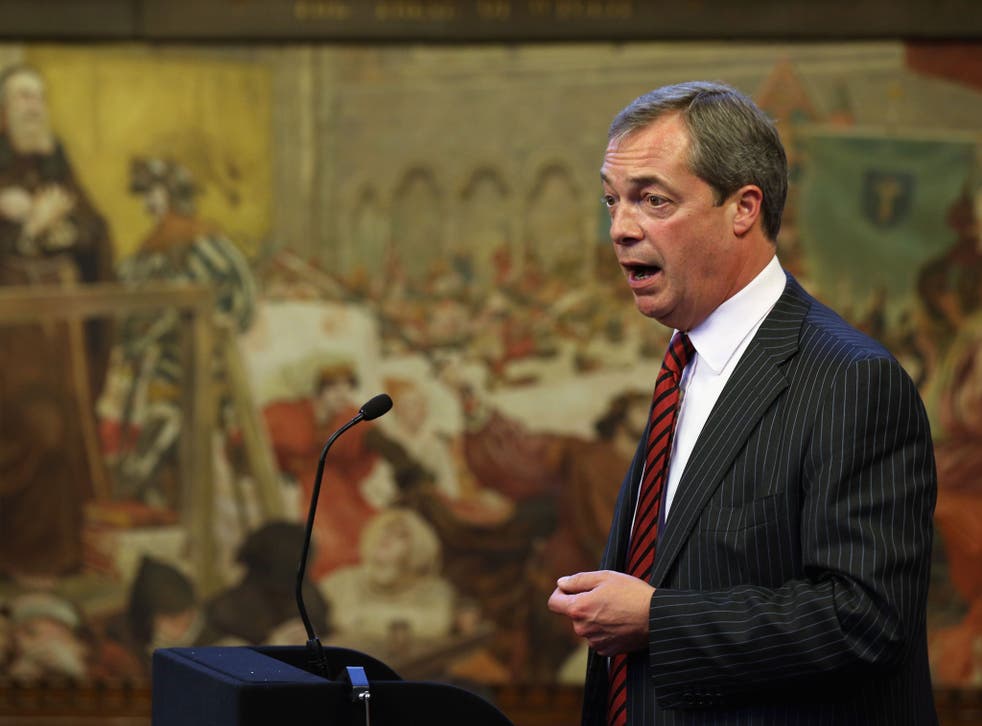 Nigel Farage, the leader of the UK Independence Party, provoked anger after expressing agreement with the "basic principle" of some of the sentiments in Enoch Powell's notorious "rivers of blood" speech.
Without being told who had delivered the comments, Mr Farage was read a section in which Powell claimed indigenous Britons risked becoming "strangers in their own country" with "neighbourhoods changed beyond recognition".
Mr Farage responded: "In a lot of England, that's true".
He refused to back down when he was told the remarks were made in Powell's 1968 speech.
"What he was warning about is that if you have a large influx of people into an area that changes an area beyond recognition, there is tension. That basic principle is right," the Ukip leader told Sky News.
He dismissed the suggestion that Powell had "seen it coming", but he added that migration was on a "completely different scale" today than when the speech was delivered nearly 50 years ago.
"When immigration was being discussed in the '60s and '70s and '80s, we were talking about an annual net inflow to the country of between 30 and 50,000 people.
"What we have had in the last 13 years is net 4m extra migrants who have come to Britain so we are dealing with something now on a scale that hitherto we couldn't even have conceived," he said.
The speech, in which Powell professed to "see the River Tiber flowing with much blood" because of the extent of non-white immigration, led to his sacking from the Tory front bench.
It has haunted the politics of race ever since and only last month Vince Cable, the Business Secretary, evoked its memory to accuse his Conservative Coalition partners of "panic" over Romanian and Bulgarian migration.
Mr Farage has previously described Powell as his political hero because of his commitment to rolling back the influence of the state. He said in 2008: "I would never say that Powell was racist in any way at all. Had we listened to him, we would have much better race relations now than we have got."
Sunder Katwala, the director of the British Future think tank, said: "If Ukip wants be mainstream and not consigned to the margins, it has to get away from the politics of 'Enoch was right'. It needs to get into the debate of how a diverse society deals with immigration and integration."
In his interview, Mr Farage accused David Cameron of not doing enough to curb immigration and suggested only people earning wages on a par with the average national income should be allowed into Britain.
He said: "We should be selective. The single most important criteria should be that we want people coming to this country who have got a skill to bring, who economically are going to earn more than £27,500."
Despite last year predicting a "Romanian crime wave", the Ukip leader denied trying to scapegoat Romanians and Bulgarians following the lifting last week of all controls on their right to work in Britain.
"We are scapegoating almost the entire political class in Westminster, who have allowed open borders since 2004," Mr Farage said.
"We should transform the labour market in this country. The problem we've got is, we have got a massive oversupply of unskilled labour."
Mr Cameron said he wanted to prevent migrants living in this country from claiming child benefit for youngsters they had left behind.
"I don't think that is right and that is something I want to change. It's a situation that I inherited. I think you can change it," he said.
The Prime Minister also signalled that tougher migration rules would be a key Conservative objective in future attempts to renegotiate Britain's relationship with the European Union.
Register for free to continue reading
Registration is a free and easy way to support our truly independent journalism
By registering, you will also enjoy limited access to Premium articles, exclusive newsletters, commenting, and virtual events with our leading journalists
Already have an account? sign in
Register for free to continue reading
Registration is a free and easy way to support our truly independent journalism
By registering, you will also enjoy limited access to Premium articles, exclusive newsletters, commenting, and virtual events with our leading journalists
Already have an account? sign in