Paul Nuttall investigated by police over election fraud claim over Stoke-on-Trent by-election house
Ukip leader Paul Nuttall is campaigning to stand in the Stoke Central by-election on 23 February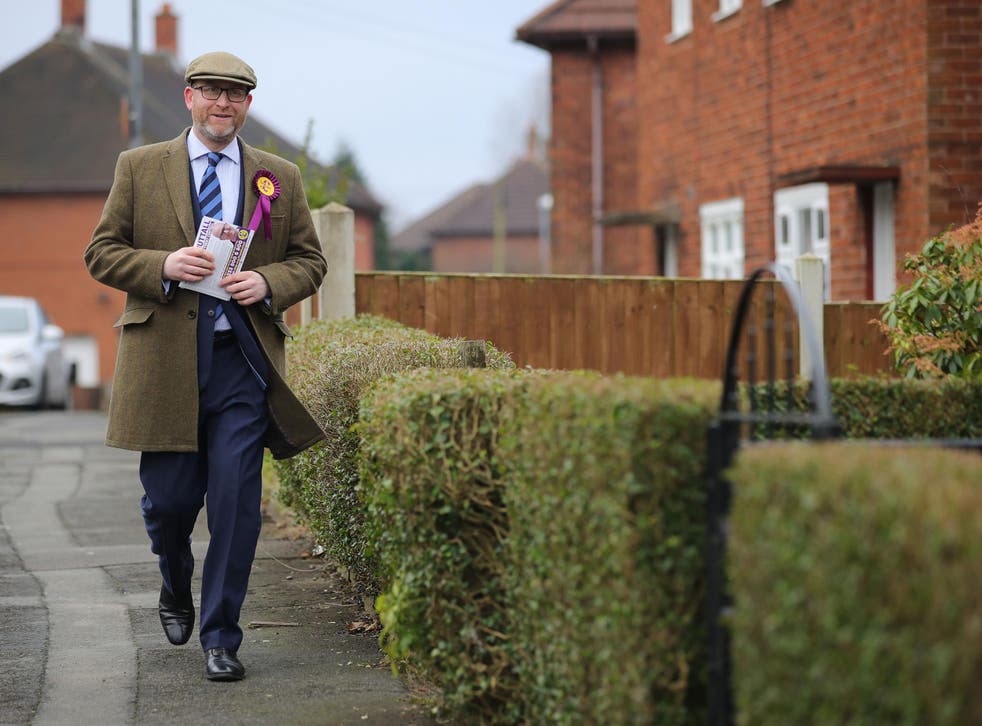 Ukip leader Paul Nuttall is being investigated by police after reports of an allegation of election fraud relating to his upcoming bid to win the Stoke Central by-election.
The controversial politician, who succeeded Nigel Farage as the party's leader, registered his home address on nomination papers as a house in the Staffordshire city.
But in a series of tweets, Channel 4 News political correspondent Michael Crick, published images of the empty property, without any furniture inside.
Legally, an election candidate does not have to live in their prospective constituency, but under the Criminal Administration Act 2006, it is an offence to supply false information to the Electoral Registration Officer.
Defendants can also be fined or jailed for up to 51 weeks for providing false information on a nomination paper, under the Representation of the People Act 1983.
A Staffordshire Police spokesman told The Independent: "We have received a report of an allegation of election fraud relating to the Stoke Central byelection on Thursday 23 February 2017.
"Officers will be investigating the circumstances."
In the list of the 10 people running for the Stoke-on-Trent Central constituency, the Ukip leader's home address is given as 65 Oxford Street, in Penkhull, Stoke.
The Independent understands that the address was still available to rent at Wednesday lunchtime, from agency Whittaker & Biggs for £675 a month, and had been on the market since November.
Derby city Conservative councillor Richard Smalley was jailed for two months after pleading guilty to providing a false address in the run-up to local elections last May.
He filled in an electoral registration form claiming he lived in Allestree - which would have made him eligible to stand for Derby City Council - when his real address was in Borrowash, outside the boundary.
A Ukip spokesman said: "We are entirely happy that all rules have been complied with. If and when the police decide to talk to us we will be happy to help them."
Fiona Ledden, acting returning officer at Stoke-on-Trent City council, said: "It is clear from this that, as acting returning officer, I am required to take the nomination document provided to me at face value and I am not in a position to investigate what appears on the form.
"There was an opportunity to object to any nomination papers and no objections were received. We understand the police are due to investigate and we will be co-operating fully as we would in any other matter."
Mr Nuttall yesterday tweeted: "A candidate being attacked for being prepared to move to his constituency must be a first..."
The Ukip leader, elected in November after Diane James quit 18 days into her tenure and after Nigel Farage stood down for a third time.
He said last week that he would "probably be OK" with waterboarding torture.
Register for free to continue reading
Registration is a free and easy way to support our truly independent journalism
By registering, you will also enjoy limited access to Premium articles, exclusive newsletters, commenting, and virtual events with our leading journalists
Already have an account? sign in
Register for free to continue reading
Registration is a free and easy way to support our truly independent journalism
By registering, you will also enjoy limited access to Premium articles, exclusive newsletters, commenting, and virtual events with our leading journalists
Already have an account? sign in
Join our new commenting forum
Join thought-provoking conversations, follow other Independent readers and see their replies