Nigel Farage admits Ukip 'is collapsing' as party votes on whether to remove Henry Bolton as leader
Warning comes as party faces ruinous six-figure bill over lost legal battle with Labour MPs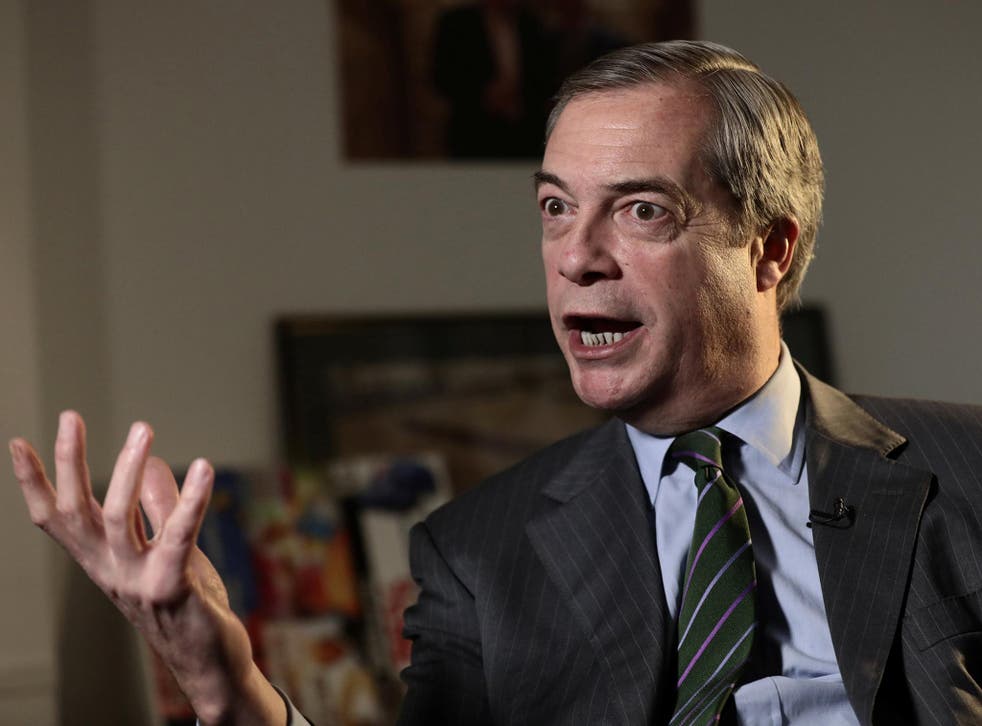 Nigel Farage has admitted that Ukip "is collapsing", as the party was left facing a ruinous six-figure bill over a lost legal battle with three Labour MPs.
A judge has ruled that Ukip must contribute to costs of £660,000 because it failed to settle the case – over false allegations that the MPs covered up child sexual abuse – despite knowing they were untrue.
The cash-starved pro-Brexit party was already struggling to fund another leadership election if Henry Bolton is ousted at an emergency general meeting on Saturday.
More than 1,500 Ukip members will meet in Birmingham, to decide whether to remove Mr Bolton over his relationship with Jo Marney, who made racist remarks about Meghan Markle.
Now Mr Farage has described the party's plight as "even worse" than commentators realise – even as he again backed Mr Bolton to turn the situation around.
"Make no mistake, Ukip is collapsing. There is no point in pretending it is not," the former leader wrote in the Daily Telegraph.
"The basic structures of the party organisation are disappearing; branches are closing and many of the sitting councillors in the forthcoming elections wish to run as independents.
"After more than 20 years of touring the country, addressing 1,500 public meetings at which I pushed the Ukip message and built up the party, I look on the latest twist in its 25-year history with a mixture of dismay and disbelief."
The huge legal costs come after a Ukip MEP, Jane Collins, made the allegations against Rotherham MPs Sarah Champion, John Healey and Kevin Barron at her party's annual conference in 2014.
She was ordered to pay more than £160,000 in libel damages to the MPs, plus costs of £120,000, after the High Court rejected her claim that her comments were an opinion rather than an allegation of fact.
But now, in addition, Ukip has been ordered to contribute to the total legal bill of £660,000 because it refused to settle the case before the 2015 general election, despite knowing Ms Collins' claims were untrue.
Labour sources have said the final award could be at least £200,000, although Ukip has suggested its bill will be significantly lower.
In a joint-statement, the Labour MPs said: "Ukip will rightly pay a substantial share of the legal bill. Their actions behind the scenes forced the costs to soar and compounded the damage from Jane Collins' unfounded allegations."
Ukip has staggered from crisis to crisis since Mr Farage's resignation immediately after the 2016 Brexit referendum and is now facing its fourth leadership battle in just 18 months.
Mr Farage wrote: "Today almost all of Ukip's structures have collapsed. The party's efforts in the local elections of 2017 were pitiful. There were too few candidates and it was difficult to ascertain who was actually in charge."
And he added: "As things stand, even if Brexit is further watered down or delayed and leave voters become angrier at the establishment's attempts to subvert democracy, Ukip will not be able to capitalise."
Backing Mr Bolton, Mr Farage argued: "The alternative is for the party to carry on down the path of self-destruction into irrelevance. It may be too late to save Ukip, but you never know."
Register for free to continue reading
Registration is a free and easy way to support our truly independent journalism
By registering, you will also enjoy limited access to Premium articles, exclusive newsletters, commenting, and virtual events with our leading journalists
Already have an account? sign in
Register for free to continue reading
Registration is a free and easy way to support our truly independent journalism
By registering, you will also enjoy limited access to Premium articles, exclusive newsletters, commenting, and virtual events with our leading journalists
Already have an account? sign in
Join our new commenting forum
Join thought-provoking conversations, follow other Independent readers and see their replies