Ukip councillor who said female doctors are responsible for NHS crisis defends comments
Nigel Pearson's claims are 'frankly ridiculous, not to mention highly offensive', says top GP
Katie Forster
Monday 10 April 2017 17:15 Comments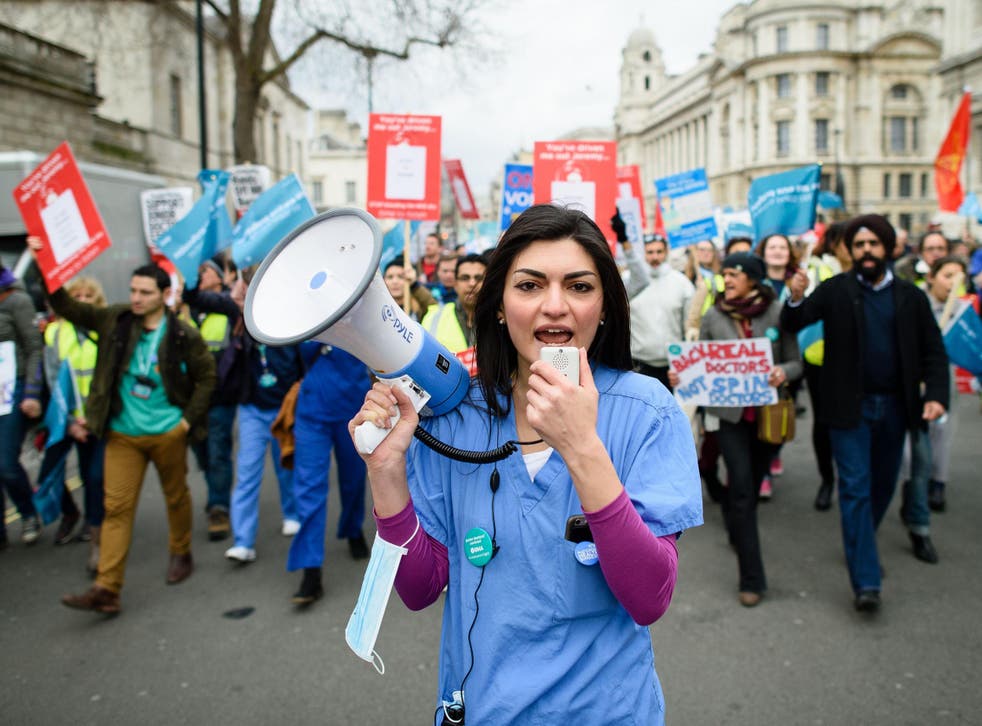 A Ukip councillor who blamed problems faced by the NHS on female doctors has defended his comments, calling the high number of women in medical training a "major problem".
Nigel Pearson distributed a leaflet that claimed a nationwide shortage of doctors was caused by "positive discrimination in favour of women", who are more likely to work part-time.
The leaflet, produced by Mr Pearson and other Ukip candidates in an upcoming Somerset County Council election, said: "Do we need female doctors? Of course we do, but not so many that they create the sort of problems the NHS is facing now".
Mr Pearson told The Independent he did not believe the comments to be discriminatory and called for a limit on how many women are allowed to train as doctors.
"We have too many female doctors in the NHS," he said. "They should be training more male doctors and there should be a cap on the number of female doctors that are trained."
"It costs around £230,000 to train a doctor. If [women] worked full-time, we would only have to train half their number, which would result to a saving to the NHS of £517m a year."
"It's becoming a major problem," added Mr Pearson, a councillor for Chard North. "I'm not saying all female doctors will work part time, but there is a large proportion that do, and that is the problem."
Ukip has distanced itself from the comments in the leaflet, which also carried the name of another party candidate Peter Heather, reported Buzzfeed News.
"It is clear that this individual is not speaking for Ukip as a whole but for themselves. Fortunately this rather eccentric view is not held as party policy," a national party spokesperson told the site.
Helen Stokes-Lampard, chair of the Royal College of GPs (RCGP), called Mr Pearson's comments "extremely unhelpful and outdated".
"To suggest that female doctors are to blame for the crisis in our NHS is frankly ridiculous, not to mention highly offensive to all our hard-working, dedicated and highly-skilled colleagues, both women and men," Professor Stokes-Lampard told The Independent.
"Women in medicine make a huge contribution to the NHS at all levels, and it is simply untrue to suggest that this grinds to a halt when they have a family. Most people who take time out from full time working for family reasons return to working longer hours after a few years.
"General practice has an excellent track record in gender equality in the NHS and we should be celebrating this – not attacking doctors for choosing to work part time or working flexibly.
"Training doctors costs a considerable amount of money and it is essential that this investment is not wasted. This is why the RCGP is looking at ways of abolishing the red tape that currently prevents some GPs – men as well as women – from returning to frontline patient care after a career break or working overseas."
A 2015 report from the General Medical Council found younger GPs are more likely to be female, with women representing 63 per cent of GPs under 40 but just 37 per cent of GPs aged over 50.
It said the majority of GPs in training – 69 per cent – were now women, describing this as a "cause of celebration".
"What tends to happen is because you have female doctors working part time, the male doctors are now looking at what's going on, and saying: 'that's not bad, I wouldn't mind a lifestyle like that'," said Mr Pearson.
"You can't blame them. Imagine you're a doctor working full time in a surgery, and then you'll have a female doctor there who says: 'right, I'm off for the rest of the week'."
Everyone the Government blames for the NHS crisis – except themselves

Show all 6
The leaflet also accused the Government of spending "too much" on LGBT services.
Dave Bulmer, the mayor of Chard who is standing as an independent candidate for Chard South, told Chard and Ilminster News the comments were "absolutely appalling".
"Making crass, ill thought-out and selective statements in election propaganda contributes nothing to any constructive debate or campaign," he said.
Register for free to continue reading
Registration is a free and easy way to support our truly independent journalism
By registering, you will also enjoy limited access to Premium articles, exclusive newsletters, commenting, and virtual events with our leading journalists
Already have an account? sign in
Join our new commenting forum
Join thought-provoking conversations, follow other Independent readers and see their replies