Ukip is 'not racist' Nigel Farage tells rally while flanked by party's ethnic minority candidates
A small number of hecklers managed to infiltrate the meeting but were swiftly ejected by stewards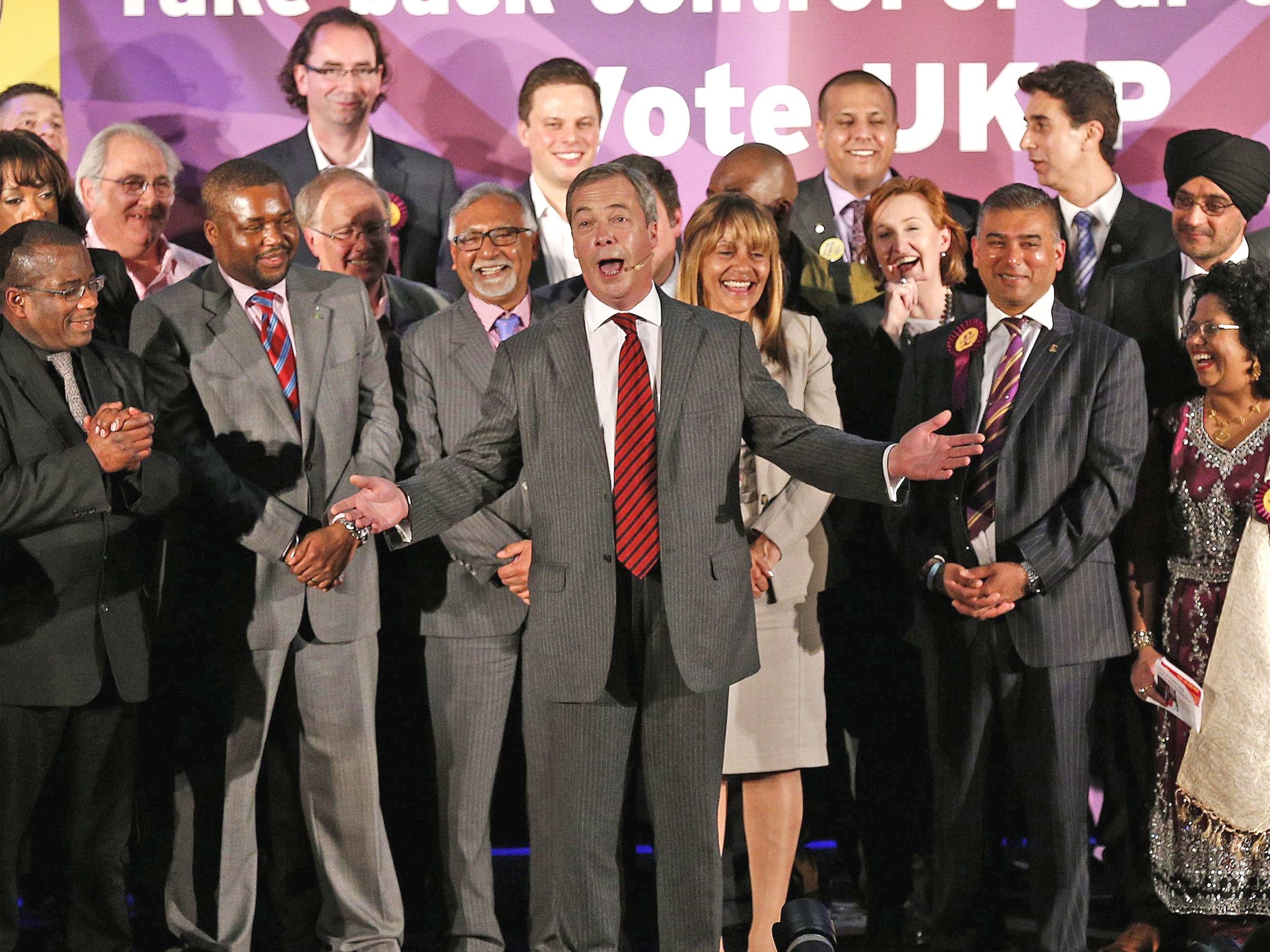 Nigel Farage, sharing a platform with some of the UK Independence Party's black and ethnic minority election candidates, has declared: "We are not a racist party."
A string of Ukip politicians have been criticised for racism in recent years, such as Godfrey Bloom who made a speech arguing that foreign aid should not be sent to "Bongo Bongo Land". The MEP lost the party whip after hitting journalist Michael Crick over the head in a row over the lack of non-white people in party literature.
However, at a rally in central London on Wednesday night, Mr Farage told cheering supporters: "I don't care what you call us but from this moment on, please, do not ever call us a racist party. We are not a racist party."
He said that the rally should be "Ukip's Clause IV moment", in a reference to Tony Blair's famous announcement that he was scrapping Labour's commitment to nationalisation.
"There will always be in any system a few people who creep over the line and cause us embarrassment," he said.
The Ukip leader recognised that his party did have a problem with a minority within its ranks.
"I would rather the 10 people - out of 2,234 (candidates) - who said things that are either stupid or offensive in some case - I'd rather it hadn't happened," he said.
But he blamed the media for suggesting they represented the party as a whole.
"The result of this has been huge sections of the British media defended their friends in the so-called main parties and the offensive, idiotic statements made by this handful of people have been lifted up and presented to the Great British public as if they represent the view of this party, which they do not. They never have and they never will," he said.
There was a noisy demonstration by anti-racism protesters outside the rally venue in Westminster.
A small number of hecklers managed to infiltrate the meeting but were swiftly ejected by stewards.
Join our commenting forum
Join thought-provoking conversations, follow other Independent readers and see their replies