Ukip officials resign over false claim leader Paul Nuttall lost 'close friends' at Hillsborough
Party plunged into crisis, just three days before its beleaguered leader faces voters in a crunch by-election
Rob Merrick
Deputy Political Editor
Monday 20 February 2017 10:27 Comments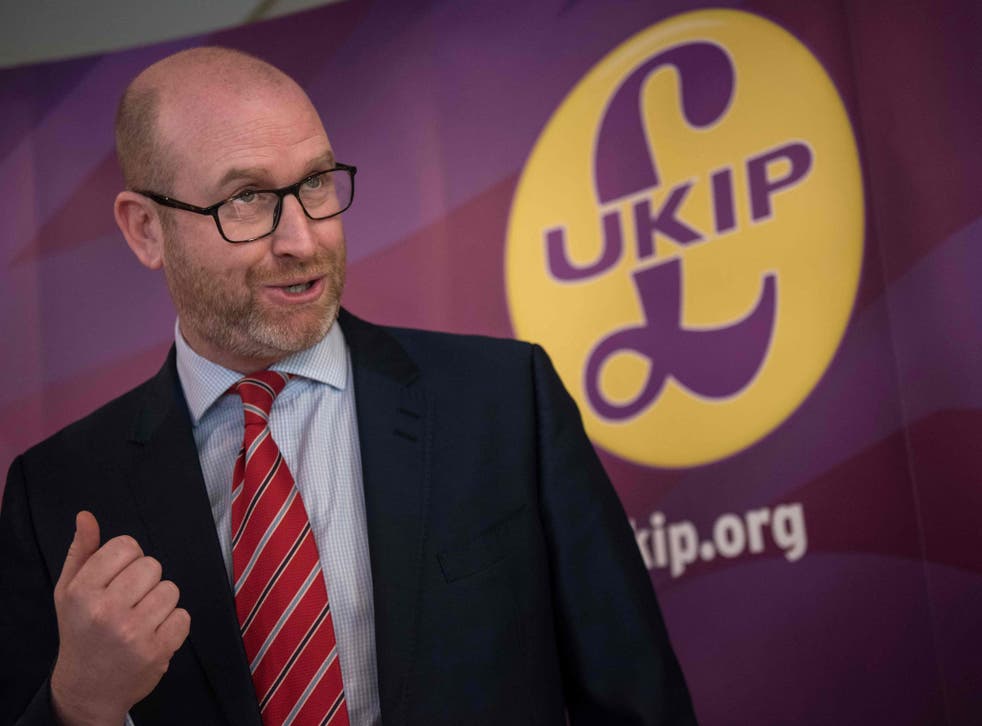 Ukip has been plunged into a fresh crisis by the resignation of two Merseyside officials over their leader's false comments about the Hillsborough disaster.
Paul Nuttall's claim to have lost "close friends" in the tragedy – which he later admitted to be untrue – was condemned as "intolerable" to the people of Liverpool, in a joint statement.
One of the officials walking out, Stuart Monkcom, was the chairman of Mr Nuttall's own branch in his home city of Liverpool.
Paul Nuttall admits his website claim of losing a 'close personal friend' at Hillsborough is false
Even worse for the beleaguered leader, the statement criticising his comments goes on to say he – and major donor Arron Banks – have "demonstrated they are not fit to lead" the party.
Mr Banks tweeted he was "sick to death" of hearing about the deaths of 96 Liverpool football fans at Hillsborough stadium in 1989, a comment Mr Nuttall has failed to condemn.
The timing could not be more catastrophic, just three days before a make-or-break by-election in Stoke-on-Trent which Mr Nuttall was once the favourite to win.
Nevertheless, Ukip said it was braced for further resignations of both officials and members later today.
Mr Nuttall was forced to admit, during a live radio interview last week, that claims made on his website that he had lost "close personal friends" in the Hillsborough disaster were not true.
At Ukip's spring conference in Bolton, he refused to back up his claim he could "prove" he was at the match, after that was also disputed.
In 2012, in a letter to the Liverpool Echo, Mr Nuttall described himself as a "Leppings Lane survivor" – a reference to the terrace where 96 Liverpool football fans were crushed to death.
But one of his former teachers has said his school believed it had been aware of the identities of every boy who had been at Hillsborough, in order to help them, and that Mr Nuttall was not among them.
UK news in pictures

Show all 50
In the statement, Mr Monkcom and Merseyside spokesman Adam Heatherington acknowledged that the timing of their resignations was "unfortunate in light of upcoming elections".
But they wrote: "Where the painful subject of Hillsborough is concerned, with closure not yet in sight, this unprofessional approach and crass insensitivity from high profile people closely within and without Ukip is upsetting and intolerable.
"We identify most strongly with all the good people of Liverpool and most importantly the families of the Hillsborough victims who have fought so hard and long for justice, in their condemnation of the way Ukip has handled these issues and have resigned our positions and membership of Ukip forthwith."
Most damningly for Mr Nuttall, the statement goes on to argue that Ukip's chances of a political breakthrough have been "squandered by people who have demonstrated they are not fit to lead".
Minutes after the news broke, the leader put out a press statement about the Brexit bill being debated in the House of Lords today – but it did not mention the resignations.
Paul Nuttall: Who is Ukip's new leader?
Mr Nuttall's bid for a breakthrough in the Stoke-on-Trent Central by-election has been undermined by a string of controversies and allegations about his honesty.
The Ukip's leader's website also previously claimed that he played football professionally for Tranmere Rovers, when in fact he only ever played for the youth side as an amateur.
And his LinkedIn page claimed, until last year, that he had been awarded a doctorate in history. It later emerged that he had started the course but subsequently dropped out.
At the weekend, his claim to have been a board member of a charity called the North West Training Council (NWTC) was rejected by the organisation's chief executive.
Register for free to continue reading
Registration is a free and easy way to support our truly independent journalism
By registering, you will also enjoy limited access to Premium articles, exclusive newsletters, commenting, and virtual events with our leading journalists
Already have an account? sign in
Join our new commenting forum
Join thought-provoking conversations, follow other Independent readers and see their replies