Ukip posters: This is what happens when anti-immigration party tries to infiltrate south London (warning - expect bad language)
Nigel Farage has had to defend his party from criticism that new posters are 'racist'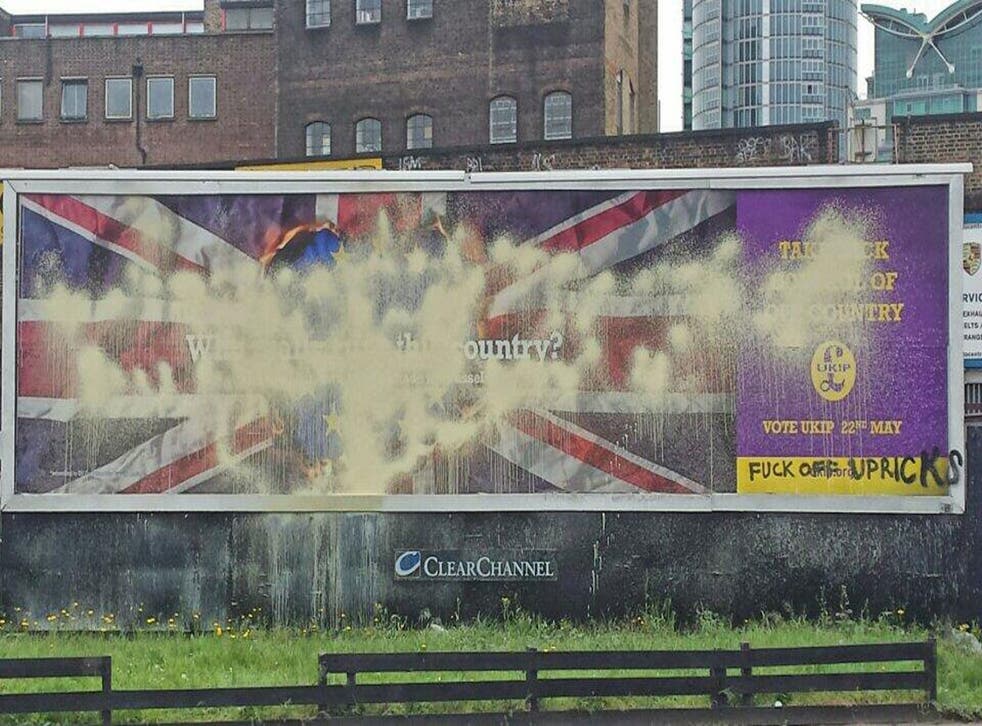 Nigel Farage has claimed that Ukip's controversial new posters are "honest" and reflect "reality as it is experienced by millions of British people outside the Westminster bubble" – yet it would appear that the people of south London and Liverpool are not inclined to agree.
One poster put up in the capital near Vauxhall station has already been criticised by former army chief Lord Dannatt for being "disrespectful and inappropriate" in its depiction of a burning Union Jack with the EU flag behind.
Now images emerging on social media suggest the people have had their say too. Under captions saying "Vauxhall has voted" and Ukip "stood no chance", photos shared on Twitter show the poster largely scrubbed away, and scrawled with the message: "F*** off Upricks".
A similar story has also emerged in Liverpool, where one of the posters showing a giant, pointing finger has been vandalised with the word "racist", among others, and partially torn.
The growing backlash against the posters has, rather like the Ukip campaign itself, divided online opinion.
A user under the handle @PoliticalKai wrote about the Vauxhall graffiti: "Hopefully people will see this as the anti-speech fascism that it is. Don't agree? Destroy. Very constructive."
Anthony Pearce (@tonepearce) – one of those who shared an image of the poster – appeared to support the changed message, saying: "It's one thing censoring speech from above and an entirely different thing from below. Protest is part of free speech."
Mr Farage himself has said he has no problem with the posters "ruffling a few feathers among the chattering classes".
"Are we bothered about that? Not in the slightest," he said.
The Ukip leader has accused his party's critics of "screaming blue murder" about the £1.5m poster campaign because they did not want an "honest conversation" about immigration, as he launched the party's campaign for the European Parliament elections next month.
Yesterday the party held its largest-ever public meeting, with Mr Farage speaking before an audience of 1,200 supporters at the Sage in Gateshead.
He told those listening that Ukip will "hold the balance of power" in the next general election as the Lib Dems did in 2010, and described his supporters as a "people's army" who "want our country back".
Join our new commenting forum
Join thought-provoking conversations, follow other Independent readers and see their replies