Ukip's £1m donor Arron Banks is accused of conspiracy by his old company
Arron Banks, the former Tory donor, defected to Ukip this week with a £1m pledge for Nigel Farage's party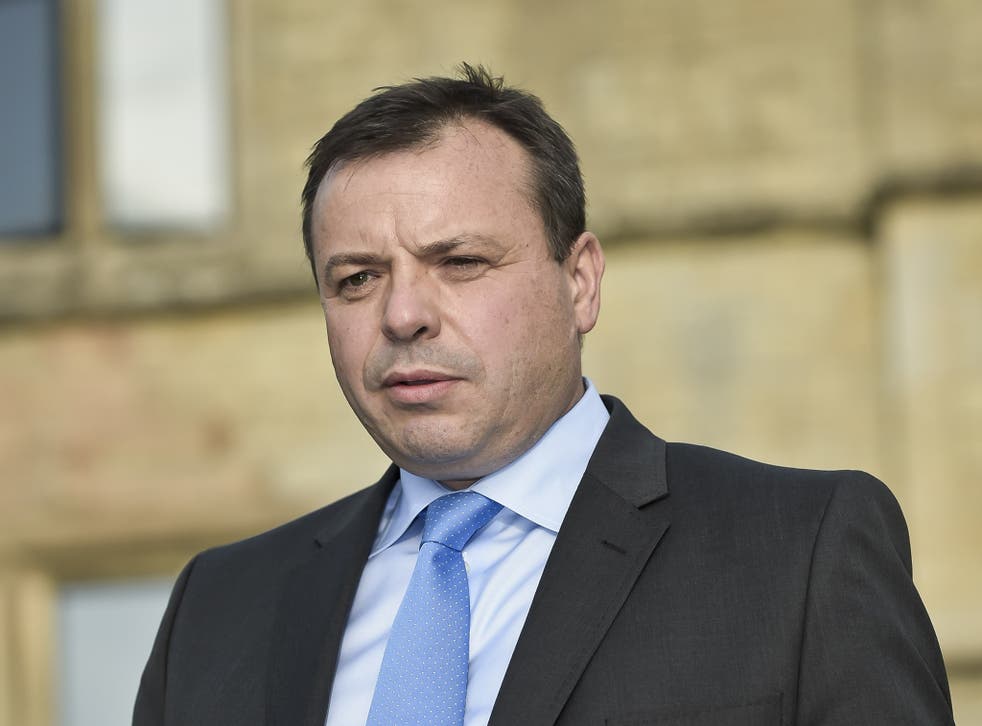 Arron Banks, the former Tory donor who defected to Ukip this week with a £1m pledge for Nigel Farage's party, is being accused of "conspiracy" by the company he co-founded in a claim where he is named along with a demand for almost £7m in damages.
Insurance company Brightside Group states in court papers that the Ukip donor's Gibraltar-based firm Southern Rock Insurance used confidential information to snatch its customers, poach staff and "unlawfully" compete with it.
Mr Banks established rival broker Go Skippy six months after his acrimonious departure from being chief executive of Brightside in 2012. Emails from Mr Banks, 48, to his former partner show how bitter the dispute has become.
The insurance tycoon claims he was forced out of Brightside and said in one email: "Well, it's been 15 months since my mates stabbed me in the chest." Another email boasted that all of his old sales team at a Brightside subsidiary had left to join him at Go Skippy, "leaving the tea boy in charge".
Earlier this year Southern Rock sued Brightside, accusing it of misusing its pricing, and separately of failing to validate policies correctly – demanding at least £1m in compensation. Brightside filed defences in June and July denying both claims and launched a counter-claim accusing Southern Rock, its broking subsidiary Eldon, which trades as Go Skippy, and Mr Banks of "conspiracy to damage and injure" Brightside. The broker alleged Southern Rock owed it £6.8m in damages for lost business.
Ukip's rising stars

Show all 7
Southern Rock denied all the allegations in the counter-claim, stating that neither it, Mr Banks nor Eldon acted with intention to damage Brightside. Southern Rock stated all its actions were "lawful".
Mr Banks's firm announced post-tax profits of £8.7m earlier this year – helped by attracting high-street names such as Debenhams which announced it will be switching its business from Brightside to Southern Rock in December.
Mr Banks is also threatening to sue the Financial Services Commission (FSC) in Gibraltar, where Southern Rock is based, after the regulator warned the company over its level of reserves to cover potential policy payouts. Around £40m was injected into the company, most of which came from the Ukip donor himself, to meet the shortfall.
Mr Banks claimed the FSC's chief executive, Samantha Barrass, reneged on a confidential agreement by revealing details of the outcome in a letter published in the Gibraltar Chronicle. The FSC rejected Mr Banks's claims of breaking any agreement.
Mr Banks, who is worth around £100m, was the latest Tory defector paraded by Mr Farage and will stand for Ukip in Thornbury and Yate at the general election. The businessman said he raised his initial £100,000 donation to £1m to spite William Hague after the former Foreign Secretary dismissed him as insignificant.
The father of five is married to Russian Ekaterina Paderina who, as a young student in the 1990s, avoided deportation allegedly with the help of disgraced former Lib Dem MP Mike Hancock.
Mr Banks said he could not comment on the legal disputes: "Despite the spat, GoSkippy.com is the fastest-growing car insurer in the UK and we will be starting ads soon featuring Skippy the bush kangaroo."
Mr Banks has been a director of 37 companies, three of which are dissolved, some of which are based in Gibraltar and the Isle of Man. Rock Services Ltd, where he is a director, made a gross profit of £19.7m last year while paying corporation tax of only £12,000. The company deducted £19.6m in "administrative expenses". Its main activity appears to be "recharge of goods and services" with Southern Rock.
Regarding his tax status, Mr Banks said: "I have no comment other than to produce the cheque [for £1.865m] I wrote to HM Revenue [in February]."
Join our new commenting forum
Join thought-provoking conversations, follow other Independent readers and see their replies