Ukip surge could put David Cameron at risk, Tories warn
Party likely to deprive Tories of victory in many seats, fuelling fears about their prospects in 2015
Andrew Grice
,
Nigel Morris
Friday 26 April 2013 21:53 Comments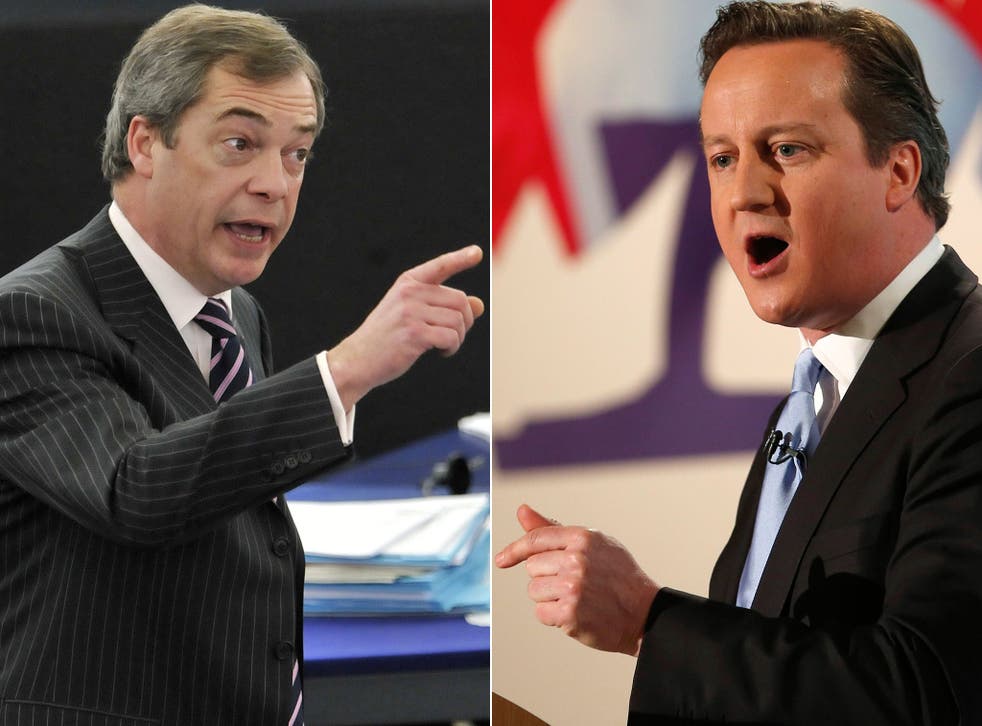 David Cameron's leadership of the Conservative Party could come under renewed threat if the UK Independence Party performs strongly in next week's local elections, senior Tories warned today.
The Tory high command has insisted that the Prime Minister has enough credit in the bank to survive expected losses of more than 300 council seats on Thursday.
However, senior Tory MPs denied that a formal challenge to Mr Cameron before the 2015 general election had been ruled out. "It all depends on how Ukip does next week," one told The Independent. "If Ukip does well, all bets are off."
Conservative chiefs argue that the Tory family closed ranks after Margaret Thatcher's death and that party spirits have been raised after Britain avoided a "triple dip" recession and Mr Cameron gave MPs a bigger role in policy-making in a shake-up of the Downing Street machine.
But they acknowledge the "wildcard" in next week's contests will be the impact of Ukip, which is standing in more than 70 per cent of the 2,400 local authority seats up for grabs.
Although it is unlikely to win large numbers of councillors, it could deprive the Tories of victory in many more, adding to Tory losses and fuelling MPs' fears about their own prospects at the general election.
Along with its strong anti-European Union message, Ukip is campaigning heavily on issues likely to appeal to wavering Conservatives, including opposition to green belt development, wind-farms and a second high-speed rail line.
Conservative headquarters in London has advised local activists to warn natural Tories that switching to Ukip would "let Labour in through the back door".
With Ukip ahead of the Liberal Democrats in some opinion polls, academics say the elections will be the first test of what has become Britain's "four-party politics" - and potentially the biggest shock to the system since the Social Democratic Party broke away from Labour in the early 1980s.
One Labour campaigner said: "Just because they are hitting the Tories now in terms of votes, membership and morale, that doesn't mean we should be complacent. They could do the same to us down the track."
Nigel Farage, the Ukip leader, and the Tories insist the party takes votes from all parties and from people who did not vote in 2010. But experts say Ukip is hurting the Tories most, with some polls suggesting that 18 per cent of Conservative supporters at the last election have switched allegiance.
The majority of the seats being fought are in Conservative strongholds in the English shires - and their dominance has been reinforced by the fact they were last contested in 2009 when Gordon Brown's government was plumbing depths of unpopularity.
Labour will need to make hundreds of gains to demonstrate that Ed Miliband's "one nation" message is resonating with voters.
It looks certain to recapture councils such as Nottinghamshire and Derbyshire - authorities it should never have lost in the first place - but there will also be a focus on its performance in swaths of southern England currently immune to the party's charms.
The Liberal Democrats, who are standing in 71 per cent of seats compared with nearly 90 per cent four years ago, will be keen to demonstrate their vote is holding up in areas where they are strong in local government. Their top target councils are Somerset, Devon and Northumberland.
Colin Rallings and Michael Thrasher, the elections experts from the University of Plymouth, are forecasting about 310 Tory losses, 350 Labour gains, 130 Liberal Democrat losses and 40 Ukip gains.
Labour is certain to win a convincing majority in a parliamentary by-election also being held on Thursday in South Shields. Ukip has high hopes of leap-frogging the Tories to come second.
Register for free to continue reading
Registration is a free and easy way to support our truly independent journalism
By registering, you will also enjoy limited access to Premium articles, exclusive newsletters, commenting, and virtual events with our leading journalists
Already have an account? sign in
Join our new commenting forum
Join thought-provoking conversations, follow other Independent readers and see their replies