Universal Credit crunch: Iain Duncan Smith's welfare reform wastes £34m – so far
Department for Work and Pensions beset by 'weak management and poor governance' according to the Government's own auditors, while benefits programme attacked as 'titanic IT disaster' by opposition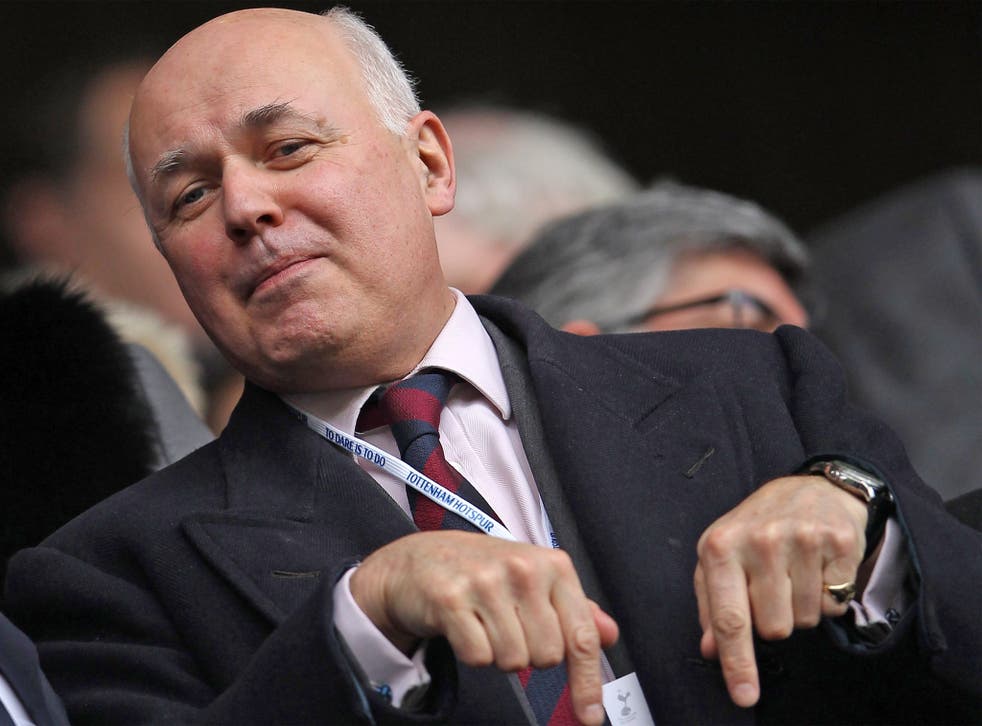 The wide-ranging reforms to Britain's benefits system have been beset by "weak management, poor governance" and a "fortress mentality" that has so far wasted £34 million of taxpayers' money, the Government's own auditors conclude today.
In a damning report, the National Audit Office (NAO) said the Department for Work and Pensions has never had a "detailed view" of how its flagship universal credit programme was meant to work – and suggested it might never result in the billions of pounds of savings claimed by ministers.
Iain Duncan Smith, who has staked his personal reputation on the success of the scheme, is expected to be forced to make a statement on the failures identified to MPs today. Senior government sources suggested the blame should fall on Robert Devereux – the most senior civil servant in the department – whom they accused of providing false reassurances on the scheme's progress.
They suggested that Mr Devereux might be forced to step down from his post as permanent secretary after little more than two years in the job, due to his failures to deliver the scheme as promised.
"He has not been on solid ground for a while," they said. "He has got some very serious questions to answer."
Labour squarely blamed Mr Duncan Smith for the failures, while the NAO suggested the national roll-out of the scheme should now be delayed to prevent further problems from occurring. "Universal credit is a titanic IT disaster which Iain Duncan Smith has tried to hide with cover-up after cover-up," said Liam Byrne, Labour's shadow Work and Pension Secretary. Mr Duncan Smith has completely lost control of his department at a potential cost of hundreds of millions of pounds. Incredibly, three years on, ministers still don't know how things are supposed to work."
Universal credit is due to replace a bundle of means-tested benefits with a single payment by 2017, with the department estimating it will save £38bn in administration, fraud and error costs by 2023. The system is also designed to encourage people to take up work by ensuring that they will always be better off having a job.
However, the NAO reports that the programme has been beset with problems including IT failures, frequent staff turnover and lack of a detailed plan about what it is trying to achieve.It found that:
* The Department for Work and Pensions (DWP) has been unable to assess the value of the computer systems it spent more than £300m developing and has already written off £34m in IT costs. At present, the IT system cannot identify potentially fraudulent claims, so the department has to rely on multiple manual checks.
* The universal credit team was ring-fenced from the rest of the department and allowed to work with a large degree of independence. But it developed a "fortress" mentality and a culture that only reported "good news".
* There were inadequate financial controls over supplier spending which was poorly managed and documented. The department also failed to review the performance of contractors before making payments.
The NAO said the problems represented a "significant setback to universal credit" and raised wider concerns about the DWP's "ability to deal with weak programme management, over-optimistic time scales, and a lack of openness about progress".
Amyas Morse, head of the NAO, said: "The department's plans for universal credit were driven by an ambitious time scale … but suffered from weak management, ineffective control and poor governance. Universal credit could well go on to achieve considerable benefits if the department learns from these early setbacks and puts realistic plans and strong discipline in place for its future roll-out."
Margaret Hodge, chair of the Public Accounts Committee, who is due to question Mr Devereux on his role next week, added: "Iain Duncan Smith is responsible for trying to implement this hugely complicated project too fast. But the department is responsible for not telling him to hold. As a result, the department seems to have embarked on this crucial project, expected to cost the taxpayer some £2.4bn, with little idea as to how it was actually going to work."
The Govern-ment insisted the changes to the scheme had put it back on track and it was confident it could be rolled out within the 2017 deadline.
Howard Shiplee, a former Olympics executive, has now been drafted in and he said earlier this week that, while he had found "examples of poor project management in the past" and "a lack of transparency", the department had now "put that right". "Through new processes and people, we have strengthened all the basics of sound project management – governance, leadership and financial management," he said.
In a statement, the Department for Work and Pensions said: "We are making real progress and we have a plan in place that is achievable and safe."
Planes, trains and welfare: Other expensive blunders
* In October last year, the Government was forced to scrap its decision to award a £5bn franchise to run the West Coast Main Line to FirstGroup.
The move, expected to cost the taxpayer £50m, was made after the Department for Transport discovered flaws in the way in which the bids were assessed – with FirstGroup being favoured over rivals Virgin Trains.
* The Coalition's "welfare-to-work" scheme has also come in for criticism from the National Audit Office.
The programme – which pays contractors for people they get into work – was accused of being less effective than claimed by ministers.
The NAO also revealed that £63m was spent by the DWP terminating existing contracts for welfare-to-work schemes, 10 of which were with providers who were then given contracts with the work programme.
* A plan to build two new aircraft carriers by the end of the decade has spiralled in cost. When the carrier project was approved in 2007, it was assumed the projected price would be £3.65bn.
The assumption is that the two carriers will now cost more than £5bn to build.
Register for free to continue reading
Registration is a free and easy way to support our truly independent journalism
By registering, you will also enjoy limited access to Premium articles, exclusive newsletters, commenting, and virtual events with our leading journalists
Already have an account? sign in
Register for free to continue reading
Registration is a free and easy way to support our truly independent journalism
By registering, you will also enjoy limited access to Premium articles, exclusive newsletters, commenting, and virtual events with our leading journalists
Already have an account? sign in
Join our new commenting forum
Join thought-provoking conversations, follow other Independent readers and see their replies