Universal credit pilot councils issue warning over potential 'catastrophic' effects of benefit scheme
One food bank in Southwark reported an increase in the number of referrals by 94 per cent - 'mainly due to the welfare reform and universal credit'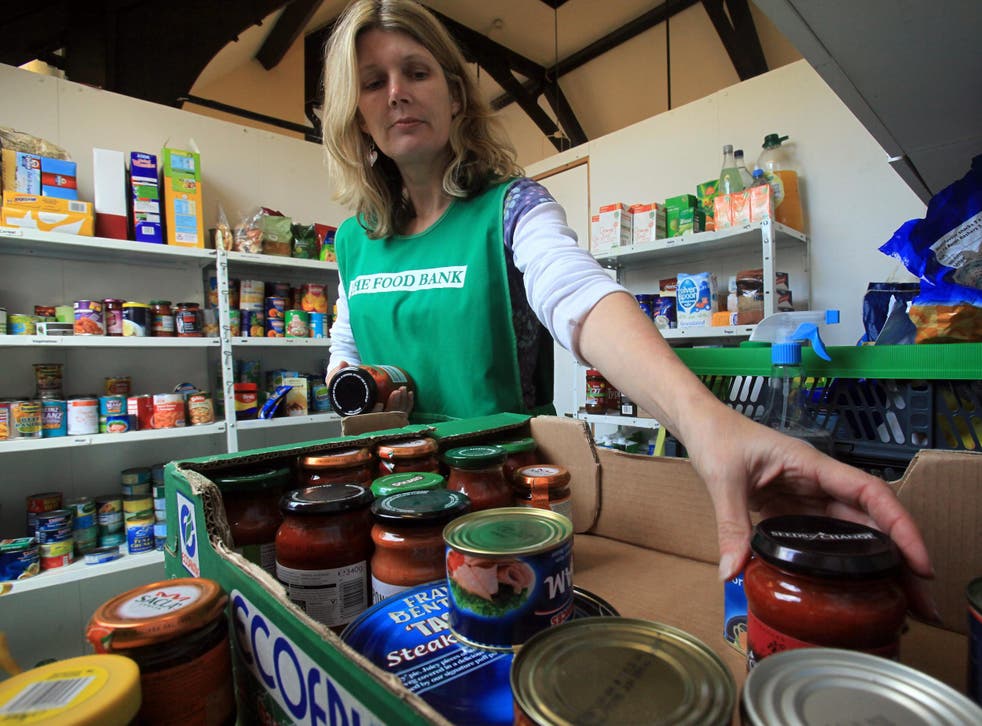 Universal credit has the potential to be "catastrophic" and lead to a spiral of debt for claimants unless major flaws are addressed, according to a new report by two councils among the first in the country to roll out the new regime.
The damning report into the Government's flagship welfare programme by Southwark and Croydon councils claim that after 20 weeks of transferring from the legacy benefit system to universal credit the average claimant had £156 of arrears.
Claimants who were still on the old benefit system, the analysis added, had overpaid 4 per cent of their rent due.
The report, compiled independently by the Smith Institute, claims if the trend is reflected nationwide as the Department for Work and Pensions (DWP) accelerates the rollout of universal credit then arrears could reach "many hundreds of millions of pounds".
The main anxiety surrounding the accelerated rollout of universal credit – replacing six existing benefits into one monthly payment - centres on the initial six-week wait for payments, which council leaders and charities have warned pushes claimants into debt.
In Southwark alone, where 12 per cent of council tenants have moved onto universal credit, rent arrears total over £5.3m.
And one food bank in the London borough reported an increase in the number of referrals by 94 per cent, which was "mainly due to the welfare reform and universal credit". Among families with children there was an even greater spike of 179 per cent.
Fiona Colley, a councillor in Southwark and a cabinet member for finance, said: "This report's stark evidence is why we need to lead this debate; I implore the Government to listen to how this affecting the poorest and most vulnerable people in our borough, and the potential effect reverberating nationally."
The publication of the report comes just days after the Government suffered a humiliating defeat in the Commons, after a Labour motion to halt the flagship welfare reform programme passed by 299 votes to zero due to Tory whips instructing MPs to abstain. Despite suggestions from some Conservative backbenchers that ministers are "listening" to concerns over delays in payments, the DWP insists there are no imminent plans to amend the system.
Theresa May appears to say "yes" to Corbyn's request to scrap Universal Credit
Ms Colley added: "Universal credit, in its current form, has the potential to be catastrophic, not just for residents at an individual level, but for councils' HRA budgets for housing. The arbitrary delay in receipt of money – particularly for those already in difficult situations such as temporary accommodation, could mean a spiral of debt, poverty and people not being able to afford to eat. I cannot think of a more compelling reason to push for change on this.
Croydon's deputy council leader Alison Butler said the report underlined "major flaws" in universal credit, adding: "This Government needs to fix this policy now or risk devastating thousands more people not only in Croydon but nationwide."
David Gauke: Universal Credit helpline 55p-a-minute charge to be scrapped
The joint call from both councils follows a plea from John Sentamu, the Archbishop of York, who described the six-week wait for the initial payment and the idea of claimants having savings to fall back on as "grotesquely ignorant".
In an article for The Sunday Times he added: "Our concern should be for those whose essential outgoings are costing more and more and their incomes are standing still or going down. They fear universal credit, particularly because it seems to assume that everyone has a nest egg which tide them over as they a minimum of 42 days for payouts."
Defending the regime last week David Gauke, the Work and Pensions Secretary, claimed his department's measures are "already improving lives", and criticised Labour, adding: "What we are hearing today is not constructive opposition, not a plan to reform universal credit, but an attempt to wreck it. We will proceed: we will address the historic failures of our benefit system, we will increase opportunity, and we will deliver a welfare system that puts work at the heart of it."
A DWP spokesperson said: "This research into a small group of claimants was carried out over a year ago, now the vast majority of claimants receive their first universal credit on time and in full.
"The best way to help people pay their rent and to improve their lives is to support them into work and under universal credit, people are moving into work faster and staying in work longer than the old system. We also know that over time people adjust to managing monthly payments, and reduce their arrears. The majority of people are comfortable managing their money upfront but budgeting advice, upfront benefit advances and direct rent payments to landlords can be provided for those who need it."
Join our new commenting forum
Join thought-provoking conversations, follow other Independent readers and see their replies