Universal Credit: What is it, how was it supposed to improve the benefits system and why is it so controversial?
'No practical alternative' to the system despite myriad problems, says report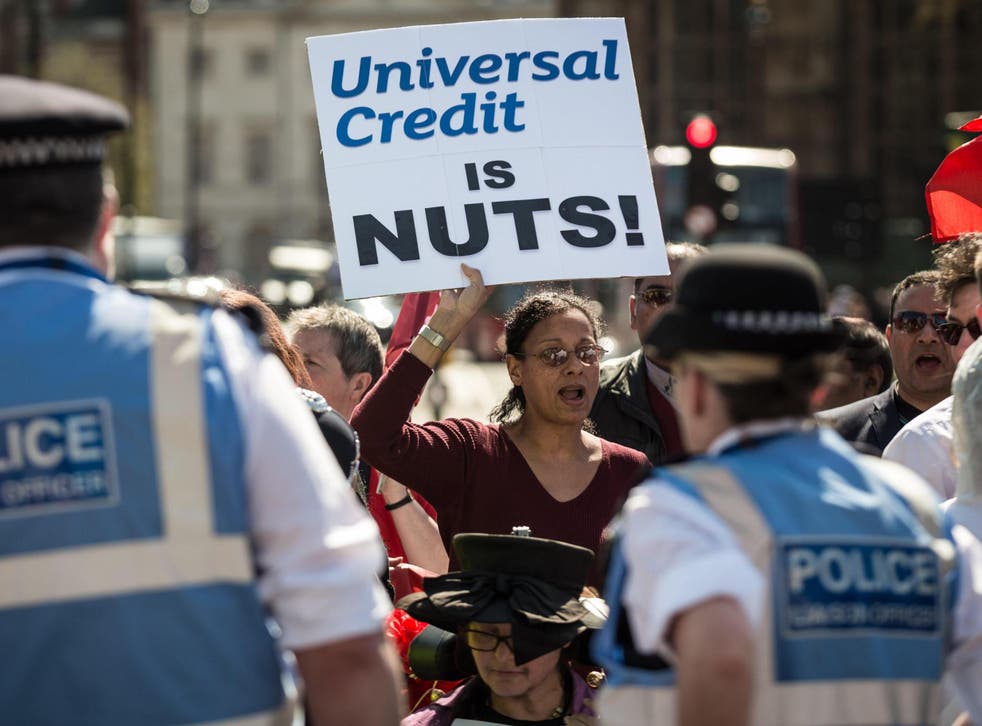 Universal Credit (UC) was introduced in 2013 in an attempt to simplify the welfare system by 'rolling' six means-tested benefits and tax credits into a single monthly payment - but has been increasingly criticised in recent years.
It was back in the spotlight this week after the High Court ruled that the government department overseeing the implementation of UC, the Department for Work and Pensions, had unlawfully discriminated against two severely disabled men who had their benefits significantly reduced under the system.
When UC was first announced in 2010, then-work and pensions secretary Iain Duncan Smith claimed combining child tax credit, housing benefit, income support, jobseeker's allowance, employment and support allowance and working tax credit would replace a "complex, outdated and wildly expensive system."
But critics say changes which were meant to deal with unnecessary bureaucracy and expense have so far only made matters worse. UC currently costs £699 per claim, which is four times the amount the government intends to spend when the systems are fully developed.
The government says that UC will bring the economy a return of £34bn over 10 years.
This week, a National Audit Office report concluded that UC has been too slow in its introduction, causes unnecessary hardship and is not providing value for money. Yet because of the determination with which the Department for Work and Pensions has driven the programme forward despite its issues, the report said there is "no practical alternative to continuing with Universal Credit."
The criticism follows warnings from several non-governmental organisations. Last year, the UK's biggest food bank network, the Trussell Trust, reported that demand for food parcels in areas where UC has been rolled out increased by an average of 30 per cent from April to November, compared with 12 per cent in areas still using the old system. Hardship was triggered by the six-week wait time for claimants moving to UC.
A report from the left-wing think-tank, the Smith Institute, said this wait contributed to growing rent arrears between 2016 and 2017 in the London boroughs of Southwark and Croydon. The findings showed the 94 per cent increase in referrals to a food bank was "mainly due to welfare reform and universal credit."
This means councils have to divert money to help those affected by UC. In December, shadow employment minister Margaret Greenwood claimed FOI requests showed assets were used for additional rent support, increased staff and work with local food banks and Citizen's Advice Bureaux.
The switch to UC could affect claimants' ability to even find a home, too. The National Landlords Association has warned delays in rent payment mean that private landlords are refusing to take UC tenants.
Ian Duncan-Smith: Theresa May should invest a further £2bn into universal credit roll-out
There have been amendments to the system from the government, but these are limited. In October 2017, UC helpline fees were waived after Labour challenged Prime Minister Theresa May over its 55p-per-minute charge.
Then, in his November 2017 budget, chancellor Philip Hammond announced that £1.5bn would be spent on reducing waiting periods from six to five weeks and promised the elimination of the seven-day waiting period in which applicants are prevented from lodging a claim after being made redundant. Mr Hammond also insisted that any household needing an advance would be able access a full month's payment within five days of applying.
This helped some of those facing immediate financial struggles - but advance payments have to be repaid out of later instalments and those who aren't used to digital technology can find it difficult to apply for.
Though roll-out was slowed down to implement those changes, in May it emerged that one in five have their applications for benefits declined because the system's complexity leaves them falling foul of the application process. Just two months before, an internal government report revealed there was no evidence that more people would be helped into work or that an online service could be successfully implemented on a national level.
Harsher sanctions, which reduce or stop benefits for those who don't do enough to look for work, turn up late to appointments or don't take part in employment or training schemes, are difficult for those with busy schedules. Low-paid workers are expected to look for more hours or take on extra jobs as a condition of wage top-ups. On top of that, they must report to regular jobcentre appointments to verify their efforts
The most ridiculous reasons people had their benefits sanctioned

Show all 16
Despite its setbacks, the government is still committed to UC. The work and pensions secretary, Esther McVey, says: "Universal Credit lies at the heart of our priority to help people improve their lives, with more people moving into employment and staying in work longer than compared to the previous system."
Last week, Ms McVey introduced a scheme called "transitional protection" to ensure that claimants who move to UC won't have their benefits reduced if their circumstances are unchanged and those who receive less are eligible for a cash top-up. The timing of the new policy was too late to prevent Ms McVey's department from an embarrassing defeat in the High Court this week, though.
Treasury scepticism and disorganisation surrounding the roll-out mean the programme is already at least five years behind schedule. However, the government maintains that it expects UC to cover some 7 million citizens by 2022.
While some preliminary issues with UC have been improved, there is still much to be addressed about the increased hardships facing its claimants and its haphazard implementation.
Additional reporting by InFact
Join our new commenting forum
Join thought-provoking conversations, follow other Independent readers and see their replies