Upskirting: Artist hangs knickers outside office of Sir Christoper Chope, MP who blocked voyeurism bill
'No one should be able to photo my pants unless I want them to,' says protester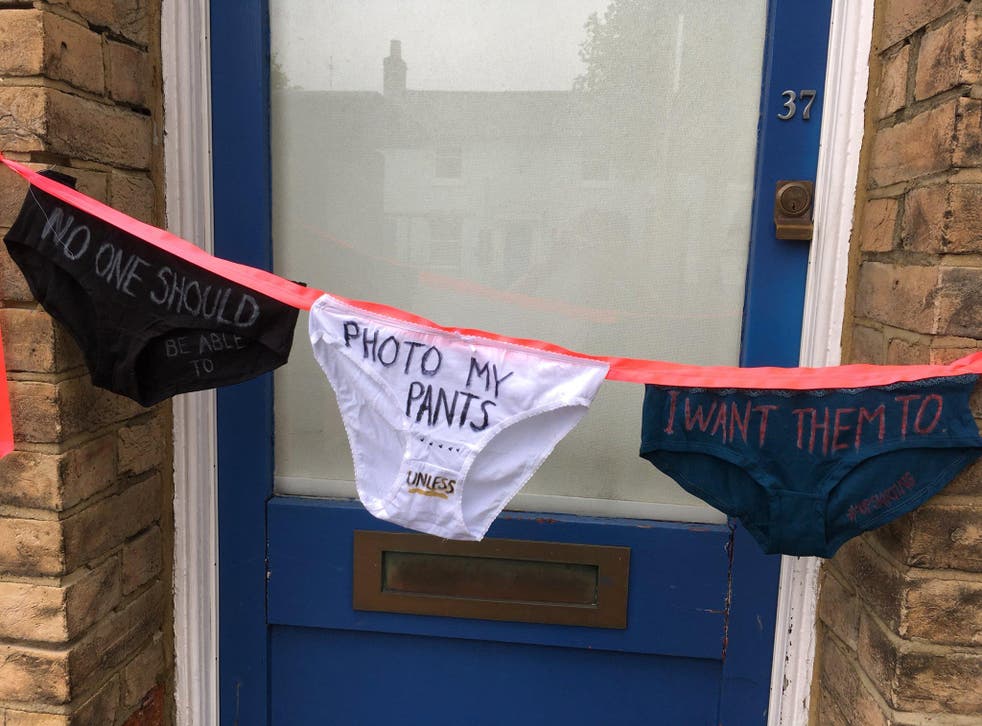 Knickers have been draped outside the constituency office of Sir Christopher Chope, the Conservative MP who sparked outrage by single-handedly blocking a new law to criminalise upskirting, as well as his office in parliament.
Lorna Rees, the artist behind the underwear protest, declared: "No one should be able to photo my pants unless I want them to."
In several posts on Twitter, she added: "I hope my anti-Chope constituency pant protest shows solidarity.
"He's not representing the best interests of people – protecting women in this case – he's crying parliamentary procedure and hiding."
The action came as Downing Street announced that the government would now introduce its own bill to ban upskirting. Because of parliamentary rules, such government bills cannot be stopped by a single member's objection.
A spokesman said the aim was to have the proposed legislation go before the House of Commons in July, meaning a new law could be in place by the end of the year.
He said: "The PM said [upskirting] is an invasion of privacy, which leaves victims feeling degraded and distressed.
"She said the measure is one the government supports, and has received extensive support both within and outside of parliament. So she was pleased to confirm we will adopt this as a government bill."
Responding to the announcement, Gina Martin, the victim of upskirting who first proposed the change in law, said: "I am so happy I could cry."
She wrote in a statement released via Twitter: "I said that we'd look back on Friday as the day one man tried to stand in the way of justice and didn't. But I didn't realise we'd be looking back on it so soon.
"After a year of overwhelmingly hard work alongside Ryan [her lawyer], countless meetings with the Ministry of Justice and MPs, too many early mornings and late nights to count, hosting events, sending emails, a million media appearances, and ensuring I thought politically and strategically and did everything the right way, we have done it. The bill will go through. The government, Ryan and I will finish this. Upskirting will be made a sexual offence."
Sir Christopher, MP for Christchurch in Dorset, said on Sunday he actually supported measures – proposed by Liberal Democrat MP Wera Hobhouse – to make upskirting illegal calling it "vulgar, humiliating and unacceptable".
But the 71-year-old member claimed he had blocked the legislation on a point of principle. He said he does not agree with private member bills being brought before parliament on a Friday when there is not time for them to be fully debated.
If approved, such bills do still face Commons debate and scrutiny later in the process.
Reacting to a barrage of criticism – both online and from other MPs – Sir Christopher said: "I feel a bit sore about being scapegoated over this… The government is abusing parliamentary time for its own ends and, in a democracy, this is not acceptable."
He denied being out of touch and added: "The suggestion that I am some sort of pervert is a complete travesty of the truth."
UK news in pictures

Show all 50
Ms Hobhouse has since called for Sir Christopher to apologise.
She said his objection was "irresponsible and fundamentally wrong", and added: "By objecting to the bill Christopher Chope let women in England and Wales down.
"I therefore expect him to make a full apology to all the women who have been harassed and degraded by this vile practice."
Meanwhile, a former deputy speaker of the House of Commons has called for a change to the "arcane" procedures which allowed Sir Christopher to block the legislation.
Nigel Evans, Conservative MP for Ribble Valley, has written to the Commons Procedure Committee to demand a review of parliament's rules.
He said: "I was so angry by the fact that not just the upskirting bill but a number of other bills on Friday, which are decent bills that deserved some form of airtime, were blocked in this way."
Register for free to continue reading
Registration is a free and easy way to support our truly independent journalism
By registering, you will also enjoy limited access to Premium articles, exclusive newsletters, commenting, and virtual events with our leading journalists
Already have an account? sign in
Register for free to continue reading
Registration is a free and easy way to support our truly independent journalism
By registering, you will also enjoy limited access to Premium articles, exclusive newsletters, commenting, and virtual events with our leading journalists
Already have an account? sign in
Join our new commenting forum
Join thought-provoking conversations, follow other Independent readers and see their replies