Why is Hungarian prime minister Viktor Orban's visit to Downing Street controversial?
Far-right leader's pursuit of so-called 'illiberal democracy' frequently places him at odds with EU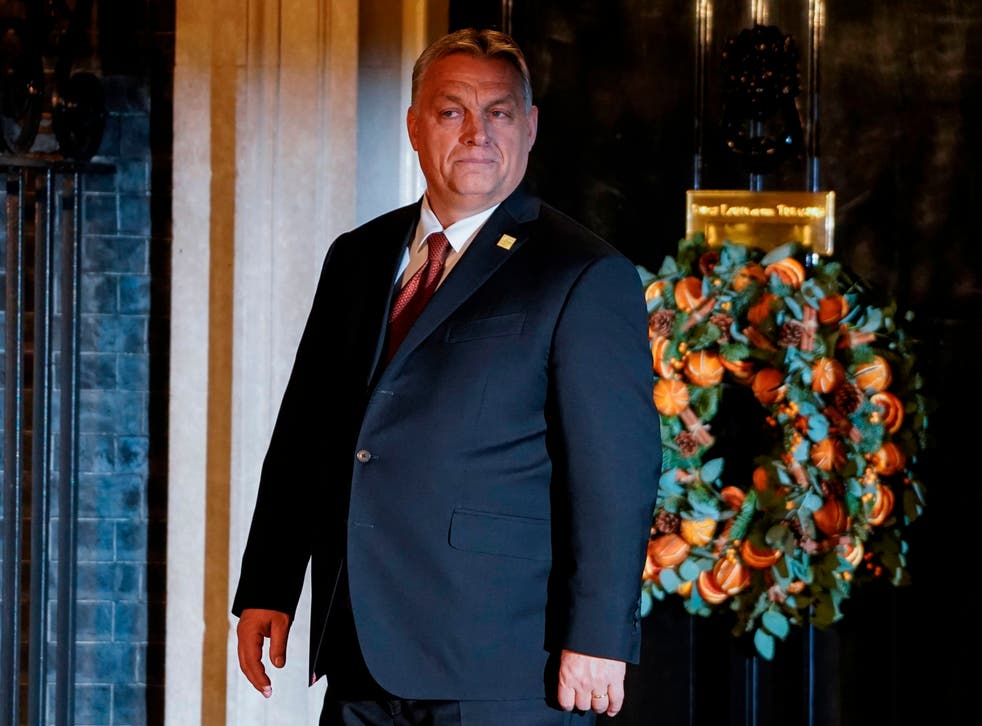 Viktor Orban's Downing Street visit has seen Boris Johnson come in for criticism, amid warnings from Labour that the UK should not "roll out the red carpet" for the autocratic Hungarian prime minister.
The prime minister's official spokesperson was forced to issue a rare defence of Friday's diplomatic event, which No 10 insisted was "vital to the UK's prosperity and security" in light of Hungary soon assuming presidency of the Visegrad Group, a 30-year-old alliance founded to further the European integration of Hungary, Poland, Slovakia and the Czech Republic.
And business secretary Kwasi Karteng went further, claiming it would be "irresponsible" not to build bilateral relations with the country.
So why exactly is the engagement with the head of an EU member state so controversial?
Mr Orban is one of the first of the bloc's leaders to be invited to Downing Street since Brexit.
In addition to Mr Orban and his Fidesz party adhering to a fierce Euroscepticism, Hungary has increasingly appeared something of an outlier within the EU during his 11-year premiership – with his vision of so-called "illiberal democracy" frequently clashing with the bloc's stated values of freedom, equality and democracy.
During his second spell in power, which came a nearly decade and a lurch to the right after his first term, Mr Orban is widely viewed as having centralised power around himself and his allies.
Having regained power in 2010 after an anti-EU and anti-migrant campaign, the autocrat quickly moved to de-fang the Hungarian media using a combination of moves such as regulation and censorship, with more than 400 news outlets notably moving under the control of a single state-friendly entity in 2018.
Following the move, unprecedented within the European Union, Hungary's media landscape was judged to be "beginning to resemble state media under Communism because of the level of control and consolidation" by Zselyke Csaky of the human rights watchdog Freedom House.
Mr Orban has also stacked the judiciary with allies, while limiting its power and forcing many existing Constitutional Court judges into early retirement – a move challenged by the EU at the time.
And he has continually asserted his influence over civil society, seeking to smear foreign-backed NGOs as "foreign agents" and notably forcing the Central European University to move its headquarters to Vienna by revoking its ability to issue US-accredited degrees.
In the past year, his use of the coronavirus pandemic to push through unlimited laws allowing him to rule by decree has led human rights groups to question whether Hungary remains a democracy at all.
Yet it is Mr Orban's discriminatory and anti-migrant rhetoric which is most often mentioned in the backlash to his Downing Street visit.
Staking his flag in exclusionary ground long before anti-migrant sentiment washed over the EU, Mr Orban himself has spoken of "Muslim invaders" and described migrants as "a poison", while his government has been accused of running antisemitic and Islamophobic hate campaigns, notably against Jewish philanthropist George Soros.
A report by Europe's leading human rights agency, the Council of Europe, found that in the eight years to 2019, refugees in Hungary had been caged, starved and denied legal representation while in "transit zones" along the border with Serbia, built from shipping containers. A Human Rights Watch report also carried allegations that some who crossed the border were beaten and had dogs set on them before being pushed back through the razor-wire fence into Serbia.
Fidesz has also sought to clamp down on LGBT rights, ending legal recognition for gender changes last May and banning same-sex adoption in December as it cemented what it called "Christian values" within Hungary's constitution.
World news in pictures

Show all 50
"His antisemitism, Islamophobia attacks on migrants and other minorities must be challenged," Labour MP Zarah Sultana said in a letter to Mr Johnson on Thursday.
"I urge you to cancel the plan to welcome him to Britain," she said, adding: "He should instead be challenged for his long and shameful record."
Shadow foreign secretary Lisa Nandy said: "Tomorrow Johnson welcomes Viktor Orbán to Downing Street, a leader who has attacked press freedom and democracy, called refugees 'Muslim invaders' and is a cheerleader for Putin and Lukashenko. What are the chances he'll be challenged on any of this?"
Lib Dem leader Sir Ed Davey also wrote to the prime minister calling on him to question the Mr Orban on his links with Russia, his attempts to silence critical media outlets and for failing to hold "free" elections.
And Robin Niblett, director of the Chatham House think-tank, warned on Twitter: "Given Orban's record of hollowing out Hungarian democracy and close relations [with] Putin, the visit calls into question the values Johnson says Global Britain stands for. Britain look small instead."
While Downing Street argued the visit is "vital" to Britain's interests, it said Mr Johnson would "not shy away" from raising human rights issues and that the prime minister had condemned Mr Orban's comments as "divisive and wrong".
A protest outside Downing Street has been organised by Stand Up To Racism, which accused Mr Orban of acting as a "prominent spokesperson for the far-right from a position of power as a prime minister of Hungary".
Register for free to continue reading
Registration is a free and easy way to support our truly independent journalism
By registering, you will also enjoy limited access to Premium articles, exclusive newsletters, commenting, and virtual events with our leading journalists
Already have an account? sign in
Register for free to continue reading
Registration is a free and easy way to support our truly independent journalism
By registering, you will also enjoy limited access to Premium articles, exclusive newsletters, commenting, and virtual events with our leading journalists
Already have an account? sign in
Join our new commenting forum
Join thought-provoking conversations, follow other Independent readers and see their replies