Vince Cable says the Liberal Democrats are 'not just Ukip in reverse' in first major speech as leader
In an attempt to avoid the Liberal Democrats being defined by Brexit, Sir Vince outlined proposals on student debt, the housing crisis, and inequality in the UK
Ashley Cowburn
Political Correspondent
Tuesday 19 September 2017 19:05 Comments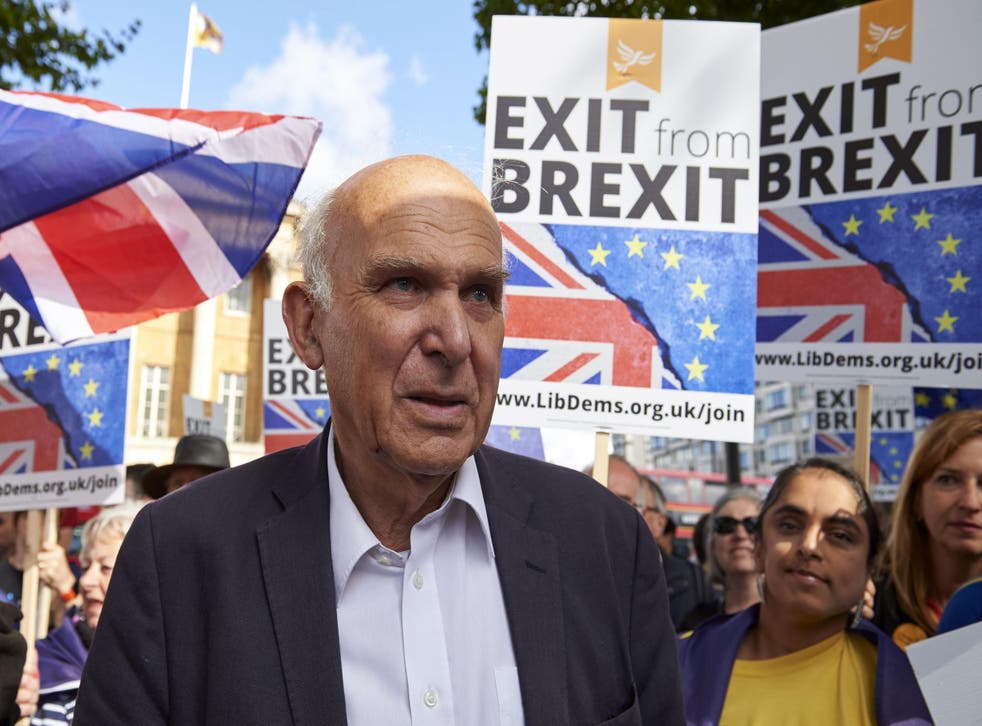 Sir Vince Cable has set out plans for the Liberal Democrats to introduce a wealth tax and impose fierce penalties on oligarchs seeking British property for investment purposes in his first major address to the party faithful.
In an attempt to avoid the Liberal Democrats being described as a "single issue party" and being defined by Britain's exit from the European Union, Sir Vince outlined proposals on a graduate tax for students, the housing crisis, and inequality in the UK.
"We're not Ukip in reverse. We should not be consumed by Brexit to the exclusion of everything else," the Lib Dem leader said as he asserted again his bold claim that he is a potential prime minister.
The former cabinet minister added: "I see our future as a party of government. Our party is not just a coalition partner of the past, we are the government of the future. And my role, as your leader, is to be a credible potential prime minister."
Before his keynote speech to party delegates gathered in Bournemouth for the Liberal Democrats' annual conference, party sources were optimistic about this claim, citing the unexpected victory of Emmanuel Macron in the race to the Élysée Palace earlier this year.
While his policies are yet to be laid out in more detail, Sir Vince said one way his party will address Britain's housing crisis will be to "end the stronghold of oligarchs and speculators in the housing market".
He said: "I want to see fierce penalties on the acquisition of property for investment purposes, by overseas residents. And I want to see rural communities protected from the blight of absentee second-home ownership, which devastates local economies and pushes young people away from the places they grew up.
"Homes are to live in; they are not pieces on a Monopoly board."
On a potential wealth tax, he added: "It is a fundamentally liberal idea, handing control to the individual, and I want to explore how it can be sustainably financed through fair taxation of wealth."
Referring to the party's toxic decision to treble tuition fees while in coalition with the Conservatives, Sir Vince said: "There is an elephant in the room. Debt, specifically student debt. We all know we suffered the grievous political harm from making a pledge seven years ago on tuition fees that we couldn't meet. The problem hasn't gone away."
UK news in pictures

Show all 50
He said the party has launched a review, led by the former Liberal Democrat MP David Howarth, which will recommend options for reform in this area, including a graduate tax.
Sir Vince also used his speech to make clear that the Liberal Democrats would rescind an invitation extended to Donald Trump for an official state visit to the UK. Describing the US President as "volatile, dangerous and an apologist for religious and racial hatred", he added: "No red carpet for President Trump – the visit should be cancelled."
The Lib Dems release official party video
But despite the insistence not to be labelled as a "single-issue party" it is clear that Brexit remains a central concern for the Liberal Democrats as Sir Vince reaffirmed his party's commitment to a referendum on the final Brexit deal – rejecting proposals from some within the party who felt this policy was too equivocal at the last the election.
On Brexit, he added, a "disaster looms".
"The product of a fraudulent and frivolous campaign led by two groups of silly public school boys," he said. "In the real world, we've yet to experience the full impact of leaving Europe. But we've had a taste of what is to come, in the fall of the pound."
He continued: "At the end of these tortuous divorce negotiations, the British public must be given a vote on the outcome. Let me be clear on this. This is not a call for a rerun. This is not a call for a second referendum on Brexit. This is a call for a first referendum on the facts."
Register for free to continue reading
Registration is a free and easy way to support our truly independent journalism
By registering, you will also enjoy limited access to Premium articles, exclusive newsletters, commenting, and virtual events with our leading journalists
Already have an account? sign in
Join our new commenting forum
Join thought-provoking conversations, follow other Independent readers and see their replies