Vince Cable: Tories are 'seriously irresponsible' for promising EU referendum
Minister says vote is delaying the economic recovery and putting 3.5 million jobs at risk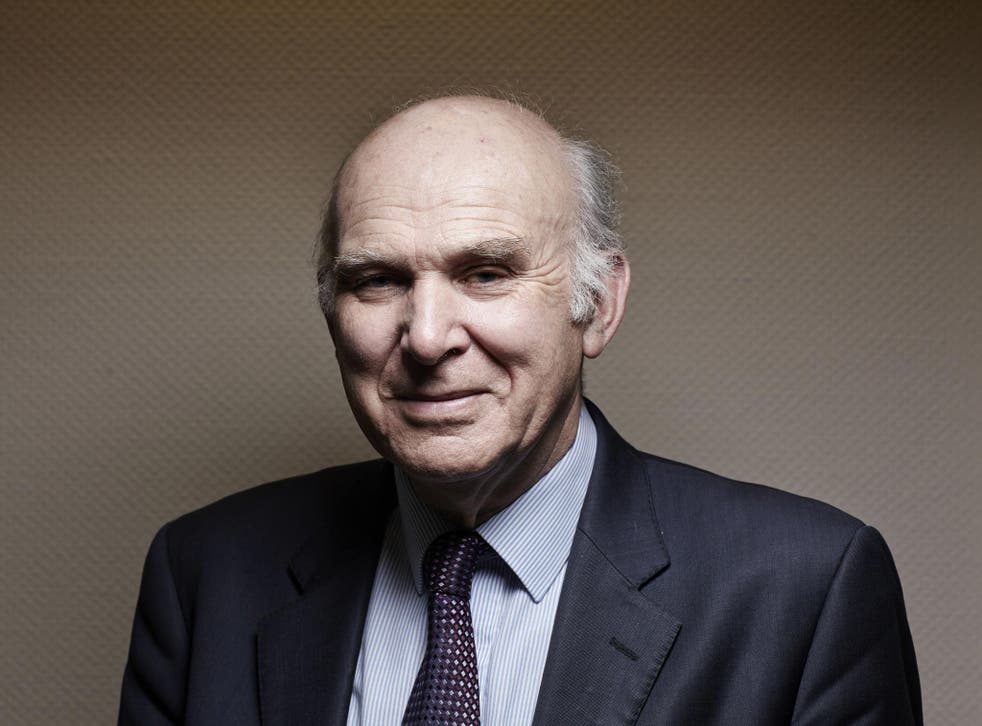 Vince Cable, the Business Secretary, has branded the Conservatives "seriously irresponsible" for promising a Europe referendum in 2017, claiming the pledge is already causing a "blight" on foreign investment in Britain.
In an interview with The Independent, the Liberal Democrat minister issued his party's starkest warning yet about the "chilling effect" of David Cameron's in/out EU referendum, saying it is delaying the economic recovery and putting 3.5 million jobs at risk.
Mr Cable claimed businessmen were now warning him on a daily basis they will invest elsewhere to ensure they retain access to the EU's single market. "They say 'we are here because of Europe; we are not just here because of Britain'," he said. Asked to name names, he cited car-makers Vauxhall, BMW Mini, Ford and Nissan, adding that the same concerns were being expressed in the aerospace industry and City. British, Japanese, American, Indian and German firms had all voiced fears, he said.
Speaking ahead of the Liberal Democrats' spring conference in York this weekend, Mr Cable accused the Conservatives of being in a "Ukip-induced funk." He said: "It is seriously irresponsible to put these jobs at risk."
His talks with business leaders left him in no doubt that the promised 2017 referendum was deterring large-scale business investment. "It is in danger of slowing the recovery. It adds another layer of uncertainty," he said.
Mr Cable claimed the "inconsistent" Tories were putting the union of the UK at risk by preaching "separatism" in Europe while urging Scotland to reject nationalism. He asked: "How do you expect to persuade the Scots to ignore the siren voices of nationalism and separatism when you indulge in British nationalism and Euro-separatism?"
Addressing a rally at the Lib Dem conference on Friday night, the Business Secretary will mock Nigel Farage, the Ukip leader, as a modern day "chief druid". In his interview, Mr Cable said his party will, unusually, ensure that the European Parliament elections in May are fought on EU rather than domestic issues. "It is an existential issue. It is serious. There is a real risk that we could find ourselves outside [the EU], with all the massive costs in terms of jobs. That is why we feel we have a responsibility. It is not an idealistic thing to do; it is the right thing to do," he said.
Mr Cable doesn't normally smile much but has reason to feel happy about life. After much heat in his running battle with the Conservatives over the impact of immigration, some light has finally been shone. Yesterday the Government published a study concluding that when the economy is strong, there is "relatively little evidence" that migrants take the jobs of British workers.
The Business Secretary, who extols the economic benefits of immigration, has frequently locked horns with Theresa May, the Home Secretary. But he insisted this is not a "party political issue" between the Coalition partners as he lifted the lid on the Cabinet's discussions: "I am well aware, from the battles we have fought in government, that most of my Conservative colleagues agree with me. They are reluctant to say so publicly - for obvious reasons of solidarity with the Home Secretary."
Mr Cable explained: "Theresa May is doing her job. I am not attacking her personally. I have quite a high regard for her as an individual. I don't criticise her professionalism. I am doing my job – encouraging growth in the economy. That means getting access to highly qualified people, tapping into the world's talent, encouraging overseas students."
He hoped yesterday's report will undermine the Conservatives' flagship target of reducing annual net migration to less than 100,000 by next year's general election. He stressed that politicians must address people's concerns, that he does not favour unlimited immigration and that abuse of the system must be tackled. But he argued that benefit tourism from the EU "is not a major problem" and is "exaggerated" by the Conservatives. He added: "Having these arbitrary targets makes very little sense and is in the process of being discredited. Let's look at the evidence, the facts. That is why it is important that this document is out there."
He was most animated when asked about Tory claims he has broken Cabinet ranks on immigration. Admitting he is "angry" about the criticism, he said: "There is no collective responsibility around that target. The Conservative side keep saying it is a government policy. It is not and never has been. So there is no responsibility to defend it."
Going head-to-head with Ukip and being unashamedly the "party of IN" at the European elections may not prevent bad results for the Lib Dems in May. Some Clegg critics believe that scenario could create a "last chance" to oust him as leader before the general election. Although Mr Cable would be the front-runner to succeed him in such circumstances, he insisted there is no prospect of changing the party's leader before the election. "I don't think anybody is questioning it. It is a given," he said.
Some Lib Dems believe that Mr Cable, by then 72, would be too old to run for the leadership if Mr Clegg stood down after the general election. But he is no mood to rule himself out. "I am really not thinking that far ahead. I have a big task in Government, I have got to hold my seat, like all my colleagues, then we'll think about who does what," he said.
Mr Cable admitted to his own "centre-left inclinations" but insisted that the Lib Dems will position themselves as "equidistant" between Labour and the Tories.
Although friends believe he would love to be chancellor in a Lib-Lab Coalition, he described his view about deficit reduction after 2015 as exactly "mid-way" between that of George Osborne and Ed Balls, his Labour shadow. There is reported tension on this issue between Mr Cable and Danny Alexander, the Lib Dem Chief Treasury Secretary, but the avuncular Business Secretary does not blame his younger colleague for "doing his job at the Treasury".
Mr Cable described his own position as the "mainstream" one inside the Lib Dems. "The common ground view is that we have not finished the job [on the deficit] yet. We all accept that there is no point in assuming we have reached sunny pastures where we can go round spending lots of money. But constantly tightening the screw once we have dealt with the structural deficit does not seem to be good economics," he said.
As both Labour and the Tories struggle to make a big breakthrough, Mr Cable believed the Lib Dems have a good chance of being in a position of "significant influence" in the next parliament. "I expect we will do much better at the general election than anyone currently predicts. People will take a second look at us and reflect positively on what we have done," he said.
However, the Business Secretary conceded that the Lib Dems could not assume they would remain in a full-scale coalition in another hung parliament. Tory and Labour minds are mulling over the benefits of minority government and, possibly, a "confidence and supply" agreement in which the Lib Dems would support the biggest party in key Commons votes but would not serve as ministers. "There are different circumstances [to 2010]. We are no longer dealing with the same degree of national emergency. The problems are still quite serious, but not quite like 2010," he said. "We are not drawing red lines about whether we must be in or out [of government]. We are looking at all the options."
Mr Cable, once a Labour adviser, confirmed that Labour's hostility towards the Lib Dems for entering the Coalition has now eased. He said: "Labour is less tribal. In the early days of the Coalition Government, Labour was quite appalling, shouting 'treachery' and 'betrayal' at us – it was childish and very unpleasant. That has certainly changed. Labour is much more politically savvy now. I think we could do business with it, as we have with the Conservatives."
Register for free to continue reading
Registration is a free and easy way to support our truly independent journalism
By registering, you will also enjoy limited access to Premium articles, exclusive newsletters, commenting, and virtual events with our leading journalists
Already have an account? sign in
Register for free to continue reading
Registration is a free and easy way to support our truly independent journalism
By registering, you will also enjoy limited access to Premium articles, exclusive newsletters, commenting, and virtual events with our leading journalists
Already have an account? sign in
Join our new commenting forum
Join thought-provoking conversations, follow other Independent readers and see their replies