UK threatens to suspend visas for countries 'not cooperating' with deportation attempts
Concerns that powers enabling home secretary to 'blackmail' countries into accepting returns could provoke tit-for-tat visa suspensions targeting British citizens
Lizzie Dearden
Home Affairs Correspondent
,
May Bulman
Friday 15 October 2021 18:37 Comments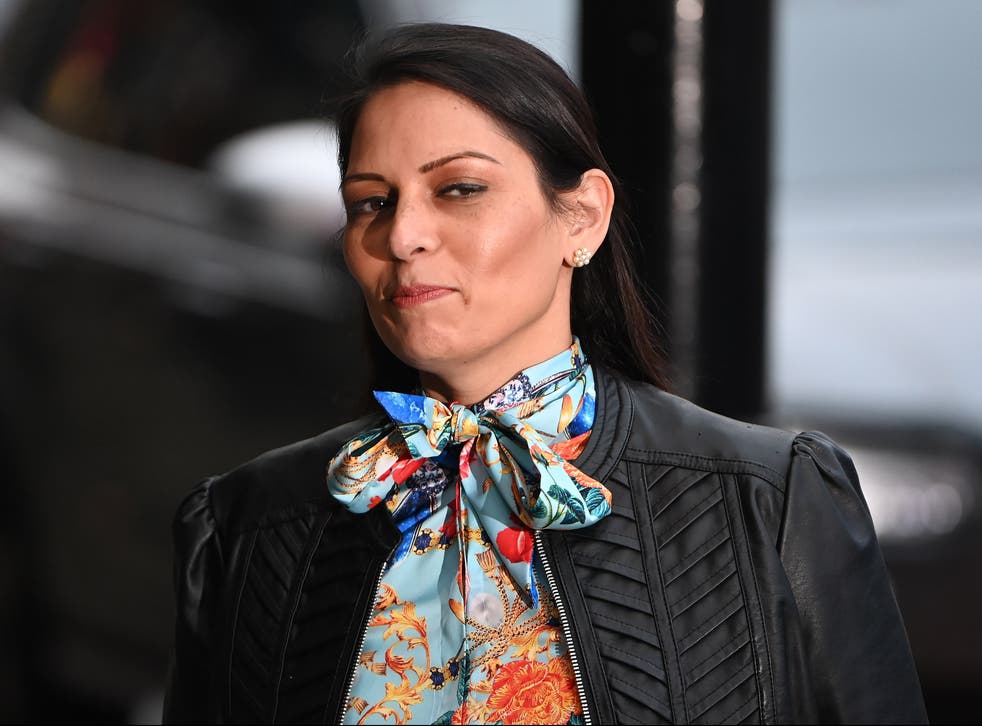 The government is threatening to stop granting visas to citizens of countries that are "not cooperating" with attempted deportations from the UK.
Proposals contained in amendments to the controversial Nationality and Borders Bill would allow Priti Patel to slow or suspend visa services, or increase charges, based on her "opinion" and any matters she "considers appropriate". Some have described such actions as a form of blackmail.
Other government amendments to the bill, revealed on Friday, include the proposed use of X-rays on asylum seekers accused of lying about their age, in order to "scientifically" assess how old they are.
Campaigners described the power to suspend visas as "simply oppressive", and there are concerns that such measures could spark tit-for-tat diplomatic retaliation, affecting British citizens wanting to travel for work, holidays or to see family.
The law, being added to the bill more than three months after it was published, would apply if countries refused to take back failed asylum seekers, foreign national offenders, or those deemed to have no legal right to remain in the UK.
The Home Office has not said how many people they are unable to deport because of a lack of cooperation, or specified which countries are not cooperating.
It said the powers would "incentivise other countries to cooperate with the UK government to remove those who have no right to be in the country", but presented no evidence that this would be the case.
The home secretary said: "The UK has a proud history of being open to the world, but we rightly expect our international partners to work with us to remove those who have no right to be in the UK, such as dangerous foreign national offenders.
"It is unfair on UK citizens and taxpayers that pressure is put on our public services by foreign nationals with no legal right to be  here."
Minnie Rahman, interim chief executive of the Joint Council for the Welfare of Immigrants, said the "immoral and manipulative" plan could mean countries are "blackmailed" into accepting returns, with visas for their citizens at risk if they refuse.
"This would mean workers, tourists, performers, students and academics could be refused entry to the UK if their states don't sign return deals with Britain. This will put our relationships with other countries at risk, and is likely to lead to more discrimination against Black and Brown nationals looking to travel to the UK," she added.
"It's time government stopped making the world a smaller place by demonising migrants and refugees, and started turning its attention towards the glaring winter crisis this country is facing."
Steve Valdez-Symonds, Amnesty International UK's refugee and migrant rights director, said "penalising" someone – whether by refusing their application or increasing the fee – because the Home Office had an issue deporting somebody else was "simply oppressive". 
"It should not be given yet more arbitrary power – parliament should throw out this measure, along with much else in the Nationality and Borders Bill," he added.
The law would create a sliding scale of penalties for targeted countries, such as imposing a £190 surcharge on applications to come to the UK, increasing visa processing times, or suspending visas entirely.
It would apply to all kinds of visas, including for visitors, study and settlement in Britain, but the block could be waived for individuals in "exceptional circumstances".
The draft law says the power can be used where "the government of the country is not cooperating in relation to the return to the country from the UK of any of its nationals or citizens, who require leave to enter or remain in the United Kingdom but do not have it".
UK news in pictures

Show all 50
Issues include countries' willingness to identify citizens and provide documentation, and accepting deported citizens from the UK.
The home secretary would take into account existing return arrangements, along with the "extent of the lack of cooperation" and the reasons for it. Any penalty imposed would be reviewed after two months.
The law would also make it a criminal offence for asylum seekers to arrive in the UK in small boats or by other irregular means, and provides a legal defence for Border Force personnel if they kill refugees during planned pushback operations at sea.
Register for free to continue reading
Registration is a free and easy way to support our truly independent journalism
By registering, you will also enjoy limited access to Premium articles, exclusive newsletters, commenting, and virtual events with our leading journalists
Already have an account? sign in
Join our new commenting forum
Join thought-provoking conversations, follow other Independent readers and see their replies