Vote for Oxford!
This year's election will be dominated by politicians who first crossed swords at the university in the 1980s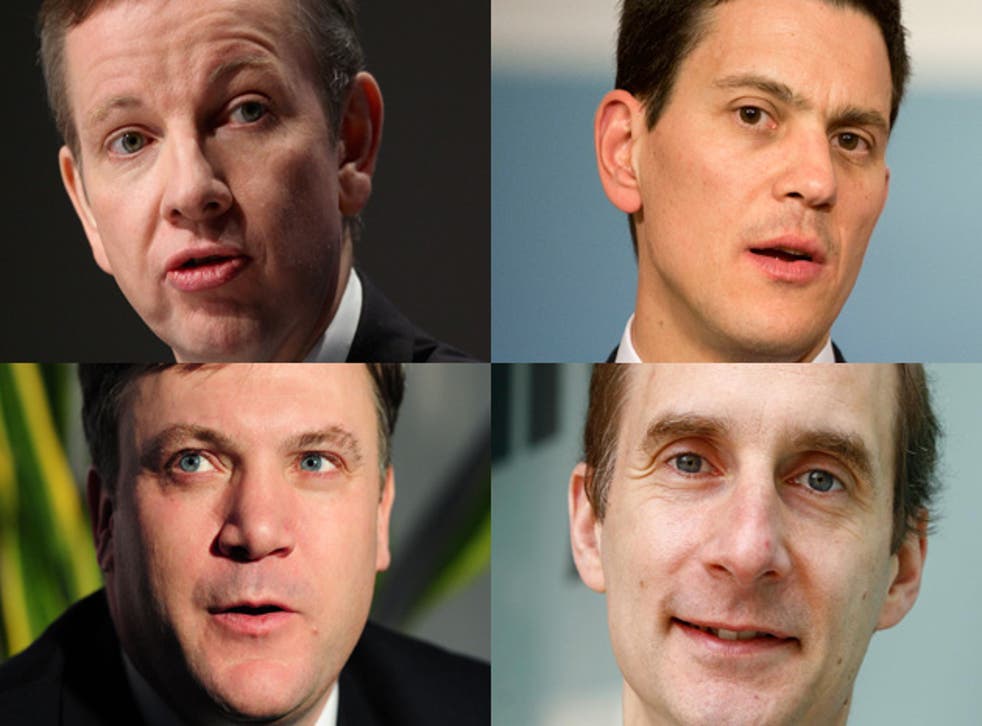 Whatever happens at this year's general election, life – for some politicians at least – will go on as normal.
A search through the archives of Britain's most famous university reveals that whoever wins later this year the next parliament will be dominated by politicians who have been friends, rivals, enemies or distant acquaintances since they were all at Oxford University together, a quarter of a century ago.
Everyone may know about the antics of Boris, Dave and the Bullingdon Club but what is less well known were his other contemporaries.
Those like Ed Balls and David Miliband, who were just two of Cameron's Oxford contemporaries, or indeed Michael Gove, who was at Oxford at exactly the same time, and much better known as an aspiring Tory politician.
Others Cameron may have come across in Oxford's lecture halls and student bars include two current Cabinet ministers, Yvette Cooper and Andrew Adonis; two shadow ministers, Jeremy Hunt and Ed Vaizey, and the backbench Tories Mark Field and Philip Hollobone.
Ed Balls – or "Eddie" as he was known then – was at Keble College in 1985-88, the same years that Cameron was at Brasenose. They both read politics, philosophy and economics, and came away with first-class honours degrees, though Balls got the higher marks, coming fourth in his year. They may even have been members of OUCA, the university Conservative club, at the same time because, being ambitious and anxious to make contacts, "Eddie" joined all the political clubs.
Balls allowed himself to be photographed in circumstances even more cringing than the Bullingdon Club group photograph. The Daily Mail got hold of an old grainy picture of him in Nazi uniform. There is rumoured to be an old photograph in existence of "Eddie" Balls taking part in a male swimsuit competition.
In 1987, Balls was elected president of the Junior Common Room (JCR) by his fellow students at Keble, which put him in charge of negotiating the rents the students would pay the college. His instructions from the student committee were to suggest a 1 per cent rent rise, and begin negotiating from that low base, but then – as ever since – Balls was sure that he knew best. He decided unilaterally to open negotiations at 2.5 per cent. The result was a vote of no confidence by fellow students, which he won 212-70.
By contrast, his future wife, Yvette Cooper, who was at Balliol, also reading PPE, got on with her studies, never drawing attention to herself.
A rather cruel student custom was to pick out each autumn someone who could be branded the "pushiest fresher". Jacob Rees-Mogg, who is expected to enter the Commons this year as Tory MP for North East Somerset, was singled out in 1988, after he gave what was judged a humourless speech in praise of Margaret Thatcher's "economic miracle" in his first appearance at the Oxford debating union.
In 1985, this label went neither to Balls nor Cameron, but to Michael Gove. A few weeks into his first term, the student newspaper, Cherwell, noted the appearance of a "pushy fresher ... whose lilting Aberdeen tones and impeccable Young Fogey dress sense have set the hearts aflutter". The same writer alleged that Gove "conceals his rabidly reactionary political views under a Jane Austen cleric-like exterior".
Within a couple of years, Gove was running for office in the student union, dressed in a kilt, which he judged gave him a more human look. He was elected, first as the union librarian (yes, in Oxford student politics, even to be librarian was a political prize to be fought for), and then as president of the student union, despite standing as a Tory when student opinion was predominantly left-leaning.
His success inspired another Tory to run a successful campaign to be union librarian in his wake. This was Ed Vaizey, known in those days as "Tubby Teddy" or "Fat Eddie", who is now shadow Minister for Culture, and deputy to Jeremy Hunt, who was then also a prominent member of OUCA.
It might be assumed, by the way, that the extroverted Boris Johnson was a shoe-in for the title of "pushiest fresher" when he arrived at Balliol in 1983, but in fact that accolade went to a contemporary who was judged to be a bigger attention-seeker and more publicly identified with the Conservative Party – Nick Robinson, now political editor of the BBC. Unusually for a student Tory, Robinson was not a Thatcherite but a "wet", which is why he was known to his Thatcherite contemporaries as "Red Robbo", or "Wet Nickers".
Hollobone, now MP for Kettering, was more in tune with the times. He was a leading member of the Monday Club, the pro-hanging and pro-apartheid pressure group inside the Conservative Party, and president of the JCR at Lady Margaret Hall, the same college as Gove. In 1986, he created a furore by inviting the most right-wing MP in the Commons, Harvey Proctor, to come and speak, and had to weather a motion of no confidence.
One of the issues that divided student opinion was sexual freedom. Stephen Twigg, the future Labour minister who is due to return to the Commons this year as Labour candidate in Liverpool West Derby, was both a leading student Labour politician, and the university's most outspoken advocate of gay rights.
In October 1986, the Oxford union passed a vote that "consenting adults should be allowed free choice in their sexuality", despite an eloquent speech by Gove on the meaningless nature of casual sex. After this success, Twigg insisted that the union include in its rules a clause recognising gay and lesbian rights. This was accepted almost everywhere but in the sporty college, St Edmund Hall, where Mark Field, now Tory MP for Westminster, was president of the JCR. He led a revolt by St Edmund students who tried to disaffiliate from the union, but when put to the vote by the college as a whole, it was defeated 140-139.
This did not affect Field's popularity in his college, where his fans turned out to cheer him at the end of his term as JCR president, as he ceremoniously ran round the college quad between the strokes of midnight singing the Red Flag, naked except for a pair of boxer shorts, his bare skin coated in baby oil.
But it should not be thought that all student politics involved silly stunts and self-indulgence. The Transport Secretary Andrew Adonis, for instance, who was the leading Alliance politician in his student days, published a worthy and well researched document in 1986, on the impact that a government White Paper could have on student rents.
Housing was always a serious matter. In May 1985, the chairman of the student union accommodation committee met the university authorities to demand they build more accommodation to meet the shortage. He was named in contemporary reports as "Dave" Miliband, from Corpus Christi College. One contemporary says that while the likes of Boris Johnson pretended to be characters out of Evelyn Waugh, Miliband was "quite unhip-looking, with a pudding-bowl haircut, not nerdy in a boring way, but preternaturally grown-up".
Even Field knew how to be serious. He was co-author with a student journalist named Anne McElvoy of a very worthy newspaper report on whether the system for electing the Union president should be changed to introduce the Alternative Vote, the same device Gordon Brown now wants to introduce at general elections. This idea was taken before the union in November 1985 by the delegate from the Labour Club, the aforementioned "Dave" Miliband. Sadly, so few students turned up that the president, Matthew Taylor – who soon afterwards was elected Liberal MP for Truro – declared the meeting inquorate. The idea of reforming the voting system "fails to inspire much interest", he noted ruefully. Perhaps the majority of students just had better ways to fill their time.
Register for free to continue reading
Registration is a free and easy way to support our truly independent journalism
By registering, you will also enjoy limited access to Premium articles, exclusive newsletters, commenting, and virtual events with our leading journalists
Already have an account? sign in
Register for free to continue reading
Registration is a free and easy way to support our truly independent journalism
By registering, you will also enjoy limited access to Premium articles, exclusive newsletters, commenting, and virtual events with our leading journalists
Already have an account? sign in
Join our new commenting forum
Join thought-provoking conversations, follow other Independent readers and see their replies