Ministers' plans for voter ID risk breaching human rights law, warns report
Elderly, disabled and ethnic minorities 'may be denied right to vote'
Andrew Woodcock
Political Editor
Thursday 02 September 2021 00:01 Comments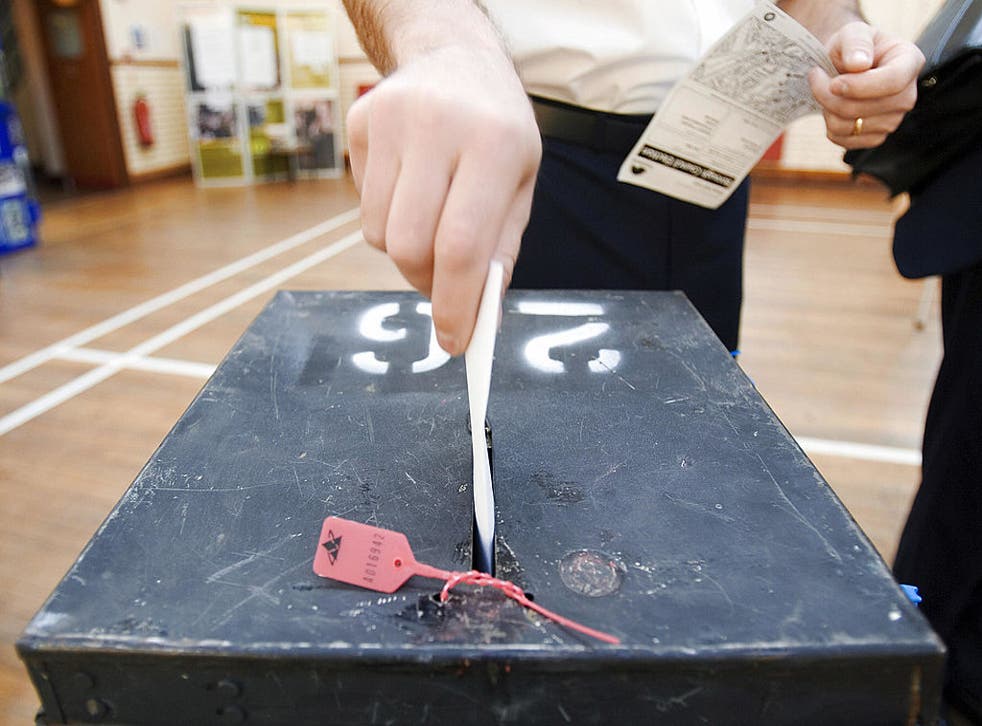 Government plans for voter ID risk breaching human rights law by discriminating against as many as 2 million elderly, disabled and ethnic minority people, a report has warned.
The report, published by parliament's cross-party Joint Committee on Human Rights, warned that the demand to show photo ID at the polling station could deny the right to vote to large numbers of people and create barriers to minority groups participating in elections.
And the report found that the problem which the measure is supposed to solve, of people fraudulently passing themselves off as someone else to vote, was "rare", with just 171 allegations since 2014, leading to nine cautions and three convictions.
Instead, the committee said, the government could massively increase involvement in democracy by introducing automatic voter registration, following Electoral Commission research that up to 9.4m people eligible to vote are not on the electoral roll or are registered at the wrong address. This included around 25 per cent of black and Asian voters and 45 per cent of 18-24 year-olds, compared to an average of 17 per cent overall and 10 per cent of over-70s.
Ministers can expect stiff opposition to the Elections Bill when it comes back to the House of Commons for its second reading on Tuesday next week, with many MPs concerned that it will exclude marginalised groups from voting.
UK news in pictures

Show all 50
Today's report warned that the government must do more to demonstrate the need to voter ID and mitigate the potential barriers to voting it will create, in order to avoid breaches of the Human Rights Convention duties to hold free and fair elections.
The committee heard evidence that many of the 2.1m people who do not currently have photo ID in the form or passports, driving licences and other official documentation would be reluctant to sign up for the Voter Card proposed by the government as an alternative way of proving their identity at the polling station.
Cabinet Office research found that 42 per cent of those with no photo ID said they were unlikely to apply.
And Operation Black Vote director Simon Woolley told the committee that introducing a requirement for voter ID would fuel distrust among ethnic minority communities and could have "a monstrous negative effect, which some have characterised as voter suppression".
Lord Woolley said he feared that the Voter Card would act as "another impediment for a group that is already hesitant about fully engaging in the democratic process", warning: "Quite a few people in black, Asian and minority ethnic communities feel that a Government who do not have their best interests at heart may want to find a route for these ID cards as Big Brother to watch over them."
The committee said that the government's aim to improve the integrity of elections was "clearly legitimate", but warned: "Any measures must be proportionate to the scale of the problem and not interfere with the right to vote so as to render the right to vote ineffective."
Voter ID was being proposed at a time when public confidence in elections is at an "all-time high", with Electoral Commission research finding that 87 per cent believe voting is safe from fraud and abuse - up from 80 per cent in 2020.
And the deputy director of the Electoral Reform Society, Jessica Garland, told the committee that it was "implausible" to suggest that fraud by personation - trying to vote under a false identity - was happening undetected.
"To change an election result by personation would require a huge operation, identifying which constituencies would be marginal enough to make a difference," said Dr Garland. "That is difficult for political scientists, let alone anyone else.
"On top of that, a lot of people would have to be involved. You would have to know who was not going to vote in order for that not to be detected, and presumably the candidate would have to be aware. We are talking about a large-scale operation. It is implausible that it could be going on undetected."
Evidence from the US showed that marginalised communities "struggle" to get appropriate ID when called upon to do so for voting purposes, she added.
Human Rights Committee chair Harriet Harman said: "The government has a duty to ensure everyone can vote, no-one is prevented from voting by discrimination and also that elections are free from fraud.
"However current proposals which would prohibit voting without voter ID may deny the right to vote from large numbers of electors, and could have a discriminatory impact. The government must explain how these measures are both necessary and proportionate given the low numbers of recorded instances of fraud at polling stations.
"The government must prove that the need for people to get a Voter ID card does not act as a deterrent to voting. In particular they must demonstrate an understanding, so far lacking, of the impact of these measures on marginalised groups and show how they plan to ensure access to the ballot box for all."
A Cabinet Office spokesperson said: "Stealing someone's vote is stealing their voice. Fraud in our elections is something we cannot allow room for, so we are stamping out potential for it to take place by requiring photographic identification. 
"Voters in Northern Ireland have been using photo identification since 2003. It has been operating with ease for decades and has proven to be effective at tackling fraud and improving voter confidence.
"Our research, which draws on the most comprehensive data to date, shows that 99 per cent of ethnic minorities already have a form of identification, as do 98 per cent of those aged 70 or above. Local authorities will be legally required to provide a free voter card for the small proportion of people who may not already have photo identification."
Register for free to continue reading
Registration is a free and easy way to support our truly independent journalism
By registering, you will also enjoy limited access to Premium articles, exclusive newsletters, commenting, and virtual events with our leading journalists
Already have an account? sign in
Join our new commenting forum
Join thought-provoking conversations, follow other Independent readers and see their replies