Voters 'brainwashed by Tory welfare myths', shows new poll
Survey shows public ignorance of the level of benefits and who gets them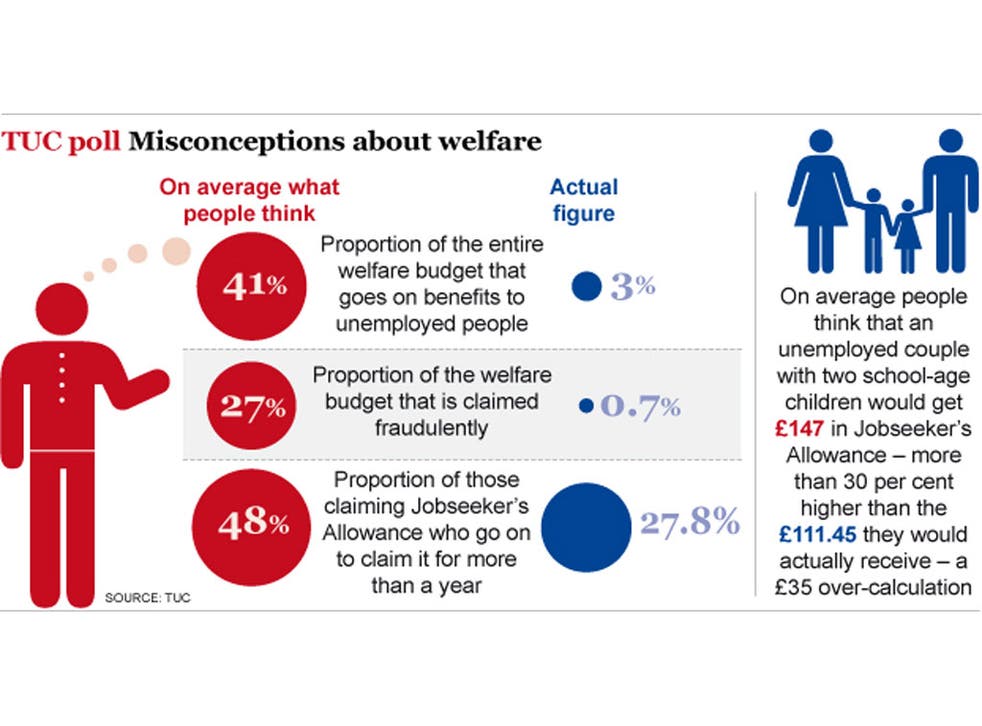 Ministers were accused of demonising benefits claimants in an attempt to justify their controversial decision to increase most state handouts by less than inflation.
Polling commissioned by the Trades Union Congress suggests that a campaign by Tory ministers is turning voters against claimants – but only because the public is being fed "myths" about those who rely on benefits.
The criticism comes before a crunch Commons vote next Tuesday on the Welfare Benefits Uprating Bill, which will ensure that most benefits and tax credits will rise by only one per cent for the next three years. Labour, which will vote against the measure, tried today to answer Tory claims that it is "soft" on scroungers by announcing a "tough love" plan to force adults who have been out of work for more than two years to take up a government "job guarantee" or lose their benefits.
George Osborne, the Chancellor, has spoken about "the shiftworker, leaving home in the dark hours of the early morning, who looks up at the closed blinds of their next-door neighbour sleeping off a life on benefits". Iain Duncan Smith, the Work and Pensions Secretary, has highlighted figures showing that benefits have risen by almost twice as much as earnings in the past five years. According to YouGov, four out of 10 people think benefits are too generous and three in five believe the system has created a culture of dependency. However, people who know least about the facts are the most hostile towards claimants. More than half of those who are "least accurate" about the system think benefits are too generous, while fewer than one in three (31 per cent) of those giving the "most accurate" answers agree.
Mr Osborne's decision to cap most benefit rises at one per cent is supported by 48 per cent and opposed by 32 per cent. But, by a margin of three to one, people think the squeeze will mainly hit the unemployed. When told it will also affect low-paid workers receiving tax credits, people oppose the move by 40 to 30 per cent. Only one in four people believe benefits should go up by less than wages or prices, while 63 per cent want to see them linked to wages, prices or both.
Frances O'Grady, the TUC General Secretary, said: "It is not surprising that voters want to get tough on welfare. They think the system is much more generous than it is in reality, is riddled with fraud and is heavily skewed towards helping the unemployed, who they think are far more likely to stay on the dole than is actually the case. Indeed if what the average voter thinks was true, I'd want tough action too.
"But you should not conduct policy, particularly when it hits some of the most vulnerable people in society, on the basis of prejudice and ignorance. And it is plainly immoral to spread such prejudice purely for party gain, as ministers and their advisers are doing, by deliberately misleading people about the value of benefits and who gets them."
Ed Balls, the shadow Chancellor, accused ministers of resorting to "smears" by claiming they are targeting the workshy and benefit scroungers when two-thirds of those affected by the cap are in work.
Mr Balls announced that Labour would raise £1bn by limiting tax relief on pension contributions to 20 per cent for those on more than £150,000 a year. This would fund a "compulsory jobs guarantee" for the 129,000 adults over the age of 25 who have been jobless for more than two years, a move that would later be extended to those on the dole for more than a year.
Writing on the PoliticsHome website, Mr Balls said: "A One Nation approach to welfare reform means government has a responsibility to help people into work and support those who cannot, but those who can work must be required to take up jobs or lose benefits – no ifs or buts. Britain needs real welfare reform that is tough, fair and that works, not divisive, nasty and misleading smears from an out-of-touch and failing government."
Ministers insist there is strong public support for reducing the welfare bill, saying the TUC had failed to produce an example of the Government misleading people. Mr Osborne hit back at Mr Balls, accusing him of making uncosted spending commitments because he had already announced plans to spend the same £1bn on reversing cuts to tax credits.
A government source said last night: "It beggars belief that Labour's union baron backers think people are stupid for daring to suggest the benefits system needs reforming. If Labour seriously thinks stopping households receiving more in benefits than families earn going out to work is prejudiced and ignorant, it is completely out of touch."
Register for free to continue reading
Registration is a free and easy way to support our truly independent journalism
By registering, you will also enjoy limited access to Premium articles, exclusive newsletters, commenting, and virtual events with our leading journalists
Already have an account? sign in
Register for free to continue reading
Registration is a free and easy way to support our truly independent journalism
By registering, you will also enjoy limited access to Premium articles, exclusive newsletters, commenting, and virtual events with our leading journalists
Already have an account? sign in
Join our new commenting forum
Join thought-provoking conversations, follow other Independent readers and see their replies