Government to launch pilot scheme forcing voters to produce ID at polling stations
'The new measures we are announcing today will protect anyone who is at risk of being bullied, undermined or tricked out of their vote'
Ashley Cowburn
Political Correspondent
Tuesday 27 December 2016 01:05 Comments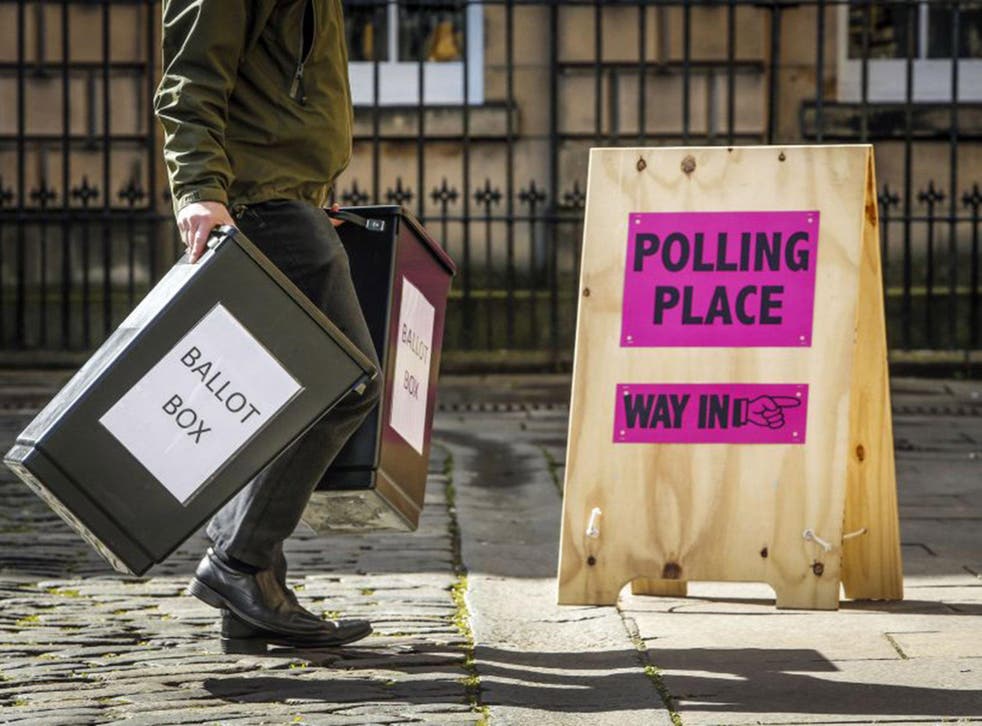 Voters could soon be forced to present a form of ID – such as a driving licence or passport – at polling stations across Britain as part of a Government attempt to crack down on electoral fraud.
The move for more stringent controls at the ballot box comes in response to a Government-commissioned report by Sir Eric Pickles, the Prime Minister's "anti-corruption champion". The report was released earlier this year and made 50 recommendations.
While there is already a requirement for the public in Northern Ireland to present photographic ID before they vote, no such procedures exist in the rest of Britain. Sir Eric suggested in his report that a driving licence, passport or utility bill "would not seem unreasonable to establish identity".
Having agreed with this recommendation, the Government will now aim to introduce a pilot scheme at the local elections in May 2018.
The independent Electoral Commission have long been advocates of introducing ID at polling stations in Britain, previously warning that electoral fraud has the "potential to undermine confidence in the electoral system if not addressed". The electoral watchdog has estimated such a scheme would cost between £1.8m and £10.8m to implement.
According to data collected by the organisation, police forces across the UK recorded a total of 481 cases of alleged voter fraud in 2015 – 123 related to voting.
Sir Eric, the former Communities Secretary, was asked by the former Prime Minister David Cameron to examine how the system could be made more robust. It came after the "wake up call" of last year's election court judgement in the London borough of Tower Hamlets and the removal of Lutfur Rahman from his post as mayor.
In order to eradicate intimidation of the public at the ballot box, Sir Eric also recommended that the Government provide powers so that the police can establish cordons sanitaires at polling stations where necessary.
On this, the Cabinet office said in its response: "We would wish to consider the practical implications of strengthening the existing powers, for example, whether it would be necessary to create any new offences, and also the potential impact on the police and policing arrangements in setting up and monitoring cordons sanitaires around polling stations.
"The proposed changes are likely to require primary legislation and we would look to bring forward provisions when a suitable opportunity arises."
Chris Skidmore, the minister for the constitution said: "The Government's view is that electoral fraud is unacceptable on any level. I want to protect the right of everyone to have their say and participate in our democracy.
"That is why the new measures we are announcing today will protect anyone who is at risk of being bullied, undermined or tricked out of their vote – and their democratic right.
"By eliminating fraud and tackling improper practises, we are ensuring the integrity of our electoral system while building a clear and secure democracy that works for everyone."
Other recommendations accepted by the Government include considering how "nationality checking" may be used to prevent false registrations, requiring electors to re-apply for postal votes every three years and ending the "dubious practise of postal vote harvesting" by political activists.
The Cabinet Office's response adds: "The Electoral Commission's code of conduct for campaigners already states that activists should not handle completed postal ballot ballots or envelopes: yet this is only a voluntary code, rather than a statutory prohibition.
"There are practical implications that will require careful consideration, including how a ban on specified persons handling postal ballot papers will be enforced and the creation of a new offence."
Claire Bassett, chief executive of the Electoral Commission added: "We welcome today's full and considered response from the Government and the announcement of its intention to pilot measures to increase security at polling stations.
"Having undertaken detailed work, the Commission's view is that the use of photographic ID is the most effective proof against personation; however, we look forward to working with the Government and other partners to further explore the options, in order to ensure voter confidence in the system."
When Sir Eric released his report in August, he said: "Last year's court ruling in Tower Hamlets was a wake-up call that state bodies need to do far more to stamp out corruption and restore public confidence."
"It was local residents who lost out from the crooked politicians who bullied them and wasted their money. The law must be applied equally and fairly to everyone. Integration and good community relations are undermined by the failure to uphold the rule of law and ensure fair play."
Register for free to continue reading
Registration is a free and easy way to support our truly independent journalism
By registering, you will also enjoy limited access to Premium articles, exclusive newsletters, commenting, and virtual events with our leading journalists
Already have an account? sign in
Join our new commenting forum
Join thought-provoking conversations, follow other Independent readers and see their replies