Waive rights in return for shares, Osborne tells workers
Oliver Wright
Tuesday 09 October 2012 13:36 Comments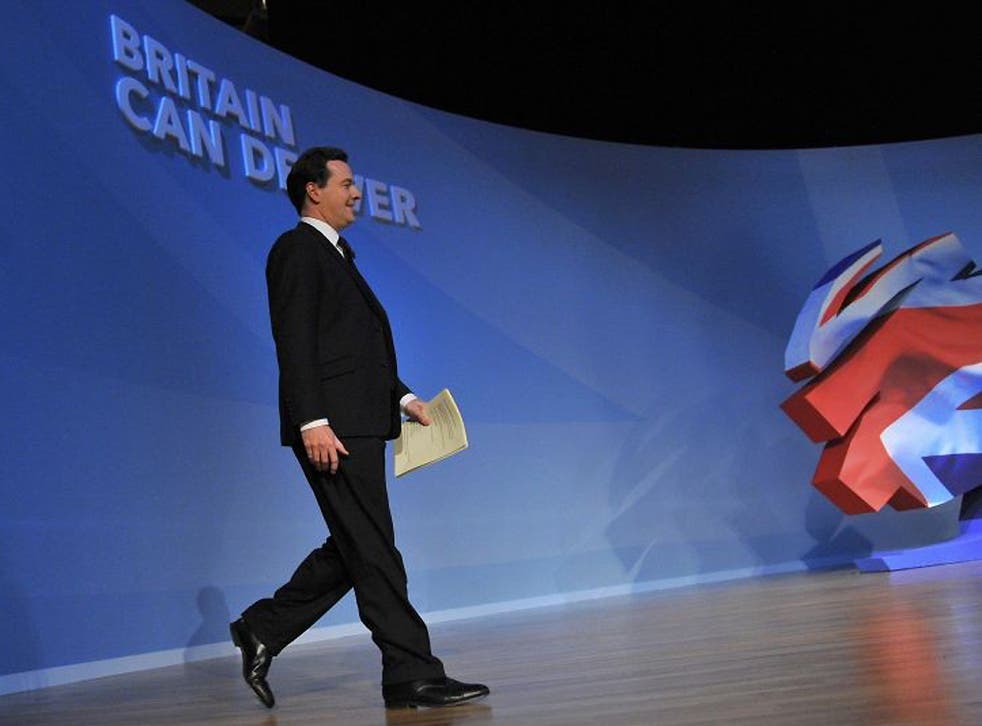 Workers are to be encouraged to sacrifice their employment rights in return for free shares in their company, George Osborne announced today.
In his speech to the Conservative Party conference the Chancellor said that employees could benefit from between £2,000 and £50,000 of shares in the business that they work for.
But in return they would have to give up their rights to unfair dismissal, redundancy and flexible working.
Mr Osborne's aides said while the plan would be optional for existing workers – future employee could be forced to become "employee owners" as a condition of getting the job in the first place.
While the move is likely to appeal to business who have long lobbied the Government for more flexible employment laws it will infuriate the unions who will see it as part of slippery slope to eroding employment rights.
In his speech Mr Osborne also announced new plans for tax relief on shale gas drilling and failed to mention the Government's previous trumpeted green aspirations once.
He pledged to reform the benefits system by removing housing benefit from the under 25s.
He also warned parents on benefits they must make a "financial decision" about whether to have more children as he confirmed the Government is looking at how much money they receive.
"For how can we justify the incomes of those out of work rising faster than the incomes of those in work?," he asked
"How can we justify giving flats to young people who have never worked, when working people twice their age are still living with their parents because they can't afford their first home?
"How can we justify a system where people in work have to consider the full financial costs of having another child, whilst those who are out of work don't?
"And here's the broader point - how could a country that wants to compete in the world economy possibly explain that it's cutting budgets on things like schools and science because it couldn't summon the political will to control welfare?
Mr Osborne insisted that unless the Government cut spending, deregulated and pushed for economic growth it faced being left behind in international competitiveness ratings.
"For in this country we face something even greater than recovery from recession and the problems of the past - we face the shock of the future."
In a speech which was politely – if not enthusiastically - received by party members Mr Osborne said the economy was "healing" and pointed to a reduction in the deficit and a boost in the number of private sector jobs as proof.
He also sought to seize back the One Nation slogan for the Conservatives, after Labour leader Ed Miliband used it to make an audacious grab for the political centre ground.
He said the Conservatives were the true party of "one nation working together and insisted: "We will finish the job we have started."
Denouncing Mr Miliband's claim of Disraeli's "one nation" mantle as "risible", Mr Osborne said: "They are all part of one nation: one nation working together to get on. That is the nation I represent. Those are the people who I will serve as Chancellor.
"Where is the fairness, we ask, for the shift worker, leaving home in the dark hours of the early morning, who looks up at the closed blinds of their next-door neighbour sleeping off a life on benefits?
"We speak for that worker. We speak for all those who want to work hard and get on. This is the mission of the modern Conservative party."
Register for free to continue reading
Registration is a free and easy way to support our truly independent journalism
By registering, you will also enjoy limited access to Premium articles, exclusive newsletters, commenting, and virtual events with our leading journalists
Already have an account? sign in
Join our new commenting forum
Join thought-provoking conversations, follow other Independent readers and see their replies