Britain extends Isis bombing campaign by two years
The decision that reveals Government plans for Britain to be involved in military action against the Islamist extremist group for another two years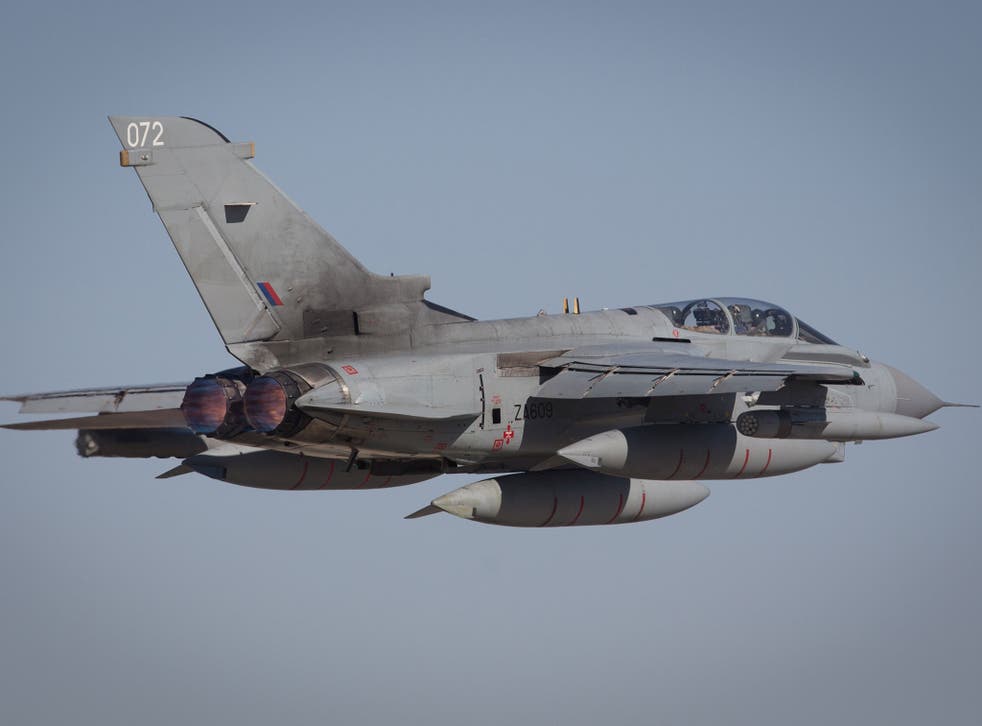 The disbanding of an RAF Tornado squadron spearheading the air campaign against Isis has been postponed - in a decision that reveals Government plans for Britain to be involved in military action against the Islamist extremist group for another two years.
The announcement due on 4 August that Tornado GR4s of 12 (Bomber) Squadron will now be in service until Spring 2017 – a year longer than envisaged – comes as MPs are due to vote in September on extending the current campaign of British air strikes on Isis targets in Iraq to the group's bases in Syria as well. David Cameron has also mooted the prospect of using force to combat the spread of Isis in Libya.
The focus on using the RAF on counter-terrorism missions also means that plans to reduce the numbers of Tornado jets from the current strength of 87 as part of defence cuts will have to be rethought in the impending new Strategic Defence and Security Review.
Defence Secretary Michael Fallon, on a visit to Baghdad, said: "Our aircraft have flown thousands of missions and RAF Tornados have carried out hundreds of strikes, helping Iraqi forces push back Isis from the Kurdish region and out of key towns such as Tikrit and Bayji.
"We want to ensure we maintain this crucial operational tempo and so we will extend the lifetime of Number 12 Squadron for a further year to March 2017. This will allow us to sustain our effort, helping the Iraqis lead the fight on the ground.
"Isis terrorists pose a threat to the security of Iraq, Syria, the wider region and to the streets of Britain. It is therefore our duty to ensure the UK continues to play its part to defeat this barbaric regime."
The UK currently has eight Tornado jets deployed for the anti-Isis operation in Iraq. That number is expected to grow. The Chief of Air Staff, Air Chief Marshal Sir Andrew Pulford, said: "The decision to retain the third Tornado GR4 squadron for a further year is welcome news. It is clear that the requirement for fast jet precision strike and intelligence gathering shows no sign of diminishing."
The move comes after the head of the armed forces General Sir Nicholas Houghton warned last month the RAF was operating at "the very limits of fast jet availability and capacity".
The GR4s, operating out of RAF Akrotiri in Cyprus, are equipped with precision-guided Paveway bombs and Brimstone missiles.
They can also be fitted with Raptor reconnaissance pods for carrying out surveillance and intelligence gathering missions.
Together with the RAF's unmanned Reaper drones, also operating in the region, they have flown more than 1,100 combat missions over Iraq and carried out more than 250 air strikes.
Register for free to continue reading
Registration is a free and easy way to support our truly independent journalism
By registering, you will also enjoy limited access to Premium articles, exclusive newsletters, commenting, and virtual events with our leading journalists
Already have an account? sign in
Register for free to continue reading
Registration is a free and easy way to support our truly independent journalism
By registering, you will also enjoy limited access to Premium articles, exclusive newsletters, commenting, and virtual events with our leading journalists
Already have an account? sign in
Join our new commenting forum
Join thought-provoking conversations, follow other Independent readers and see their replies