Water under the bridge? Attorney General Dominic Grieve 'threw Police minister Damian Green off bridge'.... but it was 35 years ago while the pair were at university
Andy McSmith
,
Tom Peck
Wednesday 09 January 2013 20:45 Comments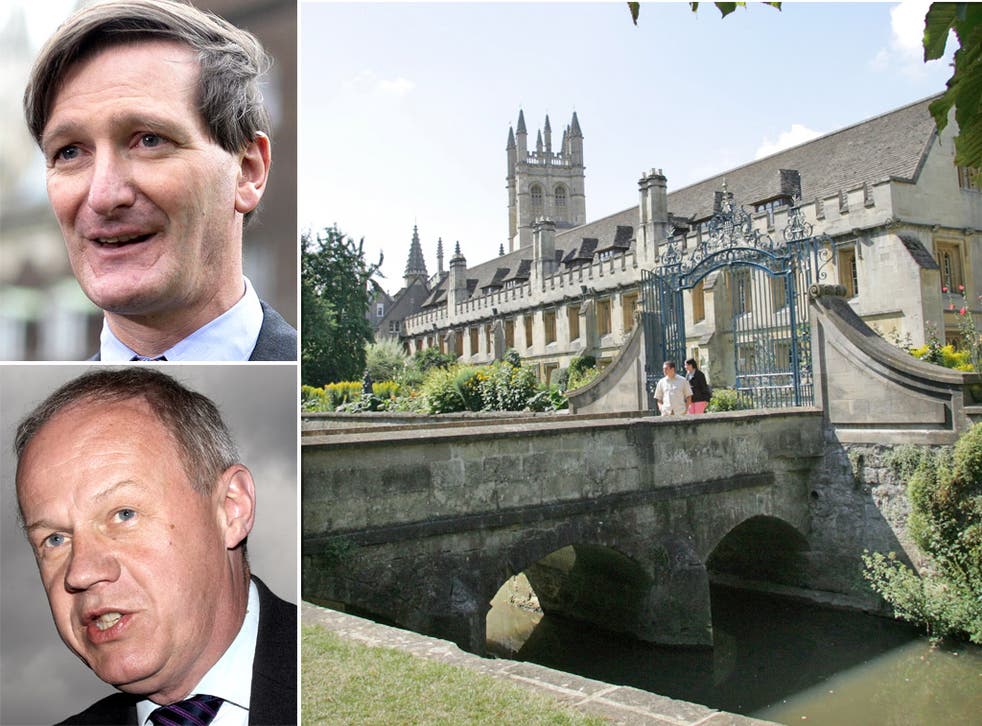 People do embarrassing things when they are young, which come back to haunt them when they are middle-aged and respectable.
Two Conservative ministers and several of their eminent contemporaries have had their student japes revived, invoking comparisons with the Bullingdon Club antics that David Cameron and Boris Johnson got up to at Oxford.
Undergraduates working for Cherwell, the Oxford University newspaper, have discovered a report from 35 years ago describing how a bunch of hooray henries set upon the President of the Oxford University Students Union and threw him off a bridge.
The victim was Damian Green, now the Home Office minister responsible for overseeing the police. One of the undergraduates accused of being implicated was Dominic Grieve, today's Attorney General.
Neither politician was today prepared to comment on whether the old Cherwell report, first published in December 1977, is accurate, but what is also notable is that it was written by two undergraduates, Eamonn Matthews and Michael Crick, who have since achieved great renown in journalism.
Mr Matthews is an acclaimed maker of documentaries who runs Quicksilver Media, while Mr Crick is Political Correspondent for Channel 4 News. "I stand by my story, and it has always amused me," the latter said today. "It was a very famous incident at the time. Everybody in the university was talking about it."
Mr Green was obviously not amused back then. According to the Cherwell report: "Green was dropped from a height of 12 feet into one-and-a-half feet of water. In his fall he missed being impaled on some rusty spikes by only a few inches. Fortunately, it was his shoulder which hit the stoney bottom first." The report continued: "But as Green told Cherwell: 'I could easily have hit my head on the bottom, been concussed, and drowned'."
The incident took place in the grounds of Magdalen College, after a Sunday night dinner. Six undergraduates accused of being involved had their membership of the student union suspended a few days later. They were Grieve, Nicholas Leviseur, Tim Clarke, Julian Chadwick, Simon Hardman-Lea and Gavin Grahame.
At the time, Mr Green's version was vigorously disputed, particularly by Mr Leviseur, who threatened to sue him for slander. But after 35 years, he is reluctant to return to the fray. "I would, I fear, be at best the purveyor of most unreliable evidence given the state of my memory," he told The Independent.
Mr Grieve was more emollient at the time, although he was aggrieved about his suspension from the union. "This has effectively prevented me from being able to apologise to Damian in the way I want to," he told Cherwell. Mr Crick thinks Mr Grieve was probably a bystander rather than one of the main culprits. "It's most unlikely he was one of the people who actually threw Damian Green into the river because it's so out of character," he said.
As Attorney General, Mr Grieve has spoken up repeatedly for victims of petty hooliganism and anti-social behaviour, stressing the importance of catching and punishing the culprits. Writing in his local newspaper, the Buckinghamshire Examiner, he said: "Who could feel anything but sympathy for the plight of individuals tormented by such behaviour? There have to be sanctions, which ultimately need to be tough and to be a deterrent, because, if unchallenged, anti-social behaviour can lead on to other types of criminal behaviour."
The Cherwell six where are they now?
Dominic Grieve
Forged a career as a barrister before being elected Tory MP for Beaconsfield in 1997. Appointed as Attorney-General by David Cameron in 2010. Hobbies include "boating, scuba-diving, skiing".
Simon Hardman-Lea
A consultant ophthalmologist at Ipswich Hospital, and a Fellow of the Royal College of Ophthalmologists.
Julian Chadwick
Now a successful lawyer, a former chairman of the Latin Mass Society, and a Knight of Justice of the Sovereign Military Order of Malta. Enjoys 'field sports,' according to his entry in Debrett's.
Nicholas Leviseur
A barrister specialising in commercial litigation at 3PB Chambers. Called upon to resolve disputes involving "entrepreneurs, businesses, banks, doctors and dentists", according to his website.
Tim Clarke
Former chief executive of Mitchell and Butlers, one of the country's largest pub chains and pub operators. He stepped down in 2009 after losses incurred by the inflation and interest-rate swaps.
Gavin Grahame
Career unknown.
Register for free to continue reading
Registration is a free and easy way to support our truly independent journalism
By registering, you will also enjoy limited access to Premium articles, exclusive newsletters, commenting, and virtual events with our leading journalists
Already have an account? sign in
Join our new commenting forum
Join thought-provoking conversations, follow other Independent readers and see their replies