We must stop 'shilly-shallying' about the fact that Christians are most persecuted people, says Cardinal Vincent Nichols
Leader of the Roman Catholic Church in England and Wales urges the 'intelligentsia' to stand up to increasing threats faced by Christians across the world wanting to celebrate Christmas 
Matt Dathan
Online Political Reporter
Thursday 24 December 2015 09:56 Comments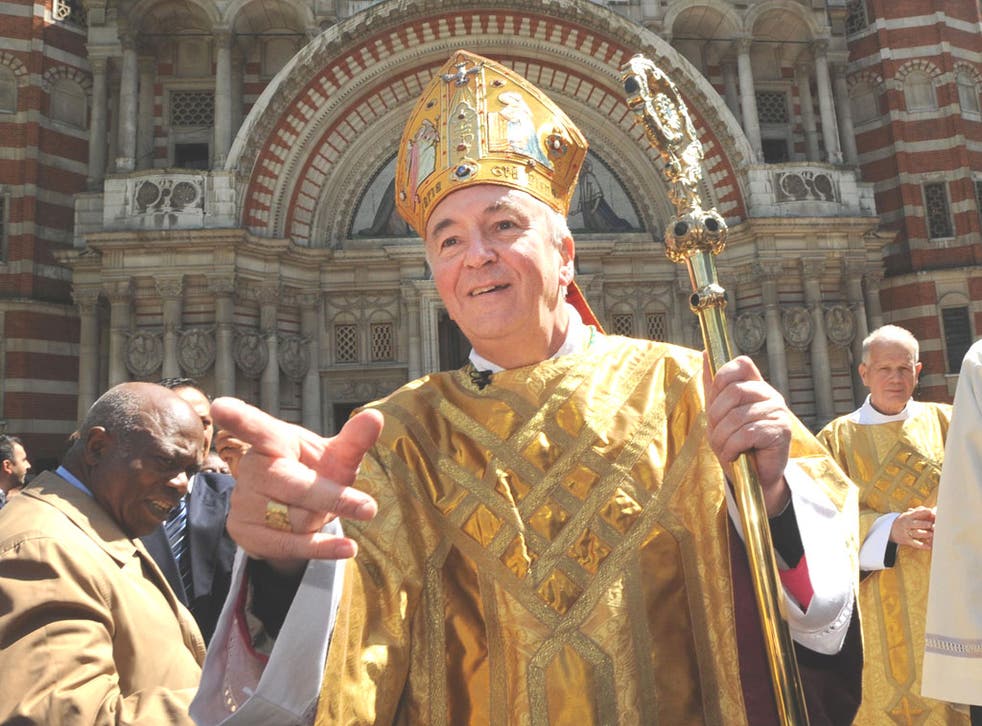 It is a "fact" that Christians are currently the most persecuted people in the world, the leader of the Roman Catholic Church in England and Wales has said.
Cardinal Vincent Nichols pointed to recent ban on celebrating Christmas in Brunei, with anyone who defies the ban threatened with up to five years in prison, as well as other threats elsewhere in the world, as proof of the need to stand up to intolerance of Christianity.
He said the "intelligentsia" must "stop shilly-shallying" around and recognise the increasing threat to Christians across the world.
Cardinal Nichols echoed Nick Baines, the Bishop of Leeds, who wrote in The Times that Christians "represent the most persecuted people on earth in the 21st century" and said the world must not stay silent any longer to the reality of "women and girls being forced into sexual slavery and subjected to rape-at-will" simply because of their Christian faith.
Brunei is not the only country where Christians face punishment for celebrating Christmas this year. In China, where an estimated 70 million Christians live, large outdoor crosses on churches have been dismantled by officials from the atheist government.
Bishop Baines accused the "relgiously illiterate western intelligentsia" of being too "embarrassed" to stand up to such mistreatment.
Asked if he agreed that Christians are the most persecuted of faiths, Cardinal Nichols told the Today programme: "I think it's fact.
Christmas celebrations around the world

Show all 30
"Persecution and faith in Jesus have always come together. I think the point that Bishop Baines is making is that the intelligentsia ought to face up to this fact and stop shilly-shallying about it and trying to pretend it's somehow not very significant.
"It is a huge feature in the world today. If you think of the Sultan of Brunei initiative – he follows in the steps of Russia, of China, of Romania, of Vietnam, the Ukraine, all of which in time tried to ban Christmas.
"What history teaches us is that it fails and it also teaches that intolerance of this kind breathes further intolerance and ends up fostering violence. So it is not a very sensible path to take."
He said he welcomed David Cameron's emphasis on Christianity in his Christmas message this year.
The Prime Minister was criticised last year for stoking "alienation and division" by calling Britain a "Christian country" but he will reiterate Christian message on Christmas Day by saying: "As a Christian country, we must remember what his birth represents: peace, mercy, goodwill and, above all, hope."
Cardinal Nichols said: "I appreciate the Prime Minister's Christmas message, in which he talks about the Christian character of this country.
"I think what that puts into perspective though, is that while we do indeed strive to live from values that have their routes in Christian traditions, because if we don't then the routes will wither.
"So we do need to be more forthright about our spiritual lives, about the crucial relationship that we live as human beings with God."
Register for free to continue reading
Registration is a free and easy way to support our truly independent journalism
By registering, you will also enjoy limited access to Premium articles, exclusive newsletters, commenting, and virtual events with our leading journalists
Already have an account? sign in
Join our new commenting forum
Join thought-provoking conversations, follow other Independent readers and see their replies