'We screwed up': Lib Dems confront growing scandal as Nick Clegg admits he DID know of sex claims against Lord Rennard
<b>Latest:</b> Deputy PM admits he was aware of 'non-specific' allegations that a senior party official had sexually harassed women but insists he has nothing to hide
Nigel Morris
Monday 25 February 2013 12:40 Comments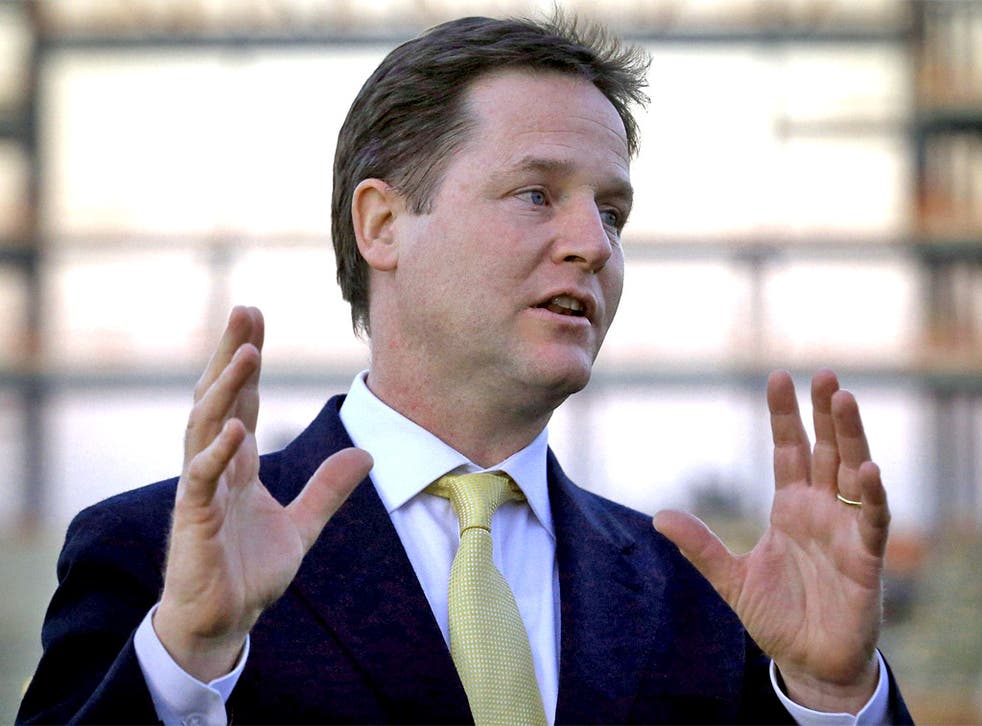 Nick Clegg insisted today that he and the Liberal Democrats had got "nothing to hide" over the handling of claims that a senior party official had sexually harassed several women.
As the Liberal Democrats battled to contain the fallout from the allegations, the party's president, Tim Farron, admitted it had "screwed this up" and failed in its duty of care to women who made allegations of sexual harassment by Lord Rennard.
Channel 4 News last week broadcast several claims of alleged impropriety towards several women by the peer, all of which have been strongly denied by Lord Rennard.
He said he was "deeply shocked" by the allegations, which he described as a "total distortion" of his character.
Mr Clegg last night admitted he was aware of "non-specific" allegations that the peer, a former party chief executive, had sexually harassed women.
Despite days of denying knowledge of the claims, the Deputy Prime Minister confirmed that "indirect and non-specific concerns" about Lord Rennard's conduct had been passed to his office – but he insisted he had not known about detailed allegations that surfaced last week.
Today he told BBC Radio Solent: "I totally understand people have got lots and lots of questions but I hope I have given a full, frank, honest account.
"I have got nothing to hide, the party has nothing to hide. We have now got to listen to the women who feel they weren't properly listened to and get to the truth and that is what we will do."
Mr Clegg said the party had confronted Lord Rennard with the concerns, which had been made anonymously, and he strenuously denied them.
The Lib Dem leader said he did not know that a woman he worked closely with had made claims about the peer until a Channel 4 News investigation last week.
He added: "I've got absolutely nothing to hide, why would I? I happen to know some of these women very well. One of them worked for me. I spoke to her just last night. She never, ever said anything about this until now.
"I know her well enough and I'm actually very fond of her so I feel for her and I want us to do, of course, the right thing, which we will do by these investigations.
"The problem, as I explained yesterday, is that until last week no very specific allegations were put to me. We acted on general concerns which had been expressed some time ago but, of course, now that those general concerns have evolved into specific allegations, we can act and we will."
Channel 4 News reported last week that several women said they had reported the incidents to senior figures in the party, including Jo Swinson, who had been Mr Clegg's parliamentary aide and is now the Equalities minister, and Paul Burstow, the former Liberal Democrat Chief Whip. The complainants included two party workers, Alison Smith and Bridget Harris, a former special adviser to Mr Clegg.
The pressure mounted on Mr Clegg yesterday after fresh claims that worries about the peer's activities had been conveyed to senior staff in his office.
Returning from a holiday in Spain, Mr Clegg last night said he was "angry and outraged" at suggestions he would not have investigated specific allegations and tore into claims of a cover-up. "When indirect and non-specific concerns about Chris Rennard's conduct reached my office in 2008, we acted to deal with them," he said.
This morning deputy leader Simon Hughes has appealed for the media not to "second guess" the outcome of inquiries into allegations of sexual harassment by Lord Rennard.
The former president of the Liberal Democrats said pre-empting the two investigations into the allegations would be unfair to the complainants and to Lord Rennard.
"The whole purpose of setting up two inquiries now is to go into both the process and the substance of the complaints - the substance of the complaints against a former party employee who denies them completely, and the process which deals with how they were dealt with if they were made and if they were made to individuals some years ago," he told BBC Breakfast.
"The individuals' specific complaints came to light in the last few days, the inquiries were announced immediately."
His chief-of-staff at the time, Danny Alexander, who is now a Cabinet colleague, put "these concerns to Chris Rennard and warned him that any such behaviour was wholly unacceptable", Mr Clegg said. "Chris Rennard categorically denied he had behaved inappropriately and he continues to do so.
He subsequently resigned as chief executive on health grounds. As my office only received concerns indirectly and anonymously, as those involved understandably wanted to maintain their privacy, there was a limit to how we could take this matter forward following Chris Rennard's resignation. It is incorrect to state there was any other separate inquiry by my office."
Mr Clegg said there were "legitimate concerns that issues raised with the party were not handled as well as they should have been", but he rejected "the insidious suggestion that my office or I are responsible in any way for a deliberate cover-up". He added: "I will not stand by and allow my party to be subject to a show trial of innuendo, half-truths and slurs. The important thing is that we respect the women who have come forward and do everything to get to the truth."
Lord Rennard was a key strategist and advised several Liberal Democrat leaders until stepping down in 2009. According to one report yesterday, one of the women who came forward to complain about him that year told a friend on Facebook: "I just don't know how Nick can know and not do anything." Another report claimed Lord Rennard tried to proposition a young activist – an episode said to have been referred to within Liberal Democrat circles as the "Peterborough incident". It also emerged that Jonny Oates, Mr Clegg's former chief-of-staff, had been asked by a newspaper to comment on rumours about the peer's activities.
Earlier Vince Cable, the Business Secretary, told BBC 1's Andrew Marr Show: "Nick Clegg has also said he was not aware of these allegations until they appeared on TV last week. But they are serious, and we take them very seriously."
The storm is a new setback for the party that has seen its support more than halve in opinion polls since it joining with the Tories. The Liberal Democrats had a series of dire by-election defeats and members Chris Huhne and David Laws resigned as cabinet ministers. The party has launched an internal investigation into the "specific allegations" against Lord Rennard, as well as a more wide-ranging inquiry by the party president Tim Farron. The current Liberal Democrat chief executive, Tim Gordon, has admitted that it appeared the party "did not fully live up to our political ideals" in dealing with complaints about the peer. One Liberal Democrat said: "There is a difference between rumour and formal complaints."
Labour last night called for an independent inquiry into how the party responded to the allegations and there were reports that a Labour MP was urging the police to investigate.
According to one report, one woman wrote: "I just don't know how Nick can know and not do anything."
Register for free to continue reading
Registration is a free and easy way to support our truly independent journalism
By registering, you will also enjoy limited access to Premium articles, exclusive newsletters, commenting, and virtual events with our leading journalists
Already have an account? sign in
Join our new commenting forum
Join thought-provoking conversations, follow other Independent readers and see their replies