We should have done something to get rid of Brown, says Alistair Darling
Former Chancellor's memoirs claim economic rift with PM stripped Labour Party of its credibility. Nigel Morris reports
Nigel Morris
Monday 05 September 2011 00:00 Comments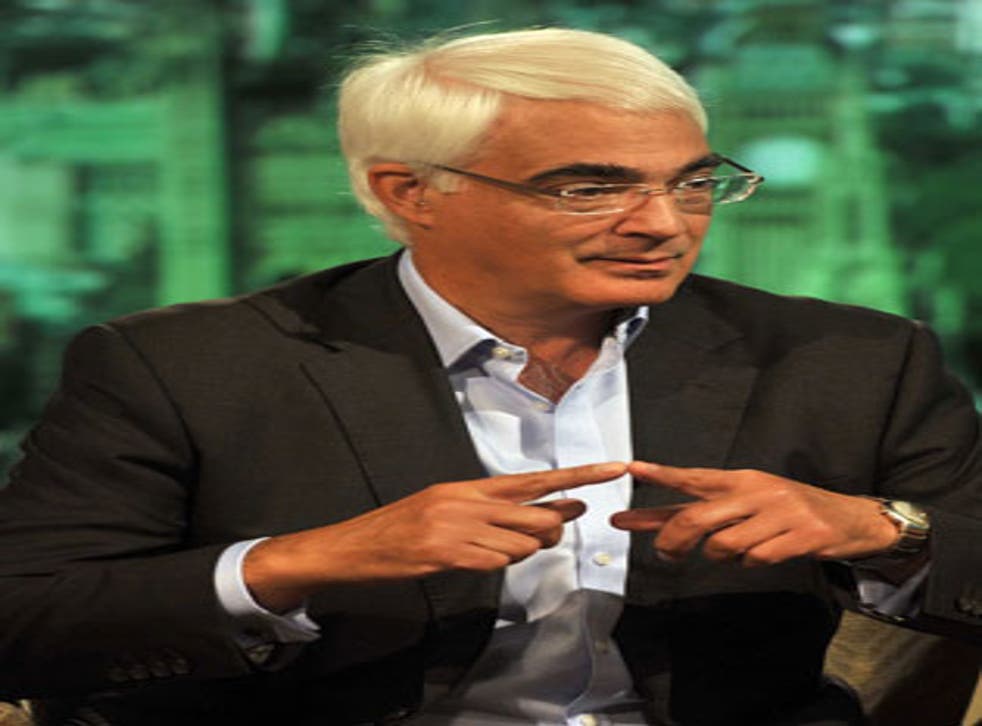 Alistair Darling admitted yesterday that Labour ministers should have taken bolder action to remove Gordon Brown from office, as the former Chancellor laid bare the feuding that paralysed the last Government.
Mr Darling said his disagreement with Mr Brown over how to tackle the economic crisis stripped Labour of credibility and undermined its chances at the general election.
In an interview ahead of publication this week of his memoirs, he accused his former leader of not facing up to the need to cut spending to reduce borrowing.
"My frustration is that we could have got through this, we could have charted a political way through it," he told BBC1's Andrew Marr Show. "We could have come through this. We didn't."
In a damning observation on Mr Brown's leadership style, he said the issue of how to tackle the recession was not discussed by senior ministers.
"Perhaps we should have or I should have forced this issue at least on to the cabinet table, if not into the party itself."
He added: "It was so blindingly obvious to the outside world that the two of us, Gordon and myself, were at odds, that it really hampered us when it came to the election in 2010."
Mr Darling, who discloses in his book that he held a secret meeting with David Miliband at which they discussed "getting rid" of Mr Brown, conceded he and other ministers should perhaps have "done something" about his leadership.
"Why did I not do it? I'm afraid for me, despite everything – if Gordon's listening to this, he may find it difficult to believe – I had a residual loyalty, which I found very difficult to overcome."
He said the "debilitating" briefing he endured from Brown allies "left a mark on me that you really can't erase".
Darling digested
Brown's personality
The former Chancellor acknowledges Mr Brown had "many strengths" and was capable of "huge gestures of generosity", but paints a damning picture of his competence and his treatment of colleagues.
"He seemed to have no conception of the effects of his sometimes appalling behaviour on those close to him, or of the political damage his way of operating — indirectly, through a cabal — could cause."
Paralysis in No 10
Mr Brown agonised over decisions, frequently changing his mind. Mr Darling says the management of his time by Downing Street was "hopeless" and adds: "There was a permanent air of chaos and crisis."
Brown's cronies
"Gordon's style of operating was like an old-fashioned court: he was the centre around which trusted courtiers moved."
Mr Darling says their "blind loyalty" meant he was only told "that which he wanted — or could bear — to hear".
The 'dark arts'
Mr Darling, who famously protested that Mr Brown's team had unleashed the "forces of hell" against him, says the cabal "sought fresh enemies" after their leader arrived in Downing Street. "It was a fairly brutal regime and many of us fell foul of it," he says. "Their underhand tactics, particularly the continuous briefings and leaks to the media, were difficult to bear and incredibly damaging to the reputation of the party."
The on-off election
Mr Darling reflects ruefully on the briefings suggesting Mr Brown would call a snap election in autumn 2007. He says: "The problem was that the spin machine was allowed to run out of control and fed the story." He says the confirmation there would be no election was a disaster: "It emerged in a disorganised, haphazard way, on a Saturday afternoon, accompanied by briefings from the bowels of No 10, heaping blame on the supposed author of this misfortune, Douglas Alexander. Who told Damian McBride, Gordon's press secretary, to do this remains opaque. It was extremely hurtful for Douglas, who was a loyal supporter of Gordon."
60 years or six months?
Mr Darling immediately suffered a ferocious briefing from No 10 when he gave an interview suggesting Britain faced its gloomiest economic outlook for 60 years. He later discovered the reason for the Brown camp's fury: "Gordon had decided on an economic strategy built around the proposition that the economy would recover over the next six months."
Attempt to sack Darling
By June 2009, Mr Brown had decided to move his protégé, Ed Balls, to the Treasury. Mr Darling says: "A part of me wanted to go... I was tired of the atmosphere of feuding and the perpetual sniping." He was offered other posts, including David Miliband's job as Foreign Secretary, but decided to return to the backbenches. Mr Brown relented when his Government was thrown into turmoil by the surprise resignation of James Purnell as Work and Pensions Secretary. Days later he denied trying to sack the Chancellor.
Talks with David Miliband
Immediately afterwards, Mr Darling secretly met the elder Miliband at a friend's farm in Essex to discuss "whether there was any way of getting rid of Gordon". He recalls: "We came to a pretty unsatisfactory political conclusion: that Gordon wouldn't leave; that there was no alternative leader in prospect; and that there was an inevitability that we must just soldier on."
Sir Mervyn King
Mr Darling says he feared, that Sir Mervyn King, the Bank of England Governor, was trying to thwart moves to tackle the financial crisis. "I was so desperate I asked the Treasury to advise me as to whether we could order the Bank to take action. The answer was that it might be legally possible, but... a public row between myself and Mervyn would have been disastrous." Mr Darling and Mr Brown seriously considered not appointing Sir Mervyn for a second term.
Register for free to continue reading
Registration is a free and easy way to support our truly independent journalism
By registering, you will also enjoy limited access to Premium articles, exclusive newsletters, commenting, and virtual events with our leading journalists
Already have an account? sign in
Join our new commenting forum
Join thought-provoking conversations, follow other Independent readers and see their replies