We won't reverse Coalition cuts, says Balls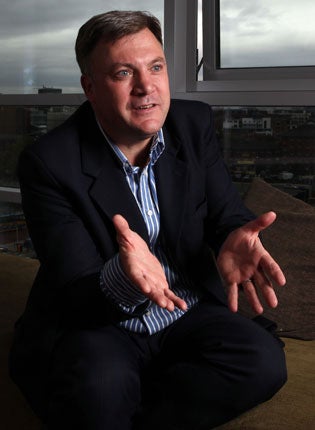 The Shadow Cabinet has been banned by Ed Balls from promising to reverse any of the Coalition Government's spending cuts as part of Labour's attempt to regain credibility on the economy.
In an interview with The Independent, the shadow Chancellor said: "No matter how much we dislike particular Tory spending cuts or tax rises, we can't make promises now to reverse them. I'm clear that I won't do that and neither will any of my Shadow Cabinet colleagues." Mr Balls has ordered Labour frontbenchers to clear any spending commitments, however small, with him and Ed Miliband.
His tough line will be reinforced today in his speech to Labour's annual conference in Liverpool. Although it will disappoint some Labour activists, it reflects concern in the leadership that the party trails the Conservatives on being trusted to run the economy despite growing doubts about the Coalition's cuts strategy. Some Labour MPs are worried that the party is playing into David Cameron's hands by giving the impression they "oppose every cut".
In his interview, Mr Balls warned that the "global hurricanes" raging make it "easily the most dangerous time I can remember on the economy". He said: "It is more dangerous than three years ago, because this time politics does not seem able to act." In today's speech, Mr Balls will try to dispel any perception that Labour is wedded to a "tax and spend" agenda.
The shadow Chancellor will announce that Labour will fight the next general election on a new set of "tough" fiscal rules to limit Britain's debt levels and curb year-on-year spending. He will say the rules would "get our country's current budget back to balance and national debt on a downward path".
Mr Balls will also reveal that Labour would use any windfall from the sale of the state's shares in the Royal Bank of Scotland and Lloyds Banking Group to repay debt. George Osborne, the Chancellor, is thought likely to use any profit to fund tax cuts, while Nick Clegg has floated the idea of handing free shares in the banks to the public.
Mr Balls will tell the conference: "Even as bank shares are falling again, David Cameron and Nick Clegg are still betting on a windfall gain from privatising RBS and Lloyds to pay for a pre-election giveaway. We could also pledge to spend that windfall. But we will commit instead in our manifesto to do the responsible thing and use any windfall gain from the sale of bank shares to repay the national debt. That will be Labour's choice – fiscal responsibility in the national interest."
The shadow Chancellor will warn that Labour's plan to secure growth would not "magic the deficit away" and its policy to halve the deficit in four years would still mean painful cuts.
"A more balanced, medium-term plan to get the deficit down will still mean tough choices in the years ahead," he will say. "Tough choices on tax and spending – like the cuts to welfare, education and Home Office budgets. Discipline in public and private sector pay."
Mr Balls will admit that it is not right to blame Mr Cameron and Mr Osborne for everything that is wrong with the British economy, saying they did not cause the global financial crisis. The task of reducing the deficit has been made harder by the economic problems in the eurozone, America and Japan, he will say.
But he will insist that the Coalition's cuts strategy has made things worse. "We said that going too far, too fast would choke off the recovery and put jobs at risk; we warned that cutting spending and raising taxes too fast would create a vicious circle here in Britain and make it harder to get the deficit down," he will argue.
Yesterday, the Tories issued a dossier called "The Balls Plan", describing his "Plan B" as standing for "bankruptcy". It claimed Mr Balls had allowed Labour frontbenchers to call for £87bn of extra borrowing a year by 2015. This meant Labour would only cut the deficit by a third rather than halve it, the Tories alleged.
Join our commenting forum
Join thought-provoking conversations, follow other Independent readers and see their replies