Welfare minister Iain Duncan Smith: I could get by on £53 a week
Online petition calls on the Work and Pensions Secretary - who currently takes home £1,581 a week after tax - to prove it
James Legge
Monday 01 April 2013 17:38 Comments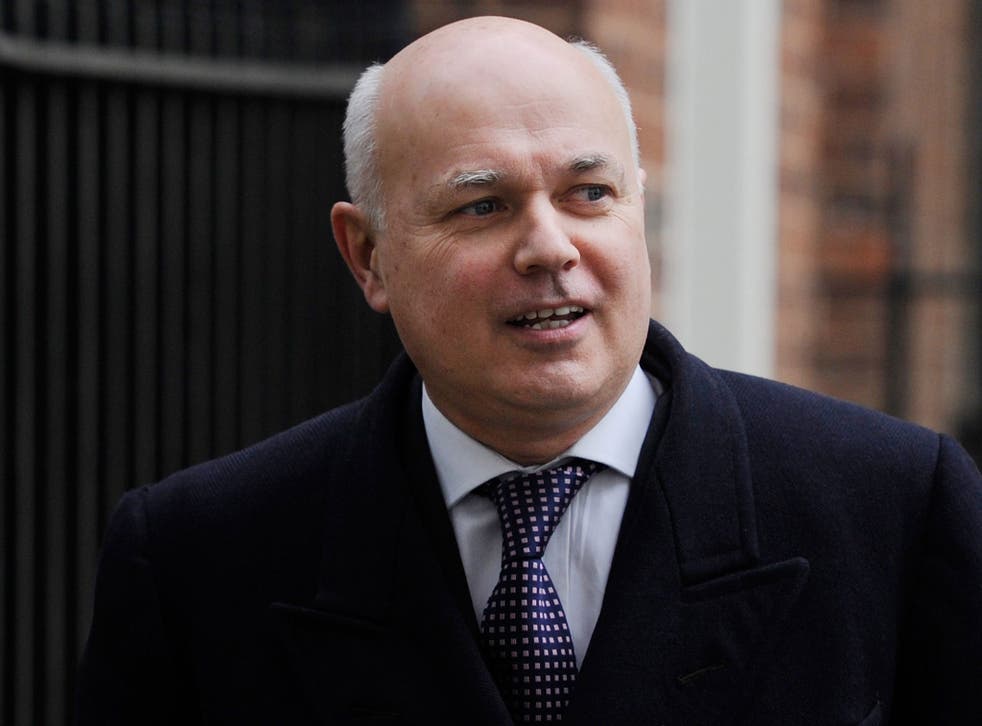 Iain Duncan Smith has claimed he could get by on £53 a week - the amount some benefit claimants live on.
The Work and Pensions Secretary currently earns £1,581 a week after tax.
But when asked on BBC Radio 4's Today programme if he could live like that, he said: "If I had to I would," and defended the legion of benefit cuts taking effect this month.
He said: "We are in an economic mess.
"We inherited a problem where we simply do not have the money to spend on all the things people would like us to do.
"What I am trying to do is get this so we don't spend money on things that are unfair."
An online petition has now been set up, demanding that: "The current The Work and Pensions Secretary, to prove his claim of being able to live on £7.57 a day, or £53 a week.
"Iain Duncan Smith would be called upon to live on this budget for at least one year. This would help realise the conservative party`s current mantra that 'We are all in this together.'"
It shot to 1,000 signatures in 23 minutes, and over 29,000 by 5.30pm.
He urged critics to get the issue "in perspective", arguing that there was already no funding for extra rooms when people received housing benefit to rent privately.
"They are exactly the same group of people," he said. "The reality is taxpayers are subsidising people to live in these homes. They need to be reassured."
He said his target was "restructuring the culture so that people always find that work pays".
"Full-time work is where you break free of the welfare system. That is the critical element," he said.
His stance is part of the coalition government's fightback as 660,000 social housing tenants deemed to have a spare room began to lose an average £14 a week in what critics have dubbed a "bedroom tax".
It is part of a package of tax an welfare changes which will hit the poor and vulnerable this month.
Changes to council tax benefit will see bills for an estimated 2.4 million households rise an average £138 a year with two million paying for the first time, an anti-poverty group said.
On April 6, working-age benefits and tax credits will be cut in real terms with the first of three years of maximum 1% rises - well below the present rate of inflation.
Two days later, disability living allowance (DLA) begins to be replaced by the personal independence payment (PIP), which charities say will remove support from many in real need.
And later in the month, trials begin in four London boroughs of a £500-a-week cap on any household's benefits and of the new Universal Credit system.
Labour claims the impact of the measures and other coalition policies have left the average family almost £900 a year worse off.
Shadow chancellor Ed Balls said that, according to the Institute of Fiscal Studies, the poorest 10% of households will lose an average of £127 under this year's changes, while the richest 10% will gain almost 10 times that, or £1,265.
And families with children would be hit harder, Mr Balls said, with the poorest 10% losing £236 a year and the richest 10% gaining £3,654 a year.
"It's appalling, it's shocking, it's immoral, it's shameful, it's a disgrace, it's inhumane, it's just upside down," he told the Daily Mirror, adding: "The bedroom tax is possibly the worst, most cack-handed and massively unfair piece of policy-making I've ever seen."
Register for free to continue reading
Registration is a free and easy way to support our truly independent journalism
By registering, you will also enjoy limited access to Premium articles, exclusive newsletters, commenting, and virtual events with our leading journalists
Already have an account? sign in
Join our new commenting forum
Join thought-provoking conversations, follow other Independent readers and see their replies