What are they putting in Ed's tea?
Miliband shapes up for a reshuffle with his most upbeat speech yet as he finally hits his stride. Is his recent improved performance just down to David Cameron's floundering – or is something else afoot?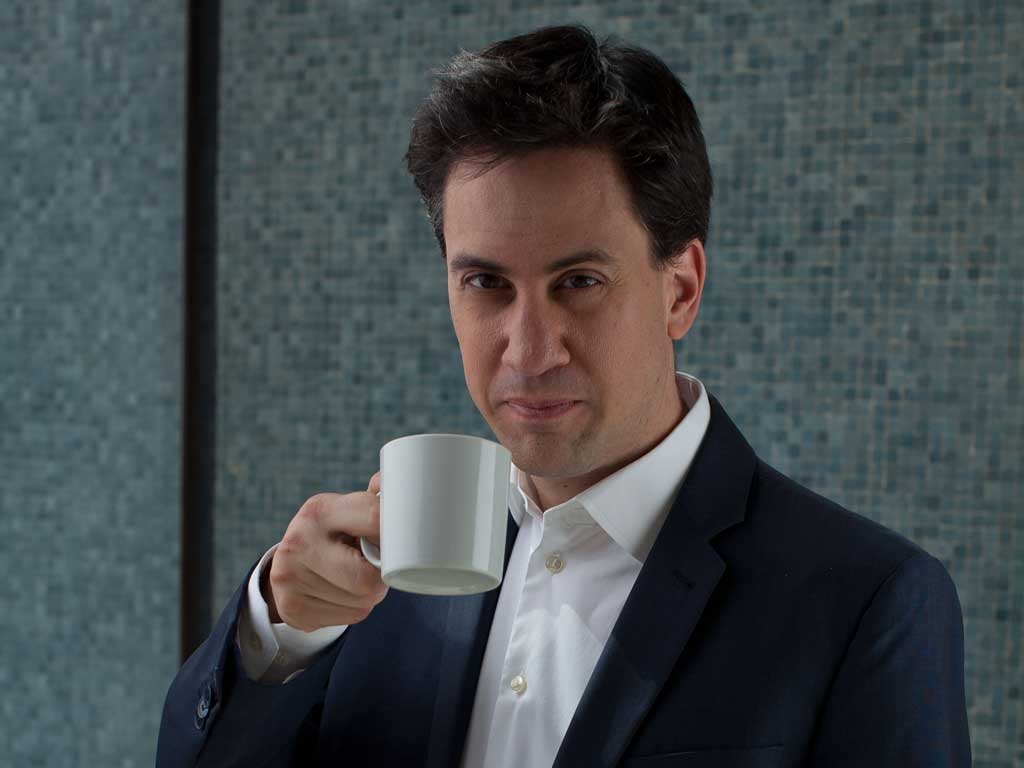 Ed Miliband yesterday called on his party to "seize the moment" of the Government's troubles with Rupert Murdoch and change politics by ending the establishment dominance of "the few".
Declaring that the coalition had "lost its way" after the Budget, revelations from the Leveson inquiry and the double-dip recession, the Labour leader made a bold claim that the 2015 general election would transform the country in the same way as Labour's landslide in 1997, with a renewed interest in politics from the wider public.
As Mr Miliband delivered his most upbeat speech to date, there was growing speculation inside the party that he will capitalise on his current political good fortune, following a good performance in the local elections, by bringing his brother, David, into the Shadow Cabinet.
In a wide-ranging reshuffle which could come as early as tomorrow, Mr Miliband may give his brother a high-profile role which would bring to an end nearly two years of bitterness following their leadership battle in 2010.
After a difficult first 18 months as leader, Mr Miliband has started to convince even his sternest critics inside the party that he could win the next election. This impression was helped, they say, by an assured performance in the Commons during the Queen's Speech debate last week, and bettering David Cameron at PMQs, but the woes of the Government have also boosted his confidence.
One aide said Mr Miliband was "like a striker in a football match: once he starts scoring he has hit a groove".
In his speech to the Progress Conference in central London yesterday, Ed Miliband said his party was now "knocking on doors we haven't knocked on for years". He announced the "biggest drive to register new voters in a generation" to counter the widespread apathy with all political parties, underscored by the low turnout at the local elections and the victory of George Galloway in the Bradford West by-election last month.
Mr Miliband admitted that Labour had made mistakes in Government under Tony Blair and Gordon Brown, which had led people to believe the party was "not willing to take on the media giants, even though everyone knew that things were not right".
Labour had stopped listening to both the party and the public on 10p tax, the pace of immigration and on bankers' bonuses. He added: "The British people thought we were not always willing to stand up for the country, even when it needed it most. We became one of 'them' rather than one of 'us'."
Under his leadership, Mr Miliband said, the party was changing, and Labour is now not the "last government in exile". "We have an opportunity and we must seize this moment. I want the British people to understand how the Labour Party is changing, to know the true character of the party I want us to be."
He said the party would reach out "much further and deeper into every community in Britain": "Let us make 2015 a change election, and set a target of making voter turnout at the next election the highest since 1997 – the last change election in this country.
"If we are going to change things, we must show that we are different from what people expect from politicians. We must be the people who only make promises we can keep. We must show we are not just different managers of the system, people waiting for our turn to come round again, the last government in exile, the establishment in waiting."
Mr Miliband said the "Budget for millionaires", the Tory cash-for-access scandal, the double-dip recession and revelations from the Leveson inquiry showing how the Government "bent over backwards" to help Rupert Murdoch's company take over BSkyB were all symptomatic of a government "out of touch with the many, too close to the few".
He added: "The reason the Government has lost its way so badly in the last few weeks is because they've been revealed for who they are – a government that stands up for the rich and powerful."
Senior party figures said Mr Miliband would not wait for Mr Cameron to carry out a cabinet reshuffle, expected after the Culture Secretary, Jeremy Hunt, gives evidence to Leveson, before carrying out his own shake-up.
Mr Miliband mentioned his brother by name in his speech yesterday, singling him out for praise for his work in a universities-based campaign for the living wage. David Miliband also watched the Labour leader from the back benches during the Queen's Speech debate; many commentators and party figures regarded his performance in the debate as impressive.
If the Labour leader does bring his brother back into the Shadow Cabinet, it would be a stunning return for the former foreign secretary. David Miliband could be appointed as shadow to his successor, William Hague.
While Ed Miliband has been ready for months to give his brother a shadow cabinet post, friends of David had suggested that, despite the passage of time, the wounds had not yet healed. But there has been a significant change in relations lately, and one frontbencher said there was "something in the tea leaves".
Who's up, who's in – and who's out?
Up?
Rachel Reeves Shadow chief secretary to the Treasury, tipped by some as the next Labour leader, is expected to be promoted and could get Work and Pensions brief.
Chuka Umunna Another future leadership contender, shadow Business Secretary likely to get a more high-profile role, possibly in one of the big policy departments, such as Health or Education.
In?
Luciana Berger Praised by Ed Miliband in his speech yesterday for her local campaigning; a junior shadow climate change minister, but an impressive performer.
Stella Creasy Also name-checked by Mr Miliband, shadow crime minister has made her name taking on payday-loan chiefs in her Walthamstow constituency.
Out?
Peter Hain Shadow Welsh secretary is understood to have told Ed Miliband he is ready to leave the Shadow Cabinet voluntarily after nearly two decades on the front benches.
Liam Byrne Shadow Work and Pensions Secretary and policy chief announced he would step down to run for Birmingham mayor, but now the city has rejected having a mayor, there is a question mark over his future. Almost certain to lose policy brief.
Has the Labour leader got his mojo working at last?
'Ed is doing well. He needs to follow the issues that he is passionate about, like the NHS. We haven't won the argument yet, but people are listening to us.'
Ellie Gellard; Party activist
'Let's not pretend that Ed Miliband's done anything near enough to win the next general election. He hasn't. But he's found another gear'
Mark Ferguson; Blogger, LabourList
'These last few weeks have been a vindication of choosing Ed. And because the Government are screwing up... people are now thinking about Ed.'
Emma Burnell; Blogger, Scarlet Standard
'I think he responded well after the local elections and is doing well at PMQs; the challenge now is to get the policy positioning right.'
Conor Ryan; Ex-adviser to Tony Blair & David Blunkett
'Cameron the slick operator has become Cameron the bungler. That gives Ed an opportunity. But he must seize it quickly.'
Dan Hodges; Blogger and former Labour adviser
'His performance improves as his confidence grows... But it's still not going to make him come across as more Mr Suave and less Mr Bean.'
Andrew Hawkins; Chairman, ComRes polling firm
'[Ed] is on a winning streak. Even Cameron's own MPs think his confidence is turning to arrogance, and Miliband is undergoing his own reassessment.'
Rupa Huq; Labour blogger
Join our commenting forum
Join thought-provoking conversations, follow other Independent readers and see their replies