What British cities can learn from Detroit: Motor City's turnaround should be a model for regeneration
Jonathan Brown
Thursday 19 June 2014 10:35 Comments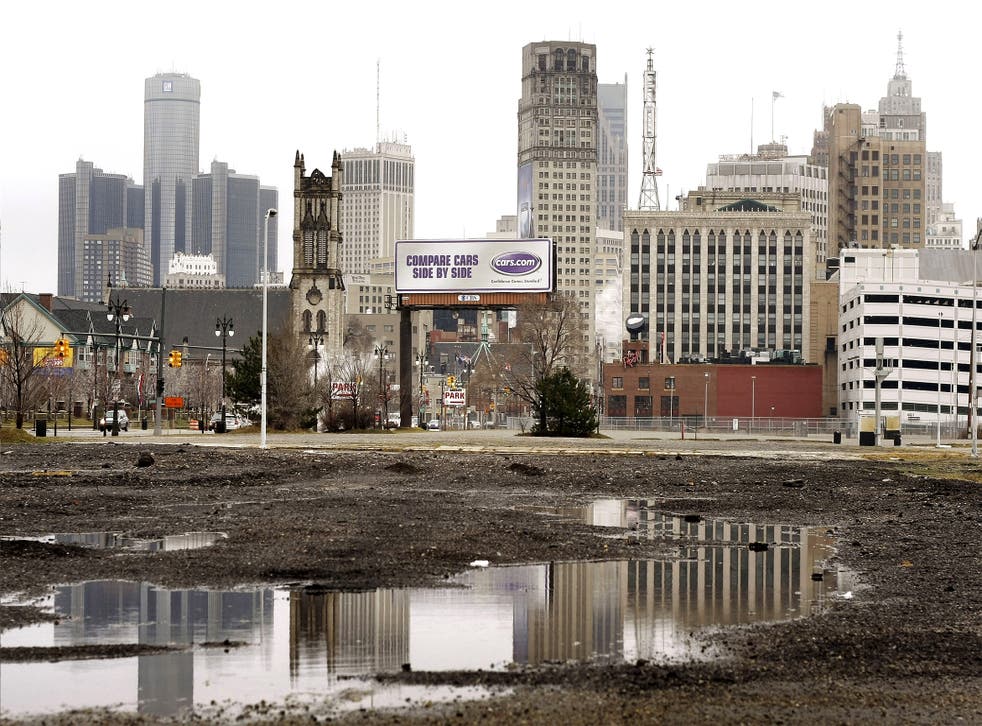 British cities seeking to adapt to the realities of the new global economy should model their plans on the success of United States conurbations including Detroit, a former urban development advisor to President Obama has told The Independent.
Bankruptcy and the flight of more than one million of its citizens since the collapse of the automotive industry have turned the once mighty Motown into a byword for decline.
But Bruce Katz, vice president of the Washington think tank the Brookings Institution, who has advised both the Clinton and Obama White Houses on urban regeneration, said that Detroit was now part of the metro revolution that is transforming the lives of millions of citizens and rebuilding the shattered US economy.
He said that the clustering of education and health sectors in the city's Midtown area was leading the resurgence in fortunes of the vast metropolis which sprawls over 138 square miles.
In pictures: Detroit goes bust

Show all 12
"You have small manufacturing companies and tech companies coming in. That city will revive from its core. Its only three per cent of the land mass today but it provides 50 per cent of the jobs.
"Today I think most great cities in the US are going to see explosive growth in these small cores – the down towns which tend to be along riverfronts, and then tend to have most of the assets that great cities have: the cultural venues, the sporting venues the institutions," he said.
Mr Katz, who was in the UK to address the BT Global City Leaders Summit at the International Festival for Business in Liverpool, said local government had been forced to step into the vacuum left by political deadlock and partisan in-fighting in Washington to deliver millions of jobs lost in the recession.
He highlighted the development of Roosevelt Island in Manhattan as an example of a city-led initiative masterminded by former mayor Michael Bloomberg which has seen the creation of the $2bn Cornell Tech "genius school" with which New York hopes to one day rival Silicon Valley.
Chattanooga, Tennessee, a city with a population of just 160,000, had used its capital budget to build the fastest Internet in the US.
"That tells companies you can come to Chattanooga and you can be big data computing in a nanosecond," he said.
Meanwhile, city leaders in Portland, Oregon had brought together the disparate environmental and sustainability companies and was now marketing their products and services worldwide.
"This is very low-cost and the mayor is literally making them secure business deals in the rising cities of China, India and Brazil. Jobs back home, sustainable growth abroad – it's a win-win," he said.
"What I find when I come to Europe or the UK is almost an exclusive focus on public when the economy is delivered through a public-private partnership writ large. Once you expand your purview to what the private sector is doing or what the civic institutions are doing then the role of cities becomes amplified," he said.
Mr Katz said the world was on the verge of a technologically driven "growth spurt", much of it based around low-carbon. Cities such as Boston, Seattle, Austen and San Francisco were "technologically on fire" creating computer software products that would revolutionise education, healthcare, finance as well as retail and manufacturing.
In the vanguard cities of the post-recession world, suburban sprawl was now halting with companies relocating to urban centres. It was up to local leaders to make places where the best and the brightest wanted to be, he said.
It was up to local politicians, as well as business and university leaders to head the changes – many of which cannot be achieved at a national level. Meanwhile, voters wanted their cities to be more empowering and city government to have more resources.
"You should not be making a lot of decisions about things in a bureaucracy in Whitehall it should be pushed down the system. The more powerful they are the more they will be able to work with their businesses and universities to have that breakthrough effect and spark that next innovation and jobs wave," he said.
Three cities for the UK to follow
Detroit, Michigan: Bankrupt basket case since collapse of car makers but now 10 per cent of city's metropolitan workforce is employed in research and development in advanced industries. Creation of new innovation district is attracting high tech companies.
Chattanooga, Tennessee: Christened Gig City for its high speed broadband, it boasts Internet speeds 50 times faster than elsewhere in the US and on a par with world's fastest in Hong Kong. Switch-on has created 1,000 jobs and led to downtown regeneration.
Portland, Oregon: Urban green belt laws adopted in the 1970s made the city a hub for environmental and sustainable technologies. City leaders have developed trade strategy to China, India and Brazil which has created jobs and prosperity for small firms.
Register for free to continue reading
Registration is a free and easy way to support our truly independent journalism
By registering, you will also enjoy limited access to Premium articles, exclusive newsletters, commenting, and virtual events with our leading journalists
Already have an account? sign in
Join our new commenting forum
Join thought-provoking conversations, follow other Independent readers and see their replies