What <u>did</u> PM tell Murdoch about the BSkyB takeover?
Cameron admits he may have discussed controversial deal
Andrew Grice
,
Oliver Wright
Thursday 21 July 2011 00:00 Comments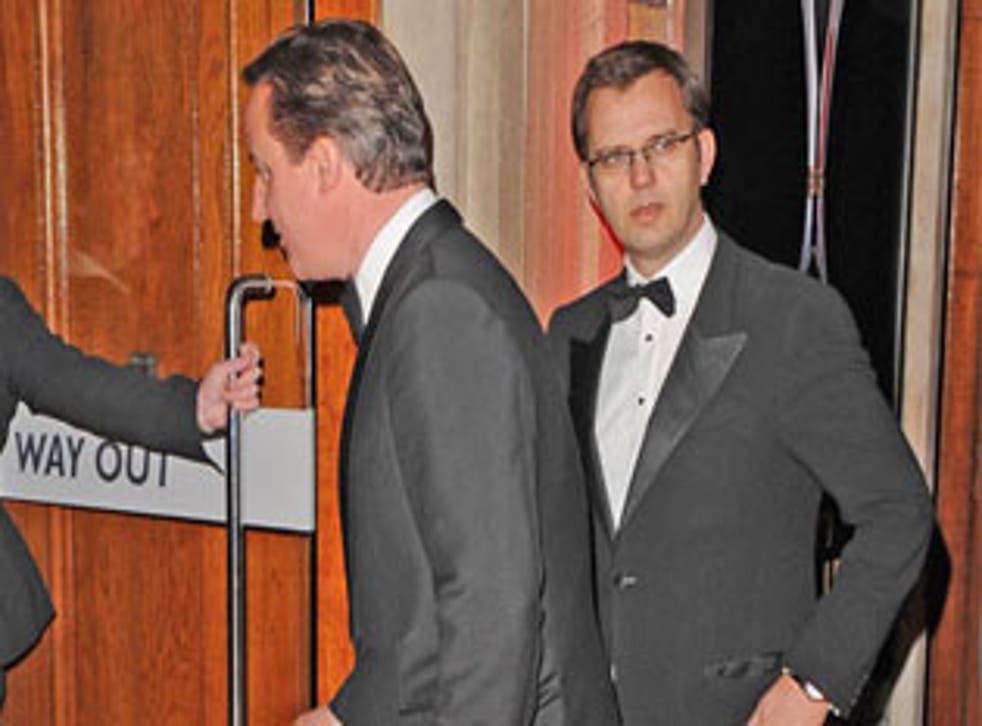 David Cameron admitted that he may have discussed the bid by News Corp for full control of BSkyB during his 27 meetings with Murdoch executives since last year's election. Downing Street had previously insisted that the £8bn takeover was not mentioned.
Mr Cameron also came under pressure to explain why he failed to review Andy Coulson's position as No 10's director of communications last September when The New York Times alleged that hacking was widespread while he was editor of the News of the World. The same report led to Scotland Yard ending the PR role of Neil Wallis, Mr Coulson's friend and deputy at the NOTW. Both Mr Coulson and Mr Wallis have recently been arrested by police investigating hacking.
Last night Cameron aides offered the surprise disclosure that Mr Wallis had "probably" visited Mr Coulson in Downing Street since last year's election, although they insisted that any informal advice to Mr Coulson took place before the election.
Senior Palace officials also believe Mr Cameron's office was "aware" of their misgivings about him ever hiring Mr Coulson in the first place, The Independent understands, following the jailing of a reporter and a private detective for hacking into the phones of royal aides.
During a Commons statement, the Prime Minister was asked on nine occasions whether he had discussed the now-aborted News Corp bid for BSkyB. He replied that he had not had any inappropriate conversations about the takeover. Later, aides suggested Mr Cameron may have been lobbied by Murdoch executives but would have merely told them the decision was a matter for Jeremy Hunt, the Culture Secretary.
Last night Mr Hunt appeared to confirm that the issue did arise during the Prime Minister's meetings. He told MPs the discussions were "irrelevant because the person making this decision was myself". Labour described Mr Cameron as "slippery" and urged him to publish full details of any talks with Murdoch executives about the bid. "Until he does so there will continue to be serious questions about his judgement," said Ivan Lewis, the shadow Culture Secretary.
However, Mr Cameron settled Tory nerves by taking a tougher line on Mr Coulson. He told the Commons he was "extremely sorry" for the furore and that "with hindsight" he would never have recruited him. "You live and you learn – and believe me, I have learnt." He said Mr Coulson should face "severe" criminal charges if it turned out that assurances he gave that he knew nothing about phone hacking were lies. "If it turns out I have been lied to, that would be a moment for a profound apology, and in that event I can tell you I will not fall short," he said. He insisted that Mr Coulson should be seen as "innocent until proven guilty".
The Prime Minister dismissed Labour's attacks over the scandal as "conspiracy theories" and "political point-scoring". Despite private fears among Tory MPs about his links to Mr Coulson, they rallied strongly behind him when he addressed their weekly meeting last night. He told the 1922 Committee his actions on hacking had been "decisive, frank and transparent" and the issue was not raised when backbenchers asked him questions.
Ed Miliband seized on Downing Street's plea to Scotland Yard not to brief Mr Cameron on hacking last September after The New York Times article appeared: "The Prime Minister was caught in a tragic conflict of loyalty between the standards of integrity that people should expect of him and his staff and his personal allegiance to Mr Coulson. He made the wrong choice."
The Labour leader suggested Mr Cameron's "conflict of interest" led to Sir Paul Stephenson's resignation as the Metropolitan Police Commissioner on Sunday after it emerged that the force had hired Mr Wallis as an adviser.
He said: "Sir Paul Stephenson was trapped between a Home Secretary angry about not being told about the hiring of Mr Wallis and Sir Paul's belief, in his own words, that doing so would have compromised the Prime Minister."
In the Commons, Mr Cameron agreed to examine allegations that an unnamed senior government official was subjected to "disgraceful and illegal" phone hacking and hostile media briefing while Mr Coulson worked in Downing Street. He said he would look "closely" at the claims by the former Labour minister Nick Raynsford and refer them to Sir Gus O'Donnell, the Cabinet Secretary.
Mr Raynsford had asked: "Will the Prime Minister confirm that, a year ago, during the period when Mr Coulson was director of communications, the Cabinet Secretary was alerted to evidence of illegal phone hacking, covert surveillance and hostile media briefing directed against a senior official in the government service? What action, if any, was taken to investigate what appears to have been disgraceful and illegal conduct close to the heart of government?"
The key exchanges
Ben Bradshaw In the Prime Minister's conversations with the Murdochs [and] Mrs Brooks, was there ever any mention of the BSkyB bid?
PM Perhaps [Mr Bradshaw] will now be transparent, as he was culture secretary, about all of the contacts he has had with News International over many years.
John Cryer The Prime Minister said that he had commissioned a company to do a basic background check on Coulson. I am asking for the name of the company.
PM We did hire a company to do a basic background check.
Jack Straw When the Prime Minister read of the investigation in The New York Times last year, what did he do?
PM There was no information in that article that would lead me to change my mind, but if it turns out that [Coulson] knew about hacking, it will be subject to criminal prosecutions.
Nick Raynsford Will the Prime Minister confirm that, during the period when Mr Coulson was director of communications, the Cabinet Secretary was alerted to evidence of illegal phone hacking? What action was taken to investigate?
PM In the period that Andy Coulson worked at No 10 there was no complaint about the way he did his job.
Register for free to continue reading
Registration is a free and easy way to support our truly independent journalism
By registering, you will also enjoy limited access to Premium articles, exclusive newsletters, commenting, and virtual events with our leading journalists
Already have an account? sign in
Join our new commenting forum
Join thought-provoking conversations, follow other Independent readers and see their replies