What do Tony Blair, Dominique Strauss-Kahn and Hillary Clinton have in common?
What is it about the billionaire Viktor Pinchuk that draws the world's elite to his Crimean palace? Tom Peck investigates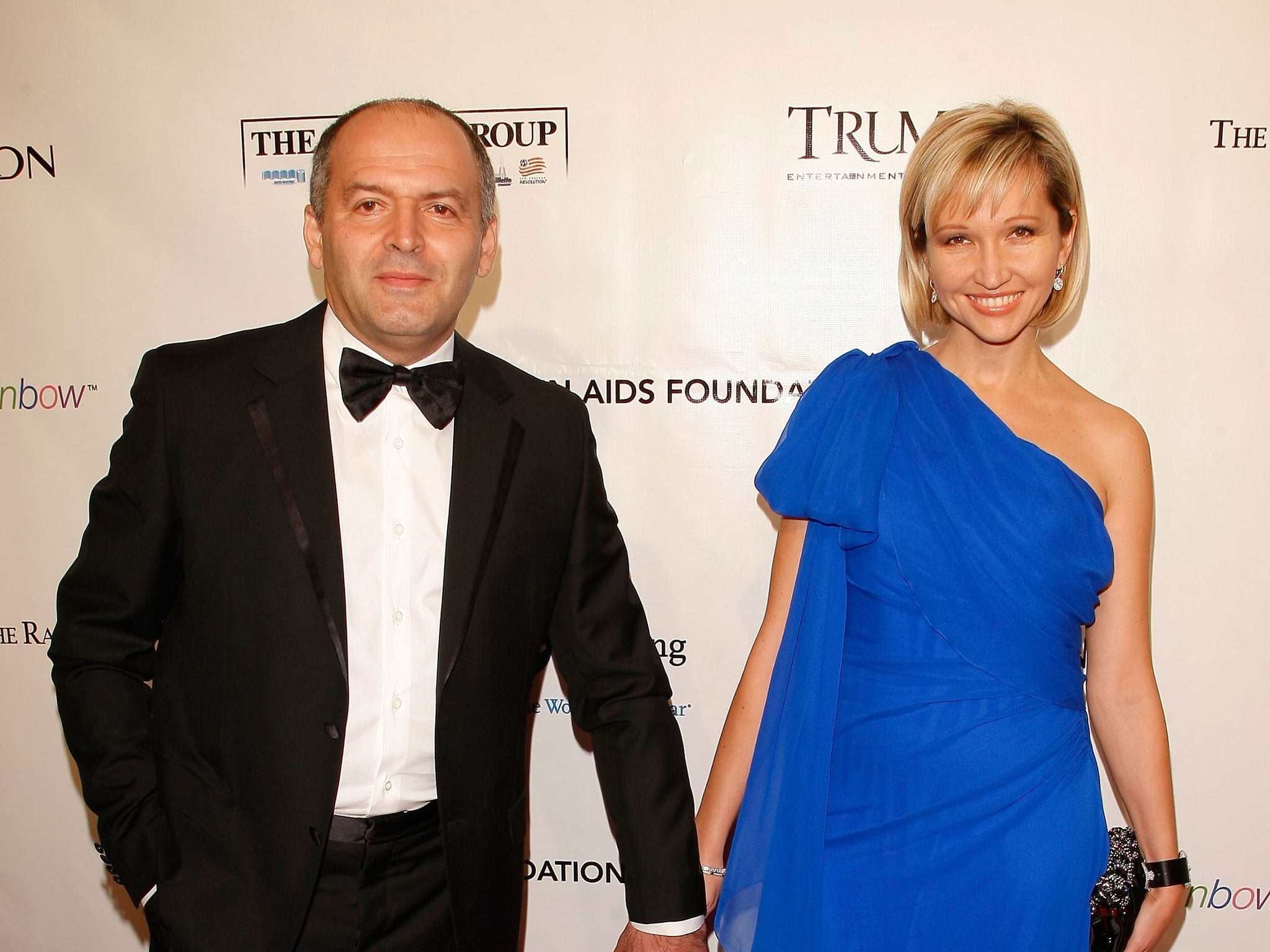 It starts, predictably enough, with a picture of Roosevelt, Churchill and Stalin sat on that bench, projected on to a wall above a giant Damien Hirst painting. Then a distorted guitar chord rips through the grand ballroom where an audience of politicians, professors, bodyguards and billionaires watch as the big three give way to an animated montage of Bill Clinton, Hillary Clinton, Richard Branson and, yes, Gordon Brown. The narrow eyes of Dominique Strauss-Kahn form a convenient segue to Mahmoud Ahmadinejad and Hosni Mubarak. Then there is the sound of witches cackling in a weird devil's cave where Osama bin Laden apparently lives with Julian Assange. Next there are crowds rioting in the streets of London, Fifth Avenue and in Middle Eastern plazas. The stock markets are tumbling and rising, tumbling and rising, and suddenly it's all gone a bit Les Misérables.
This is Yes-Ukraine. Not quite as catchy as Obama's three-word election winner, but not bad. For 10 years now many of the world's biggest fish have gathered on the shores of the comparatively small pond that is the Black Sea to shoot the geopolitical breeze, at the financial behest of a Ukrainian billionaire-cum-politician-cum-philanthropist. If macro-socio-economic concerns are what get you going, the beautiful little seaside town of Yalta on the Crimean peninsula is the place to be this weekend. Tony Blair is here, both the Clintons, General David Petraeus, Dominique Strauss-Kahn (who in the brochure lists his spare-time interests as "music, paintings, skiing and chess), former World Bank boss Robert Zoellick, and a full-on roster of the great and the not so great of Eastern European politics.
"I do this to bring the world's biggest visionaries to Ukraine," says Victor Pinchuk, the 53-year-old Ukrainian commodities billionaire who is now doing big things with his country's serious HIV/Aids problem. "It makes Ukraine think globally .... We are thinking climate change, over-population, not just Ukrainian problems."
That may be true, but the boost to his personal profile is certainly not lost on him. The conference press officers speak more in terms of the big names they've pulled in over the years, rather than its transformative impact on Ukrainian politics, which don't appear to be all that transformed.
In his opening remarks, the Ukrainian President, Viktor Yanukovych, takes time to tell the opposition leader he is "pathetic". Brave, as when the opposition leader stands to reply he appears to be an oak tree in a dark blue suit. He's Vitali Klitschko – probably the first man to attempt to unify all three world heavyweight boxing titles with the presidency of his country.
For two long days, some seriously big-thinking backsides will plonk themselves upon the soft white chairs on stage in the White Hall to hold forth on a bewildering variety of grave challenges facing Europe and the world. They do so next to a large white table around which the backsides of Stalin, Churchill and Roosevelt once rather famously plonked themselves. Outside, white marble cloisters surround the sunken Italian garden of the Livadia Palace, where the photograph was taken showing the three great war leaders in curious get up (Stalin plumps for leather knee-highs, Roosevelt a cape). Many people who know the photograph imagine it was a peace conference. It wasn't. It was a strategic discussion, in an atmosphere of intense mistrust, four months before the end of the war, each man trying to ensure a broken world would be rebuilt in his own interest. Afterwards they got up, went home, dropped the nuclear bomb, put up the Iron Curtain and spent four decades scaring the world half to death. Now as then, with so many Ukrainians and Russians and so many Americans in one place, it all feels a bit Cold War.
Here only the very grandest Ukrainian, Polish and Lithuanian politicians don't wear passes round their necks, but they're identifiable by the men with earpieces and female news reporters from Eastern European TV with their unique take on haute couture who trail in their wake. Ukraine has changed a lot since Genghis Khan left town, but through a people's love of animal print his legacy lives.
These are the guys engaged with the conference's central issue, Ukraine's long attempt to join the EU, in which Pinchuk is a central figure.
When TV crews swarm after a debonaire man in his later fifties with more than a touch of the Michael Winner about him, one English delegate dares to ask the Ukrainian reporter who he is. She is incredulous: "You do not know? You do not know? I cannot believe you do not know. He is Kwasniewski. He is former Polish president. He is in big figure for Ukrainian entry to EU. He is huge, huge, figure in Europe." Right.
At the lunchtime seminar, "A future free from drudgery", Michio Kaku, a Japanese American theoretical physicist and "futurologist", treats us to his vision of a world in which a wife can log in to her husband's internet-connected contact lenses and make sure he is buying the right oranges. Let's hope he is at least at the supermarket.
Then it all goes predictably Four Yorkshiremen, courtesy of a 10th grader at a Baltimore high school who between dodging bullets has invented a three-cent blood test for pancreatic cancer. Next it is the turn of a 12-year-old Pakistani girl who spends all her spare time in her bedroom doing online calculus courses. Is it not a bit of a solitary life? "No, it's not. I'm actually a very sociable person. I am always making comments in forums and keeping up with my online friends on Twitter and Google Plus." But at least she serves as an interesting counterpoint to the post-lunch entertainment, a blonde, 12-year-old, denim-jacketed Ukrainian girl, caked in make up, growling out Beatles covers like something from those horrifying child beauty pageants that everyone thinks only exist in satire.
The big boys come on later. When the master of ceremonies welcomes Shimon Peres, the applause is at best lukewarm, even after Blair and both the Clintons slip in behind him accidentally unannounced. Predictably, Blair hopes that "by 2025 Ukraine will be a full member of the EU". Clinton has a go at Russia for trying to tell Ukraine what to do. "If I were running this country and I had a neighbour trying to prevent me being a 21st-century bridge between East and West, I wouldn't like that."
Mr Pinchuk thanks them for this "life-changing moment in history" and that's that. Tonight everyone will get drunk on the beach, the big boys well paid and the hangers on at least well fed, Ukraine having inched a bit closer to a distant European future. Then, like Churchill and the rest, everyone will go back to their own uncertain futures. But in a changing world there is at least one source of comfort. Bill and Hillary probably won't be around long enough for internet contact lenses.
Join our commenting forum
Join thought-provoking conversations, follow other Independent readers and see their replies