What does Boris Johnson leaving mean for the prospects of Brexit?
Boris had presented a vision of a Britain little changed by the momentous decision taken by voters last week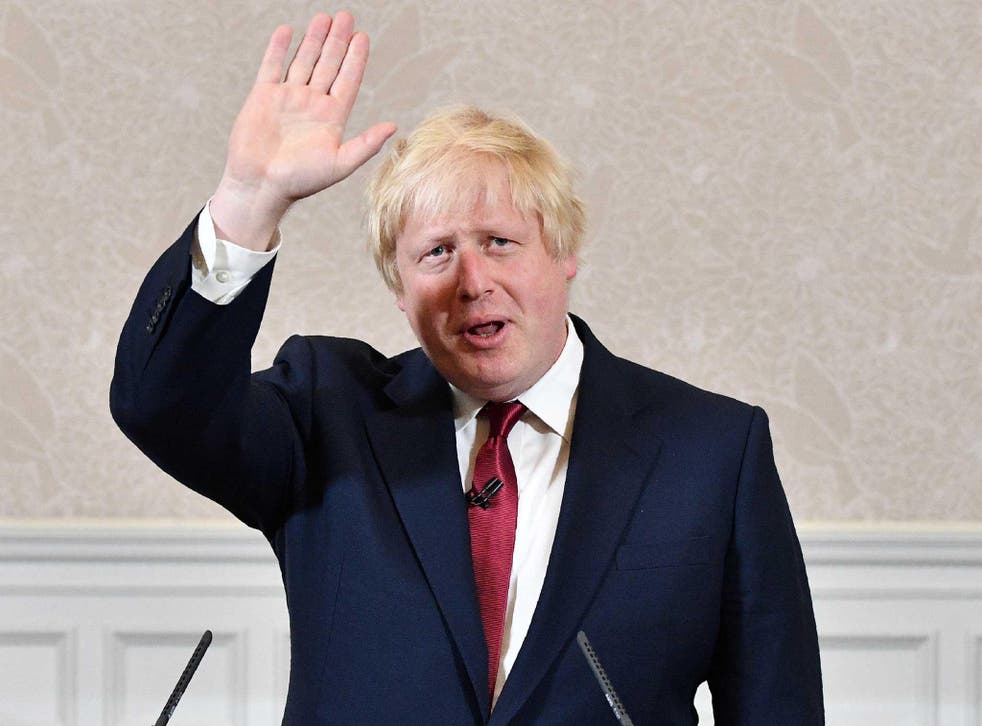 Boris Johnson's withdrawal from the Conservative leadership race rewrites the script of Britain's exit from the European Union.
As Prime Minister (and right up until Thursday morning he was still the favourite) the former London mayor would have been the architect of Britain's new deal with the EU. Clues as the kind of settlement he might have sought began to emerge in the past few days – and are now on the scrapheap.
In his Daily Telegraph column on Monday, he presented a vision of a Britain little changed by the momentous decision taken by voters last week.
Boris Johnson announces he will not stand for Tory leadership
"British people will still be able to go and work in the EU; to live; to travel; to study; to buy homes and to settle down…there will continue to be free trade, and access to the single market…The only change – and it will not come in any great rush – is that the UK will extricate itself from the EU's extraordinary and opaque system of legislation."
Indeed so moderate were the reforms he appeared to have in mind, that many began wondering if, by backing a Leave campaigner, Tory MPs would really be voting for Remain. The column spooked Mr Johnson's backers in the right wing of the Conservative party.
Access to the single market, Angela Merkel and other European leaders have confirmed, will not be permitted unless Britain accepts freedom of movement rules. Having won the referendum campaign by hammering the issue of immigration, and 'getting back control of our borders', Mr Johnson committed himself to something, which, suddenly, he seemed unwilling deliver. Behind closed doors, he is understood to have tried to reassure Tory MPs that he would not deliver any deal that included freedom of movement.
But the events of the past 24 hours suggest many were not convinced.
The frontrunners to become Prime Minister are now Theresa May and Michael Gove.
In her launch speech on Thursday morning, Mrs May set out a reasonably comprehensive manifesto for her EU renegotiation. She said that there could be no deal that included freedom of movement, warning that any attempt to "wriggle out of that" would be "unacceptable to the public" – a pointed reference to Mr Johnson (at the time she spoke he was still her main rival).
However, on the single market, she said she wanted British companies to be able to "trade with the single market in goods and services". The 'services' bit is important, as it includes the banking sector, the engine room of our economy. The only country with access to the single market but outside freedom of movement rules is Canada, and that deal does not cover financial services (and has not yet come into force, after seven years of negotiating).
Brexit reactions – in pictures

Show all 10
So Mrs May's proposals appear to suggest she will may take a 'have your cake and eat it' approach to the EU negotiations. This will get a cool reception in Brussels where EU leaders have made it very clear there can be no single market access "a la carte" (to mix food metaphors).
Michael Gove's detailed proposals for the EU negotiation are currently non-existent. He has said he will set them out in the coming days. But to win the support of the right of the Tory party, which he must if he is to triumph against Mrs May, he will have to take a hard-line on immigration and rule out any kind of free movement rules.
Register for free to continue reading
Registration is a free and easy way to support our truly independent journalism
By registering, you will also enjoy limited access to Premium articles, exclusive newsletters, commenting, and virtual events with our leading journalists
Already have an account? sign in
Register for free to continue reading
Registration is a free and easy way to support our truly independent journalism
By registering, you will also enjoy limited access to Premium articles, exclusive newsletters, commenting, and virtual events with our leading journalists
Already have an account? sign in
Join our new commenting forum
Join thought-provoking conversations, follow other Independent readers and see their replies