What the top Tories really got up to at Oxford
Claims about the PM's youthful 'debauchery' have raised eyebrows this week, but do they reflect reality?
Nick Mutch
Saturday 26 September 2015 14:57 Comments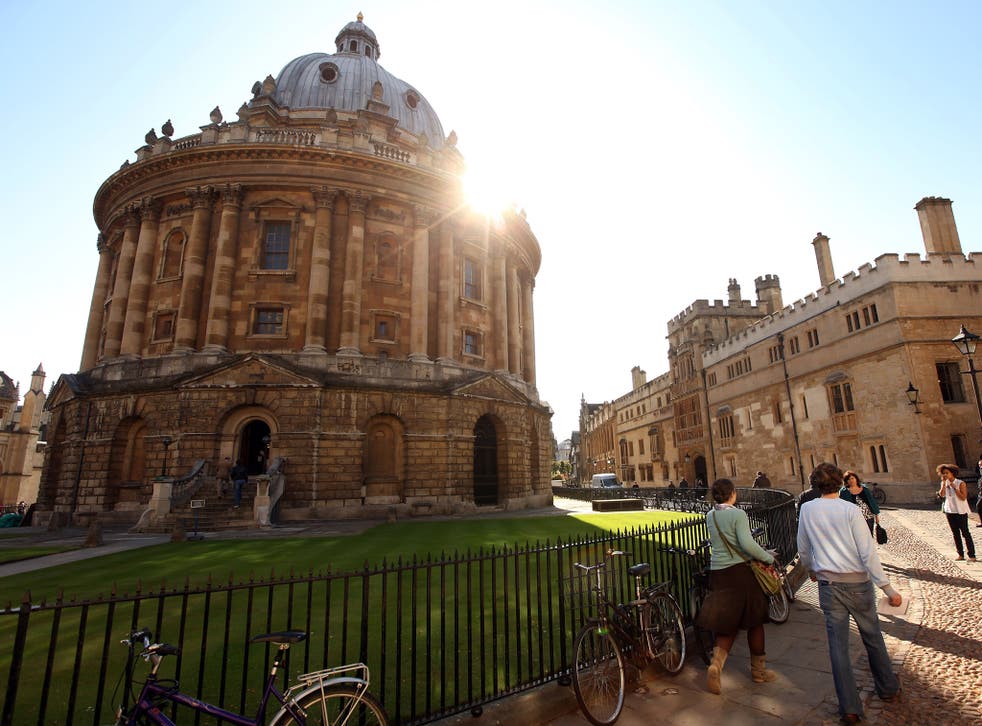 After delving into a variety of dusty archives and contemporary sources, here is the truth behind the headlines.
Sexual escapades at the Piers Gaveston society
The secretive Piers Gaveston dining club was the setting of the most lurid allegations about David Cameron in Lord Ashcroft's book. Insight into the club's debauchery is provided by a chapter in a little-known 1988 book called The Oxford Myth, edited by Boris Johnson's sister, Rachel.
The chapter, written by Sebastian Shakespeare, now a noted national paper diarist, described how "the Piers Gaveston society… is notorious not only for drunkenness but for its patently homosexual behaviour".
It continued: "A meeting was recently held at the residence of a rich South African who lives in Oxford. Desperate to be accepted socially, he agreed to host the event ... however, his house was seriously trashed. A guest who jokingly whipped a pile of writhing bodies was chased into the loo where he bolted the door, though it was battered down within minutes and he was debagged." De-bagging is Oxbridge slang for removing someone's trousers as a punishment.
"Whenever someone achieved a sexual feat a hunting horn would be sounded," Shakespeare went on. "A member disclosed that one of the crowning experiences of his Oxford days was having an oyster in cream sauce licked out of his navel, though he could not remember by whom."
Heroin at the dinner table
Another chapter of The Oxford Myth, by Allegra Mostyn-Owen, then fiancée of Boris Johnson, is candid about the presence of hard drugs at Piers Gaveston parties. "Back in 1981, a surprisingly large number of students seemed to be dabbling in heroin," she writes. "Decadence was considered fashionable and cool." Quoting a friend who was a prominent figure in the society, she continued: "You felt that you should exploit your mind, that you were not stuck in prejudice, that you were grasping something beyond the mundane." And she gives an intriguing hint that some of these heroin users went on to take places at the heart of the Establishment: "Very few of them actually became addicted, and most of them are now comfortably off in the professions."
Sexual familiarity – and a pig's head
The allegation that Cameron inserted part of his anatomy into the head of a dead pig generated the most headlines this week. But it also met with some scepticism, with many contemporaries suggesting that it seemed a tale too far. However, Rachel Johnson's own chapter in her book, titled "Sex", shows that at least one pig's head was procured for an undergraduate prank. "The new familiarity between the sexes has bred some contempt," she recounts. "An Oriel girl came back to her room late one night to find a freshly decapitated pigs head on her desk."
Boris Johnson on political tactics and 'lonely girls'
The future Mayor of London contributed a chapter on student politics to his sister's book, which makes fascinating reading for admirers of the machinations that helped secure his subsequent rise towards the top of the Conservative Party. Giving advice to would-be presidents of the Oxford Union (a position he held in 1986), Boris stresses the importance of building a "disciplined and deluded collection of stooges" to do the candidate's bidding.
"When a candidate has accumulated enough stooges from the major voting colleges, he is deemed to have a machine." On the recruitment of stooges, he says: "A candidate will use a variety of means to knit the loyalty of his stooge. He may take you out to lunch with his mother. He may dangle before you membership of some alluring club. If you are of the opposite sex, the candidate will flirt with grim extravagance."
But, he added, the "brutal fact" of the relationship is that it is always "founded on duplicity".
He adds that "lonely girls from the women's colleges" who "back their largely male candidates with a porky decisiveness" are particularly coveted by student politicians. "For these young women, machine politics offers human friction and warmth."
Predicting his own (and Cameron's) future political success, he adds that the "most natural" politicians come from "the Establishment". This he describes as a "loosely knit confederation of middle-class undergraduates, invariably public school, who share the same accents and snobberies, and who meet each other at the same parties. If you are a member of the Establishment, you will know it. You cannot be recruited."
Boris and the incident with the screwdriver
A cryptic diary entry in Cherwell, the Oxford student newspaper, hints at Boris's passionate nature. It reads: "Drama! Action! Excitement! The Union last Thursday. Boris Johnson, librarian, angered by the jokes of Graham Davies. Davies, ex President of the Cambridge Union, enjoying the company of Emma Henkings. Boris approaching Graham, screwdriver in hand. Glazed fear in Davies' eyes as he grips his glass. 'Sorry,' mutters Johnson. 'This is all very silly.'"
The future Minister for Universities' guide to fresher's week parties (and amphetamines)
An advice column co-written for the student magazine Isis by Jo Johnson, Boris's younger brother, in 1992 makes for illuminating reading, given his current job of Minister of State for Universities and Science. Much of his guidance is unimpeachable. "Do not drink from what look like unnoticed bottles … they have been used as an ash tray or peed into."
But current Oxford dons may not take kindly to the minister's description of their drinks parties. "Outside of tutorial, dons are sincerely uninterested in their pupils ... but sadly they have to get together with their colleagues to host departmental drinks parties for the idiots they have to teach," he writes. "The heterosexual ones take to paying close attention to their female pupils, offering them extra tutorials."
The article is illustrated with a picture of some amphetamine powder, a recreational drug, with the caption "The solution?".
Restaurant-trashing and the Assassins Club
An Oxford Mail front page dated 23 September 1982 and headlined "The Bistro Assassins" reported on a group of hell-raising Oxford students who got their kicks out of getting drunk, smashing up restaurants and then trying to pay their way out of trouble after causing £560 worth of damage to Thatchers Bistro in Thame.
They reportedly told police it was "part of a good night's fun".
The article says that members of the club were fined for being drunk and disorderly and for obstructing police. Officers at the scene had found "vomit on the carpets … curtains ripped from the rails … food smeared all over the walls …wine bottles smashed against the wall."
Similarities with the Bullingdon are not exactly a coincidence: a Bullingdon Club photo from 1982 shows several members who had belonged to the Assassins Club.
In The Oxford Myth, writing just six years later, Sebastian Shakespeare lamented: "The Assassins gained considerable publicity in the late 1970s because of their rowdy behaviour and restaurant-wrecking, but their meetings today tend to be rather low-key affairs and last summer they convened in a private house. Smashing up a restaurant has become too predictable and embarrassing, and the presence of women has contributed to the dilution of boyish joie de vivre."
Michael Gove buys a slave
Senior figures in the Oxford Union, including Boris Johnson and Michael Gove, participated in a mock "slave auction". Gove, now Secretary of State for Justice, bought the then Union president Jessica Pulay for £6, according to an account of the auction published in a student paper. Boris was sold in his absence, while Gove himself was purchased for £35, after attracting "enthusiastic bidding".
Jeremy Hunt and the Contras
The Cherwell student newspaper accounts how, while president of the Conservative Association in 1987, Jeremy Hunt, now the Health Secretary, found himself at the centre of a political storm after two of his colleagues on the society's executive committee organised a dinner for Adolfo Calero, a leading member of the American-backed Contra rebels who fought Nicaragua's revolutionary Sandinista government. Hunt and his colleagues were publicly accused of harming the Conservative Party by extending "invitations to terrorists" in a resignation letter from a local Tory official, Andrew Foulsham. Responding to Cherwell, Hunt insisted that "the fears attributed to Andrew Foulsham are grossly exaggerated".
Register for free to continue reading
Registration is a free and easy way to support our truly independent journalism
By registering, you will also enjoy limited access to Premium articles, exclusive newsletters, commenting, and virtual events with our leading journalists
Already have an account? sign in
Join our new commenting forum
Join thought-provoking conversations, follow other Independent readers and see their replies